Trip 9 - 1995

Itinerary
Germany: Berlin
Czechoslovakia: Prague
Poland: Krakaw, Auschwitz
Austria: Vienna
Italy: Venice, Florance, Rome
Greece: Delphi, Nemea, Mycenae, Athens, Karpathos, Rhodes
Turkey: Bodrum
Egypt: Cairo, Alexandria
Students
Sophia Grebemichael
Amy Hawkins
Jake Levine
Erin McAdams
Robin Pendoley
Jenny LaPlante
Jen Ponig
Trip Leader
Trip Highlights
We found her hidden within luggage at the Lubeck train station
Quaint island of charm, then the Baltic sea and the recovery of a ring
Berlin and a great night track meet and party with advanced German athletes
Robin finds his running destiny
On top of Hitler's buried bunker
The voice of the Captain in the forest
Prague with the castle, the old square and statue of Hus, then at night the gift of entrance into the Bethlehem chapel
Mozart and violins bring forth Absolute beauty by music under the pulpit of the brave preacher who paid with is life for independent thought
A haunting drive on the way to Auschwitz
A police station before the death camp, no English, out of a black and white film
The train track to the gas chambers
How can one stand within one and escape?
Krawkow that night, a festive meal in a traditional restaurant
The statue of a poet in the square
Attractive countryside driving through Bratislava, a tall, engaging waitress of stimulating conversation
Alone in a Roman amphitheatre along the Danube before Vienna
Freud's city
St. Stephen, "The Kiss," the museum of the couch, a recorder and music of Beethoven and Mozart where each died
Let's sleep in the Alps, aware that war is over the peaks to the south
A salad bowl
Want to stop in a place called Venice?
Florence with David and a villa and hill repeats
Robin takes a wonderful run above the city of Renaissance
Rome
Always Bruno
And a waiter by the statue who recognizes us each time
After dinner Jake locates the theatre by the Campo Di Fiori where Caesar was stabbed
A meadow above Delphi and a new Arete home
Relay races in stadium the next morning
Mycenae, the roof over the restaurant, and the early sound of the birds once more
Nemea and a five mile pilot run so that Dr. Miller can test the route for a "mini marathon" as part of his ancient games
Where is Poulaki?
She went toward Mycenae?
The Greek island of Samos and an old hotel at the port
A sandy beach with Turkey just a quarter of a mile away
A swim out to an island
An expensive hotel and illegal night time diving
No van, have to use cars
Separation at an intersection; panic because passports with Mr. Taylor; no scheduled location for lodging that evening
An hour or so later Mr. Taylor returned in his car to the intersection and discovered the students sitting on a curb playing some instrument
A night on cement near an Arete swimming site near Bodrum
Across to Rhodes the next day and the walk to the hotel with Jen carrying a huge back pack
We were a day early, and there was no rooms available
The showers for the service personnel were made available, and the washing machines
A wonderful birthday night on cement outside the booked hotel; within the walls, so we could sleep without fear of the police; that's two nights in a row on cement
The flight to an island called Karpathos in a very small plane
Way, way out in the Mediterranean, toward Cairo, Alexandria
A beautiful beach, then screaming for Erin to make it down in time for the boat
Olympus at the north end of the island and the village that some scholars say still speak a dialect of Homer
Women in traditional costumes in village
A couple of rooms high above a thrashing sea below
A hike through the mist to a chapel above the world
The Acropolis in Athens with the sun coloring the marble in reds on a quiet Sunday morning
The private dinner table outside on the roof of the Astor restaurant with a brilliant view of the Acropolis on our final night
And Jake cried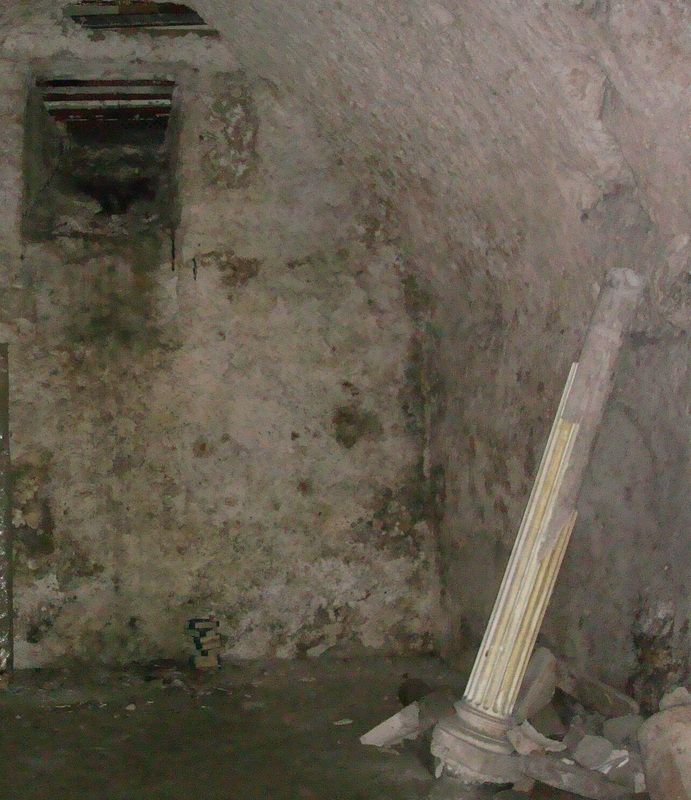 Arete '95 discovered under the streets of modern Rome the theater where Caesar was stabbed to death.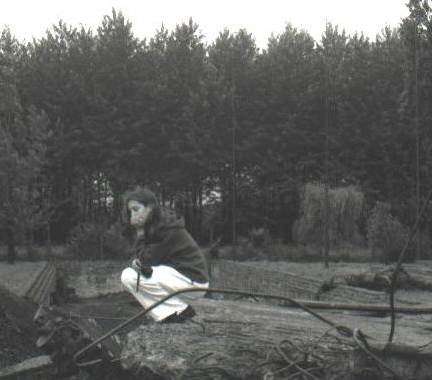 Arete '95 ponders horror of gas chamber at Auschwitz. Of deep reflection, Erin shared a profound insight when we told of our feelings at the death camp when in Vienna two nights later. The student reactions to the death camps over the years are toxic unless given the right place for reflections. Under the balcony where Hitler preached hate in Vienna was such a location. And "2 nights later".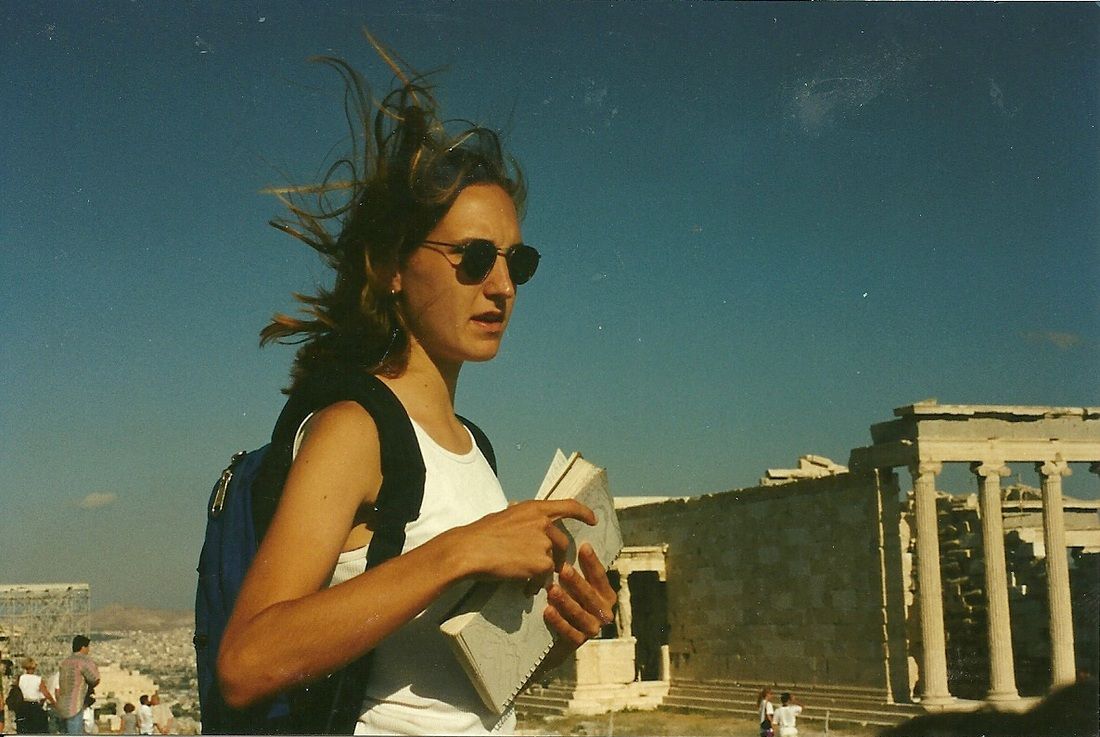 As in 1995, Jen Ponig added to her grasp of history with another Arete West group, this time in 1999. And in 2005, Ms. Ponig was our hostess in Lebanon. She lives there today with her husband, Adnan, and her young daughter. It is, of course, a tenuous situation with the war very close by in Syria. Her home is in Byblos, not given yet to religious hate.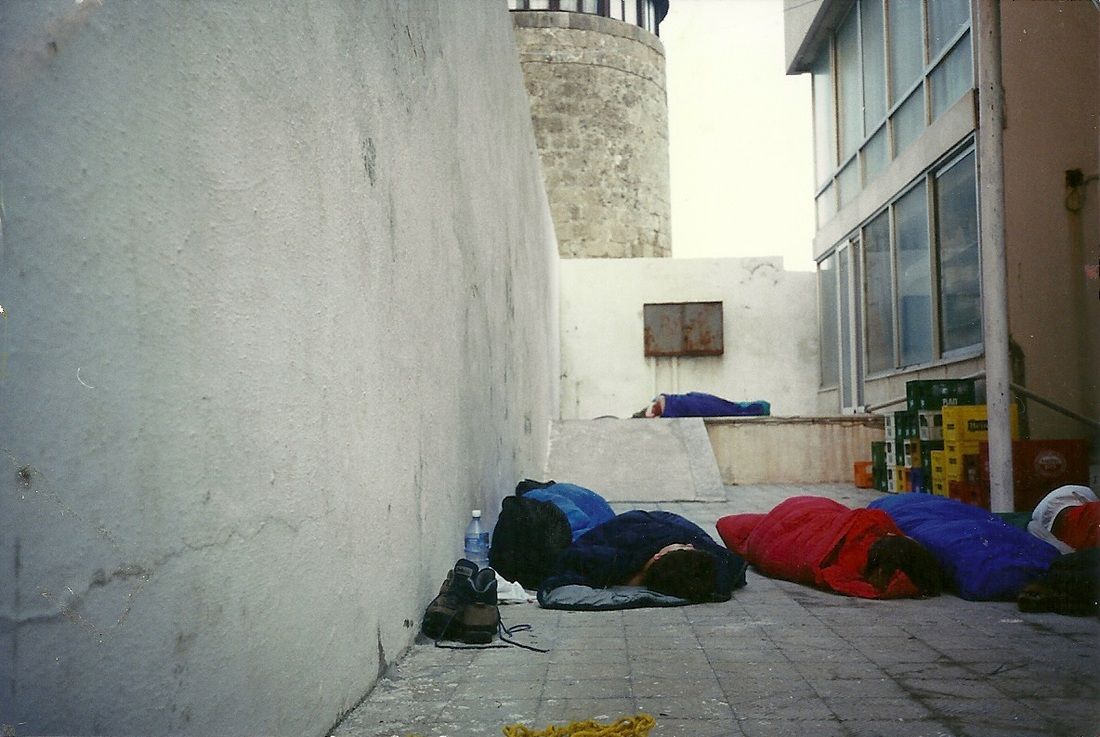 Before sleeping outside the hotel kitchen on Rhodes because we arrived a day early and our rooms were not available, we had been separated by cars in Turkey without knowing where to locate one another. And Mr. Taylor had all the passports. The assistant manager not only let us sleep inside the hotel walls, but he made available the washing machines and showers that the staff utilizes. How did we find one another? In Turkey? Arete seems to always survive these travel moments. Mr. Taylor was so grateful that he said that he wouldn't have traded the hotel "room" outside the kitchen "for any other one in Europe that night". And it was Mr. Taylor's 65th birthday.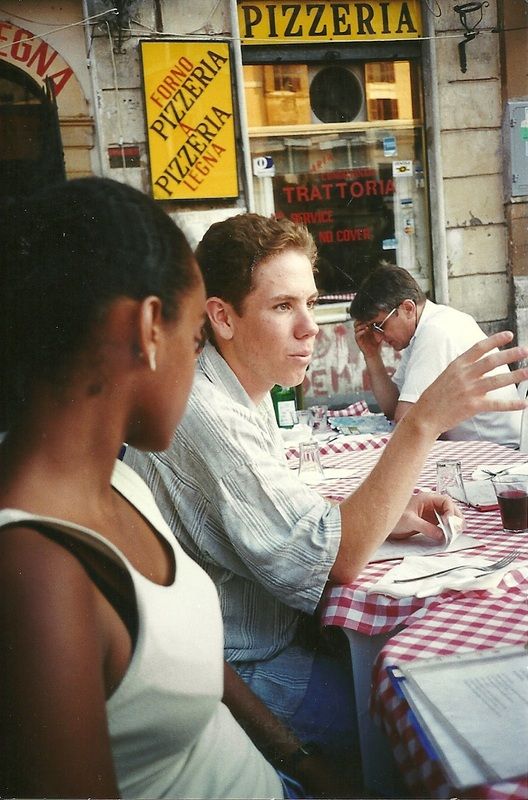 We frequently reflect on what we experienced during the day at the dinner table. This requires educating the waiter that "we do not want to order yet". Here Robin Pendoley, one sharp leader and educator, makes his points in the Campo di Fiori in Rome.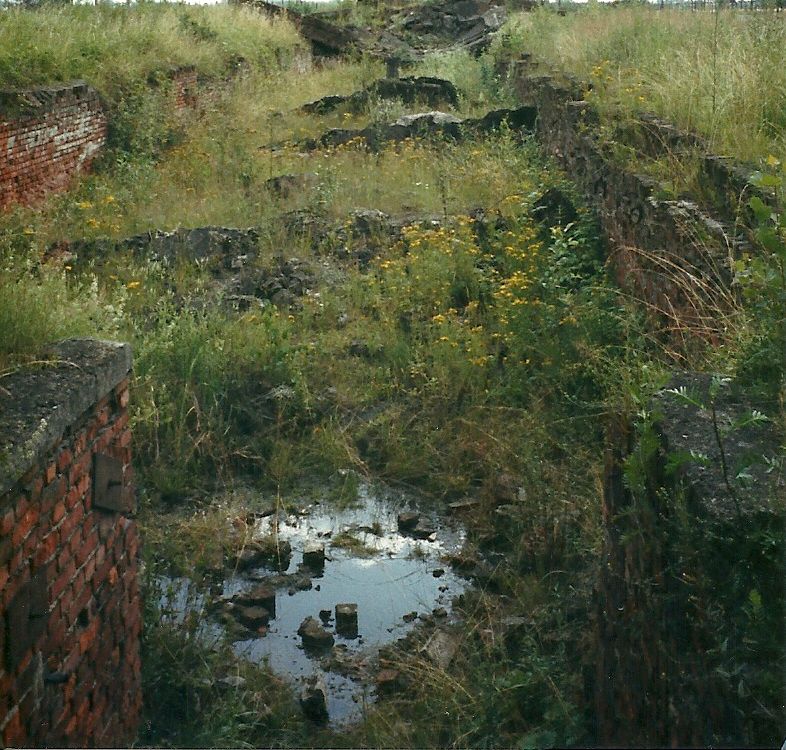 Here is the remains of one of the gas chambers at Auschwitz. Arete '95 was the second travel team to be confronted with the meaninglessness of this death camp. They would share their feelings about this horror two nights later in Vienna.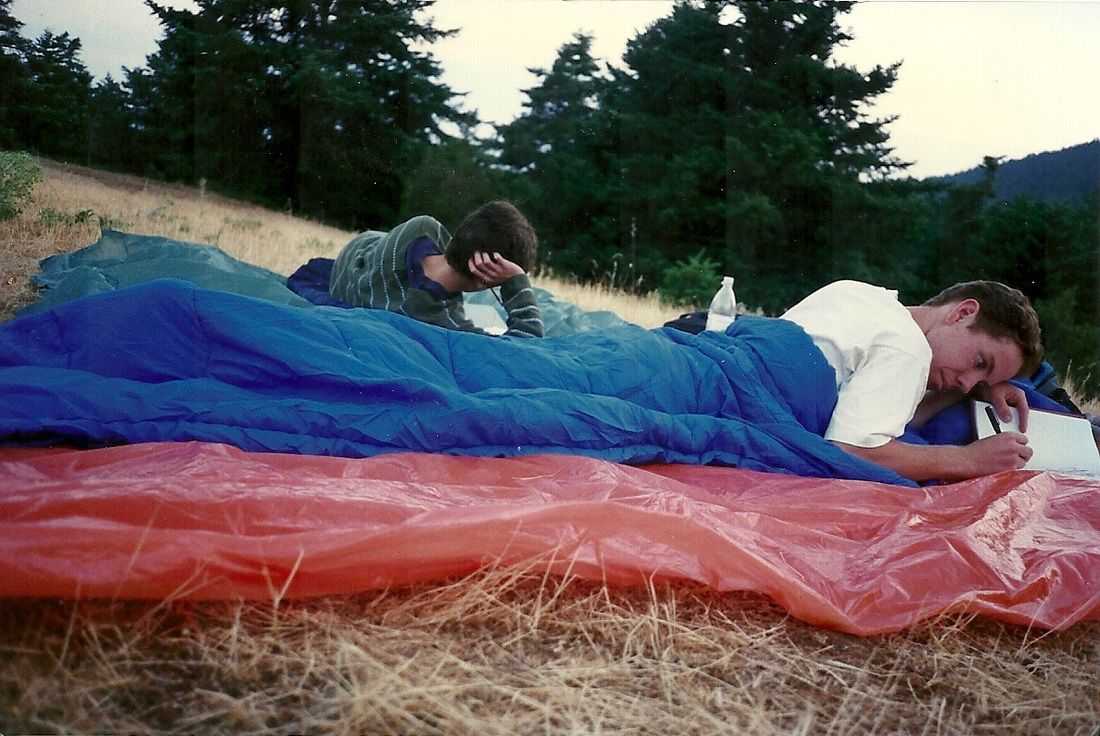 Relaxing in our meadow above the ancient Delphi ruins on Mt. Parnassus, Jake and Robin take the time to catch up with their journal entries. We have been able to camp out here numerous times. Very special.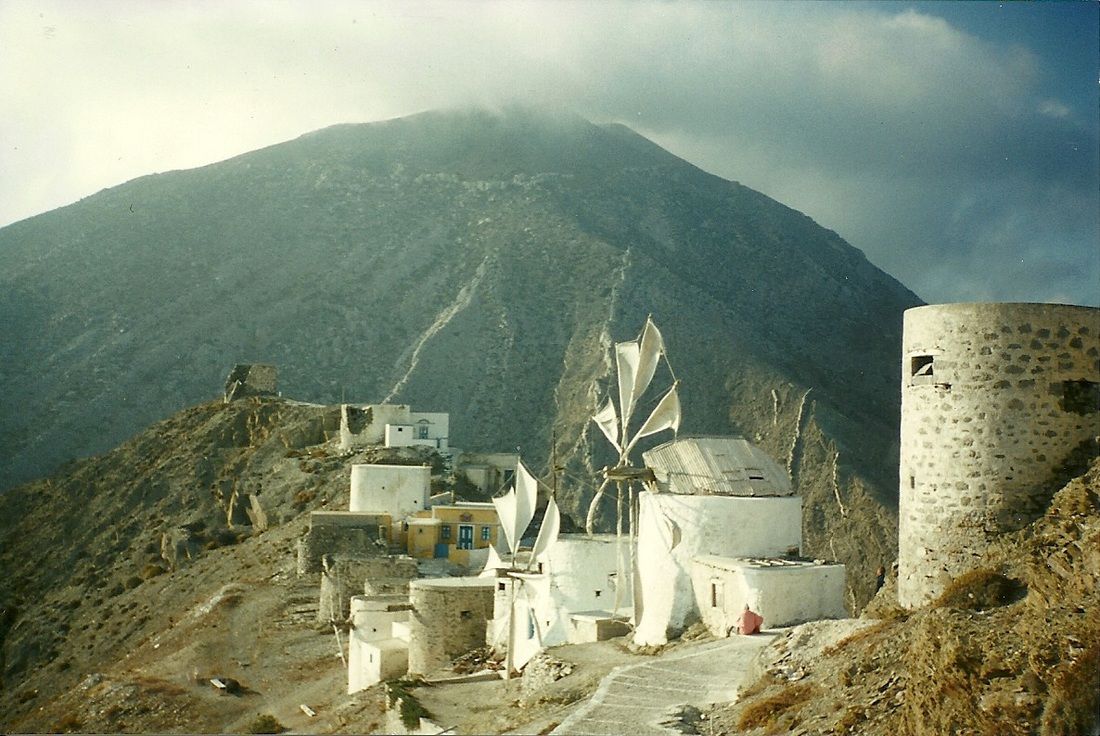 Way out in the Mediterranean from Greece, even south of Rhodes, is an island named Karpathos. At the north end, miles upon miles away from the towns of the long, slim island, is the village of Olymbus. Arete '95 went by sea along the coast of Karpathos in order to make it to this charming, isolated village. It is said by some scholars that the people still speak a dialect of Homer there.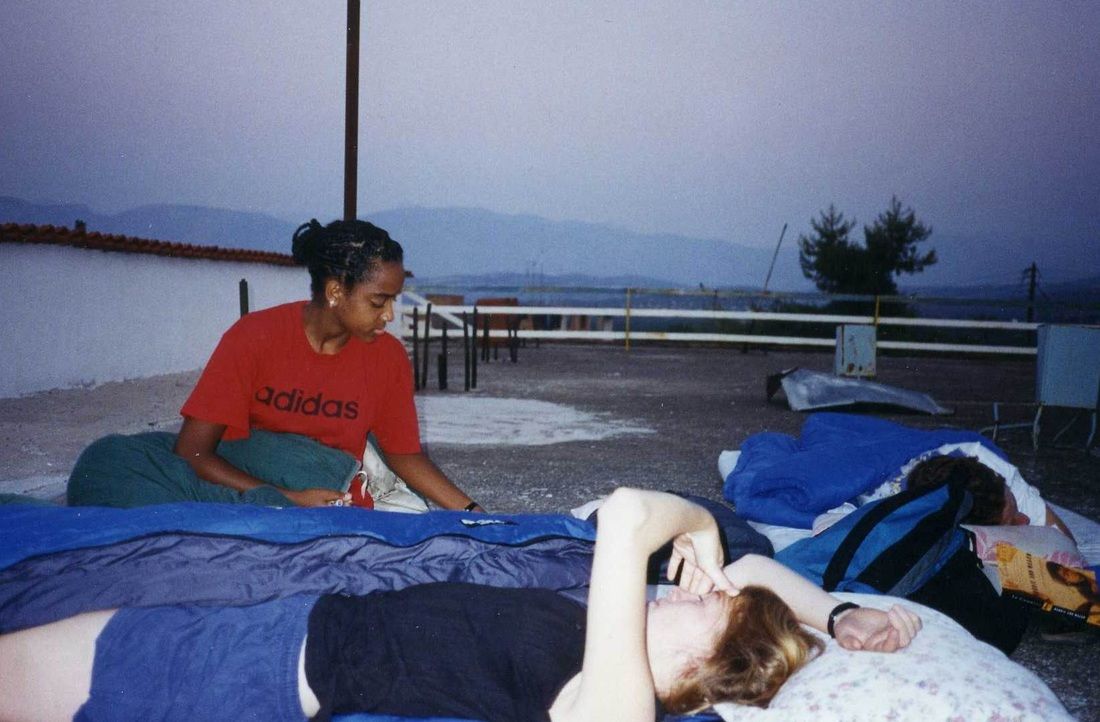 In 1995 we slept on the roof of a restaurant in the village of Mycenae. We were content, went to sleep with the plain of Argos and mythology stretched out before us. Did anyone in the world have a better room that night?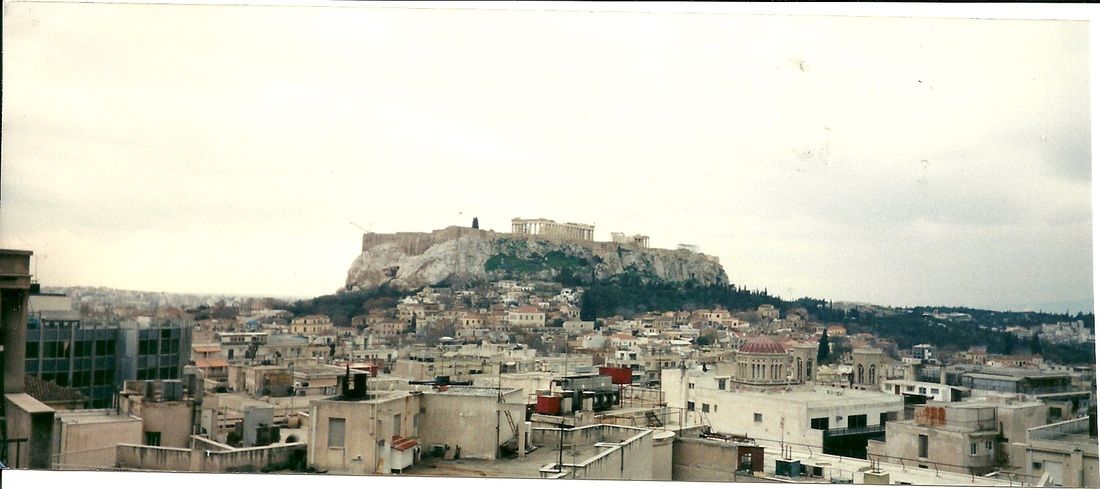 Photograph taken from our hotel in Athens by one of our students. Arete began staying at the Astor, and obtaining such a view, ever since the 1983 trip.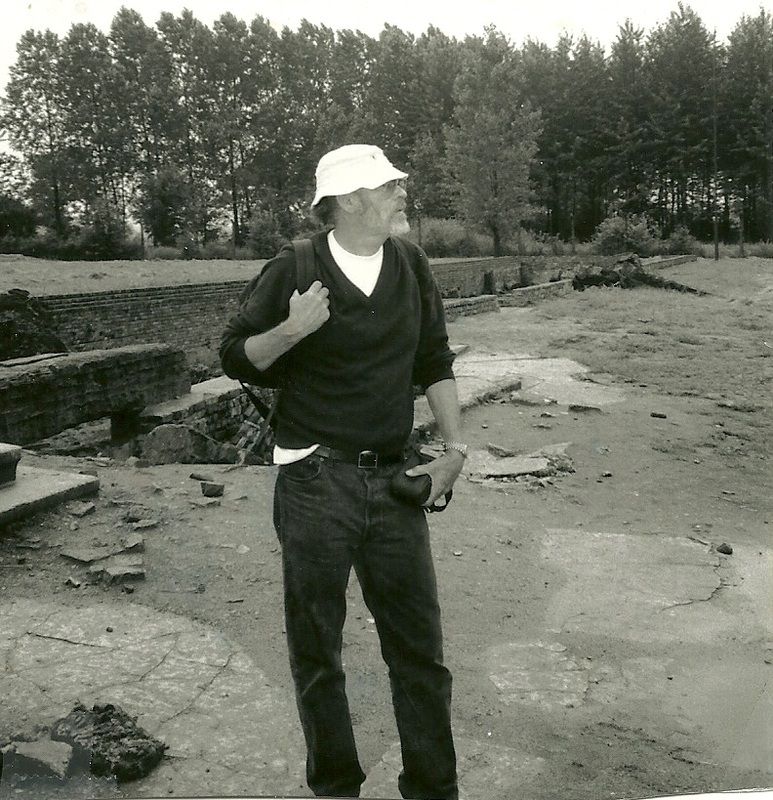 Mr. Taylor led his second Arete group into Auschwitz in 1995. Words refuse entry within such horror.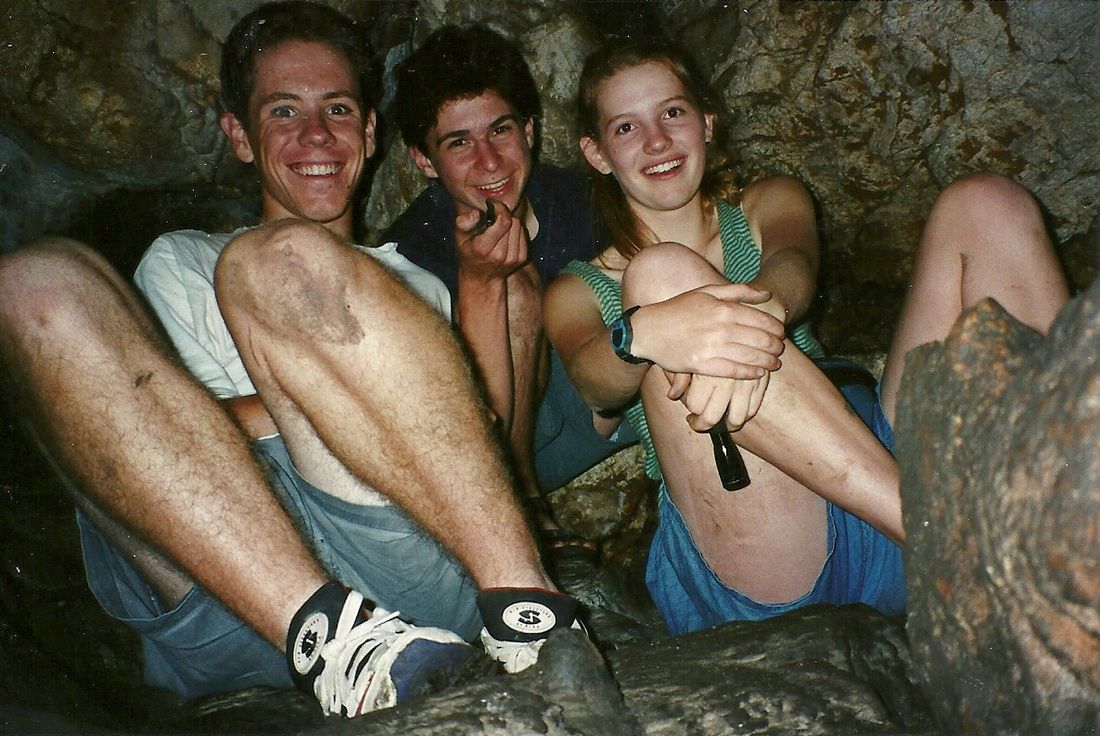 Robin, Jake and Jenny in a cave above our Delphi meadow in 1995, supposedly a refuge for Pan.
Jake and Jenny on roof of Astor hotel in Athens where we dined alone for our final night on the 1995 trip.