About Arete West

This web site is dedicated to the students who made Arête West come alive on twenty European trips spanning forty years. The ancient Greek word, arête, is sometimes translated as excellence. Through study, competition and travel, Arête students have come to know arête as that which calls forth the highest of human qualities.

William Taylor - Founder, Coach, Teacher
Arete West was formed in 1979 as an amature atheletic track club based in San Anselmo, California. It's initial purpose was to support members to participate in track meets in Europe. Most, but not all, of Arete's student members are athletes coached by Mr. Taylor while attending Sir Francis Drake High School (now Archie Williams High School) between 1976 through 2016.
Arete is an ancient Greek word meaning "Excellence" or "Virtue". It was first suggested to Mr. Taylor by his close friend Dr. Stephan Miller, a classical archeaologist from Berkeley and the pricipal excavator of the ancient olympic site Nemea, Greece. "Arete" was the answer to the question "What is the word for excellence in ancient Greek?". "West" was added to the name to reference the origin of California.
Arete West's first travel adventure took place in 1979 and they continued consistently every other year until the last in 2017. Early trips were focused on running and participating in track meets abroad, especially in Switzerland, but this quickly changed to a focus less on running and more on perparing for and then experiencing history through travel. And travel they did. Thus the main focus of this site is the recording of these 20 trips to Europe, Asia Minor and North Africa.
Each year, Mr. Taylor personally invited a select group of athletes to participate in the next Arete trip (on average 8 athletes). If you made the Arete team it meant you committed to rigorous extracirricular study for nine or more months prior to the trip with Mr. Taylor at his home on Sunday's, twice monthly. The topics studied included history, philosophy and art.
Homework was assigned and all students were held accountable. Assignments and group presentations related to their surroundings continued during the trips themselves.
A portion of the cirriculum covered is described in posts on this site as well as essays written by students, which often relfect on the way the Arete experience impacted them most.
All the trips were on a budget, like most student trips, with frequent nights spent at youth hostels and even a few nights camping in a field or sleeping on a hotel roof or the deck of a ferry.
After 40 years of continuous coaching, Mr. Taylor retired in 2016 and lead his last Arete trip in 2017 at the age of 84. He passed away in October, 2021, aged 88. Between 2017 and 2021, right to the end, Mr. Taylor routinely stayed connected with his students through weekly email newsletters.
If you have questions or comments about this site, or would like to help advance it, please contact the webmaster!
Special thanks to Jason Kintzel for compiling much of this content as he developed and managed the prior incarnation of this site for many years.
---
Fun Facts
20 trips, every other year from 1979 to 2017

155 total unique students (many students attended more than one trip)

22 countries were visited: Switzerland (18 times), Greece (17), Italy (16), Austria (14), Germany (12), Turkey (9), Egypt (6), France (5), Czechoslovakia (4), Hungary (4), Poland (2), Slovenia (2), Tunisia (2), Yugoslavia (2), Bulgaria (1), Denmark (1), Israel (1), Jorden (1), Lebanon (1), Russia (1), Sweden (1), Syria (1)

An average of just over 6 countries were visited per trip

On average 8 students attended per trip, the median is 7, the maximum is 16 (1987) and the minimum is 6 (1989, 1997, 2015 and 2017)
---
About William Taylor
Born in southern California in 1933, William "Bill" Taylor grew up in "the Valley" in Toluca Lake and North Hollywood.
His early dreams were to run track for USC, a dream he fulfulled becoming a nationally ranked half-miler on two national championship teams. After college he continued to run competativlely for the U.S. Marin Corps while earning the rank of captain.
A Master Degree in Theology, a short stint as a Presbyterian minister, and starting a family led him to settle in San Anselmo, California in the early sixties, where he became a financial advisor to the local community.
He re-engaged with coaching in the early seventies which led him to becoming the head coach of track and cross country at the local high school for almost forty years.
His passion for travel began in 1969 when Mr. Taylor's wife, Patricia, suggested that they spend ten days of vacation in Greece. Mr. Taylor fell in love with the ancient beacon of Western civilization and the Taylor family returned to Europe many times prior to and during his coaching tenure at Drake High School.
The former Presbyterian minister would form the the initial Arete travel team ten years later in 1979. While Patricia had no interest in the track meets that 'Coach Taylor' arranged in Europe, she did challenge and support the academic proportions of the unique traveling team.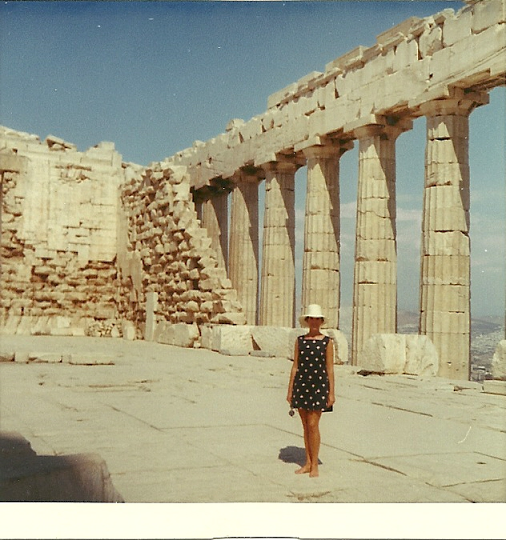 Dedicated to Patricia by her husband, Mr. Taylor.
---
Books By William Taylor
Igniting The Flame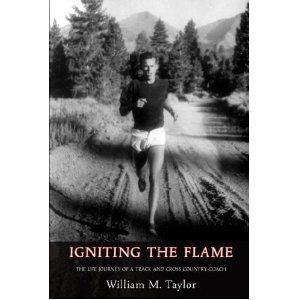 William Taylor's life story, as told by the man himself.
From the back cover
Growing up among Hollywood legends and Olympic athletes, Bill Taylor's boyhood dream was to become a famous athlete. That dream was coming true when he ran national times and received a scholarship to USC, the top collegiate track team in the country. Anguish and tragedy, however, sent him on a different journey through the U.S. Marine Corps, the Presbyterian ministry, politics, psychoanalysis, existentialism, and historical travel, to find his fulfillment as a teacher and coach in Northern California. Since 1979, Bill has been mentoring student athletes, taking many of them with him on summer odysseys through Europe and the Middle East to better inform the beginning of their journeys
A book review by USC Track & Field can be found here
Track & Field News, July 2008 edition endorced the book writing
"Bill has written an entertaining, inspiring autobiography well worth reading." Ed Fox, TFTN
Athenian Odyssey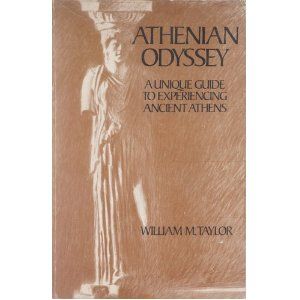 William Taylor's guide to bringing ancient Athens alive and making it relevant today.
Mr. Taylor's first book is still available on a limited basis. You can occasionally find copies through Amazon, and other used book sellers.
ISBN-10: 0893530255 ISBN-13: 978-0893530259
From the back cover
Mr. Taylor locates the places where the main events of the "Golden Age of Athens occurred. But he does more than that --- he give you some of the speeches and the plays, and also a historical and psychological commentary that will assist you in visualizing the past while you are at the spot. It was in Athens that civilized man reached the zenith of his achievement. All of us, to some extent, are what we are because of the Greeks of the Fifth Century B.C.
---
Sir Francis Drake Track And The Origins Of Arete West

William "Coach" Taylor was involved with the Sir Francis Drake Cross Country and Track teams for 40 years, beginning in 1976 when his son Jess entered high school, and ending with his retirement in 2016 at the age of 83. Coach Taylor assumed the role of head coach of all girls and boys programs in 1978.
In 2021 Sir Francis Drake High Scholl was renamed Archie William High School and after the beloved teacher Archie Williams, who also happened to be a former world record holder and won the gold medal over 400 meters in the 1936 Berlin Olympics.
While having the epitome of "track" credendials, Archie was never involved with the track program, choosing to focus on teaching math and computer science, areas he felt his important work lay. "Bill" and "Archie" were always close, having established a solid friendship well before Mr. Taylor joined the Drake teaching faculty.
Further details about the Sir Francis Drake track and field program history and all-time top marks during Coach Taylor's tenure can be found here: The Drake History Webpage
Origins
The origins of Arete West can be traced to 1978 and the Drake girls 3rd place finish in the Calfornia State Finals in the 4x440 relay.
These four girls were told that their brilliant would be honored with a European trip. The amature athletic team that was formed to support the trip was named "Arete West". Thus the beginning of the "Arete West Story".
From right to left, Jenny Davison, Jenny Baumsteiger, Lisa Vukicevich and Lori Saia.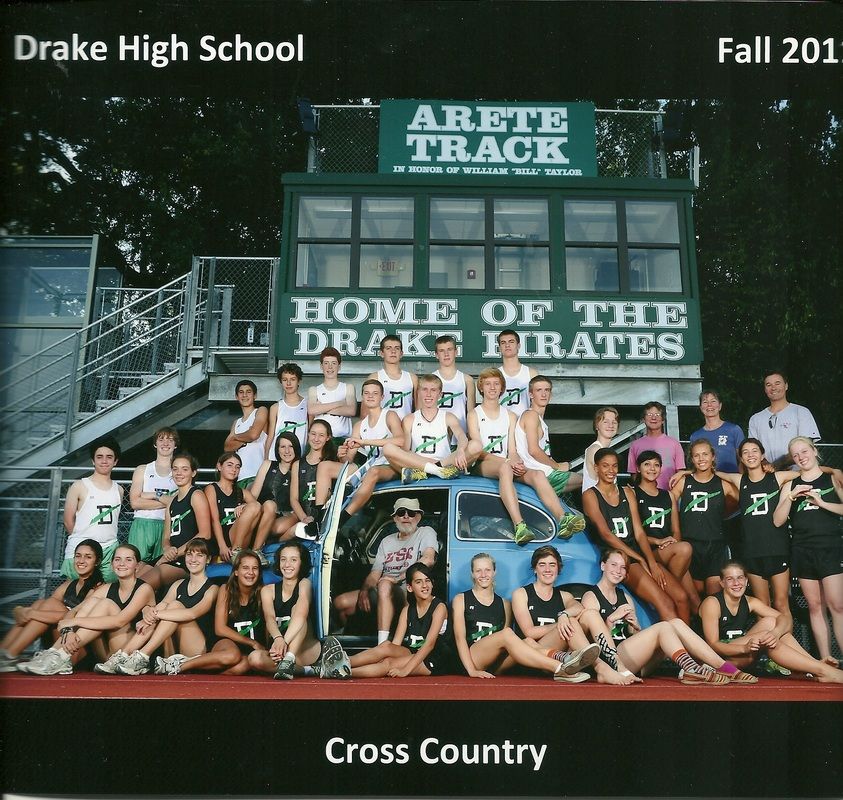 After so many years of service to Drake track and Arete West the track stadium was renamed Arete Track, in honor of William "Bill" Taylor.
Cross Country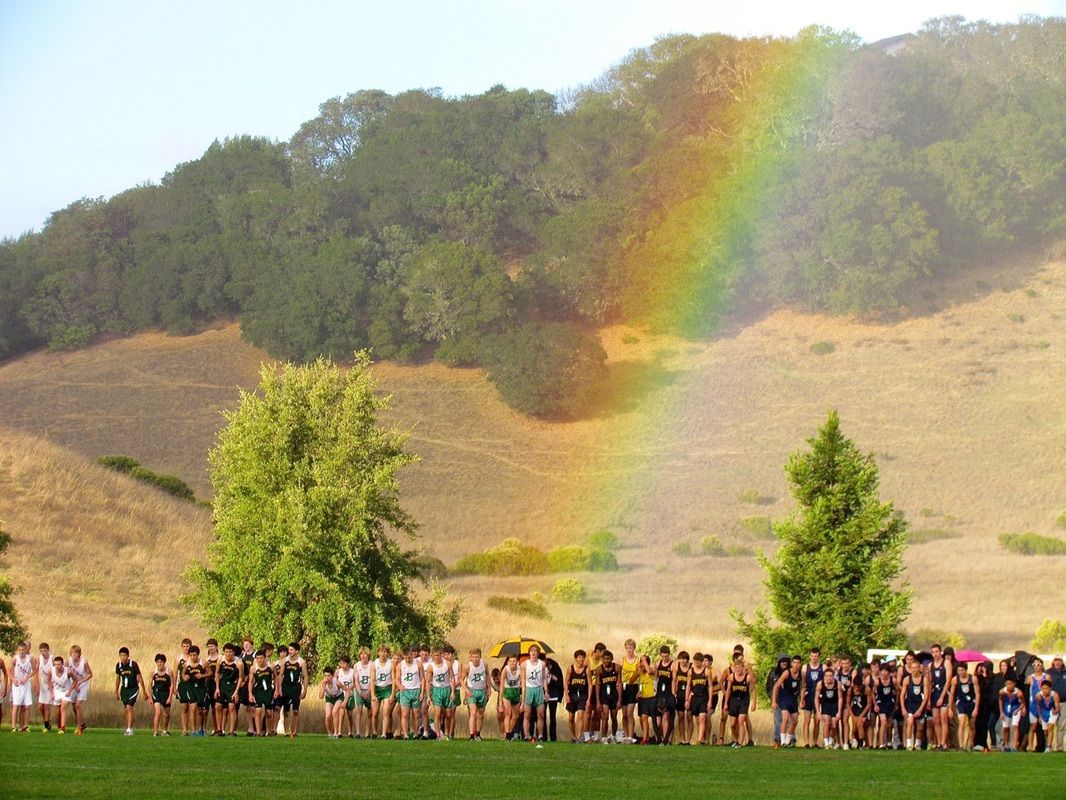 Many of the post county, northern California cross country meets over the years where held here at Spring Lake, Santa Rosa.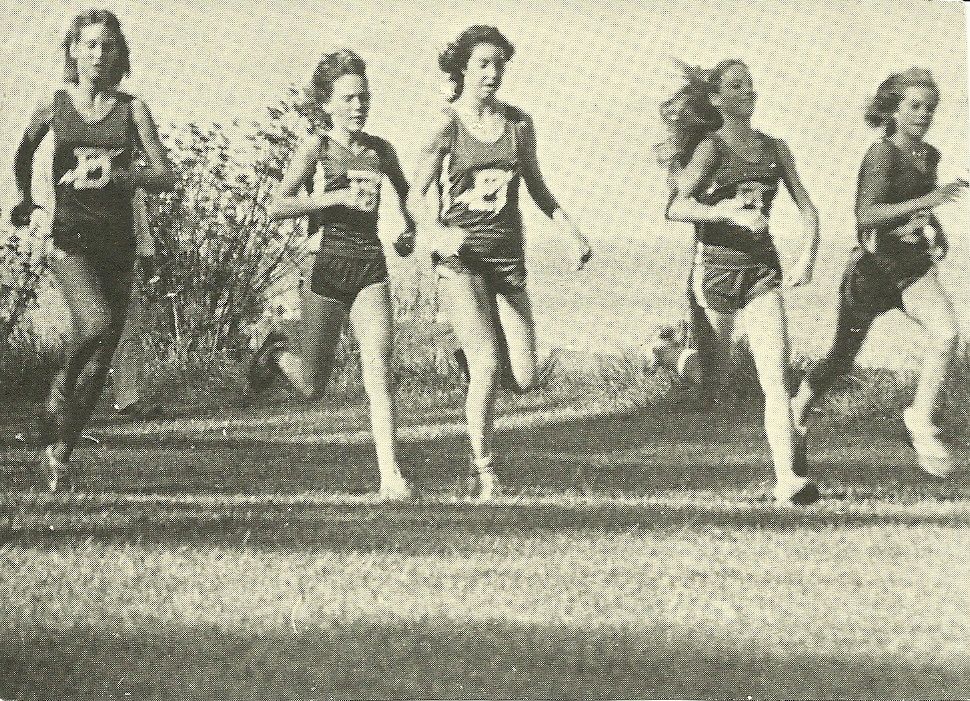 The Drake girls went 1 through 6 against San Rafael in cross country, and with 5 of them going on the earliest Arete trips. They won the North Coast Section AAA for three straight years. Picured here left to right: Theresa Martin, Katie Dykstra, Gigi Geopheon, Julie Zeigler and Shelby Thorner.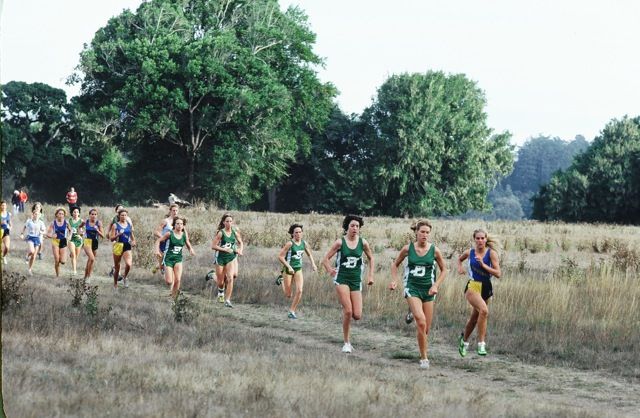 The same Drake girls are running 1, 2, 3, 4, 5, only Robyn MacSwain can handle them over the cross country distances. This the team that won the North Coast Section "Redwood Empire for three straight years and are clearly the best Drake team ever. Ms. MacSwain is now coaching at Drake (Archie Williams). The world swirls in fascinating and unexpected ways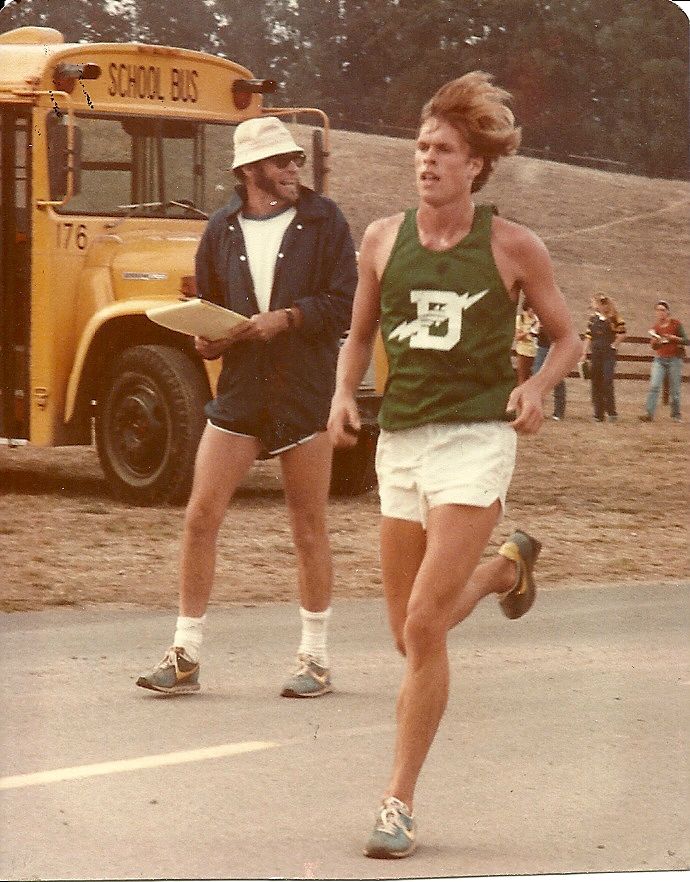 Coach Taylor and son Jess during a home cross country meet at Bear Valley in 1979. Jess developed into a league leading county miler and half-miler and Coach Taylor enjoyed mentoring him and his younger son Cory. Jess and Cory joined on the first two Arete trips, 1979 and 1981 with Jess winning at a number of meets in Switzerland in 1979. Cory also joined in 1983.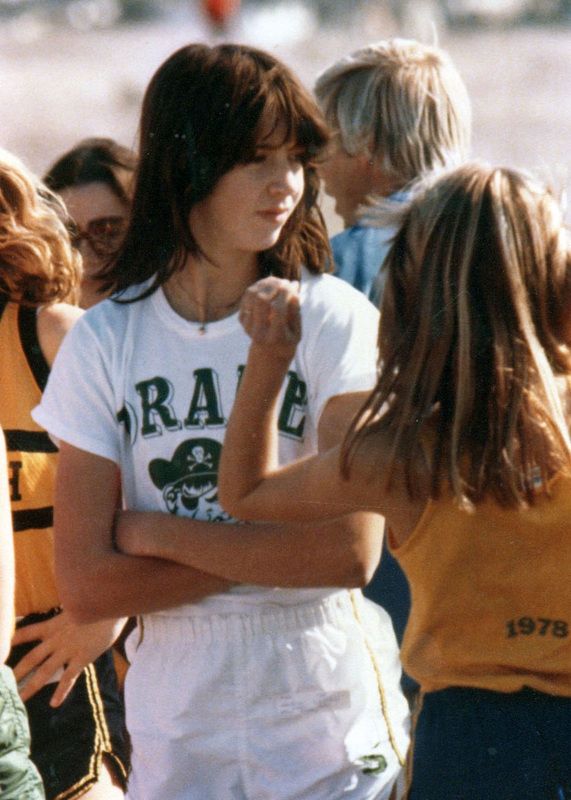 A young Gigi Geoffrion became the star of the league in her freshman cross country season. She had a number of victories on the first Arete trip to Europe. One night she won in Basle over 800m with a 2:21 clocking, one morning alongside Lake Geneva she ran the 1500m in a time that converted to about 5:15 for the mile.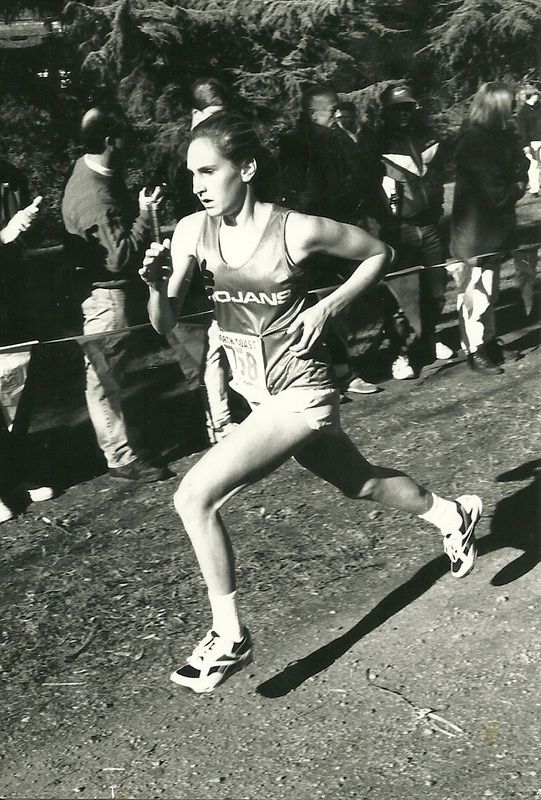 Yes, a "Terra Linda" uniform. Arete sometimes has students from other high school on the trips. This one, Jen Ponig, went on Arete '95 and '99, then hosted Arete 2005 in Lebanon. She is a dynamic part of the Arete West story. In her high school running days she placed 7th in the division four state finals. When the "Independent Journal" asked Mr. Taylor before a county cross country final what athlete was likely to win, he offered and they printed, "it will be the Jen Ponig story". Ponig won by virtually a 1/2 a mile.
Track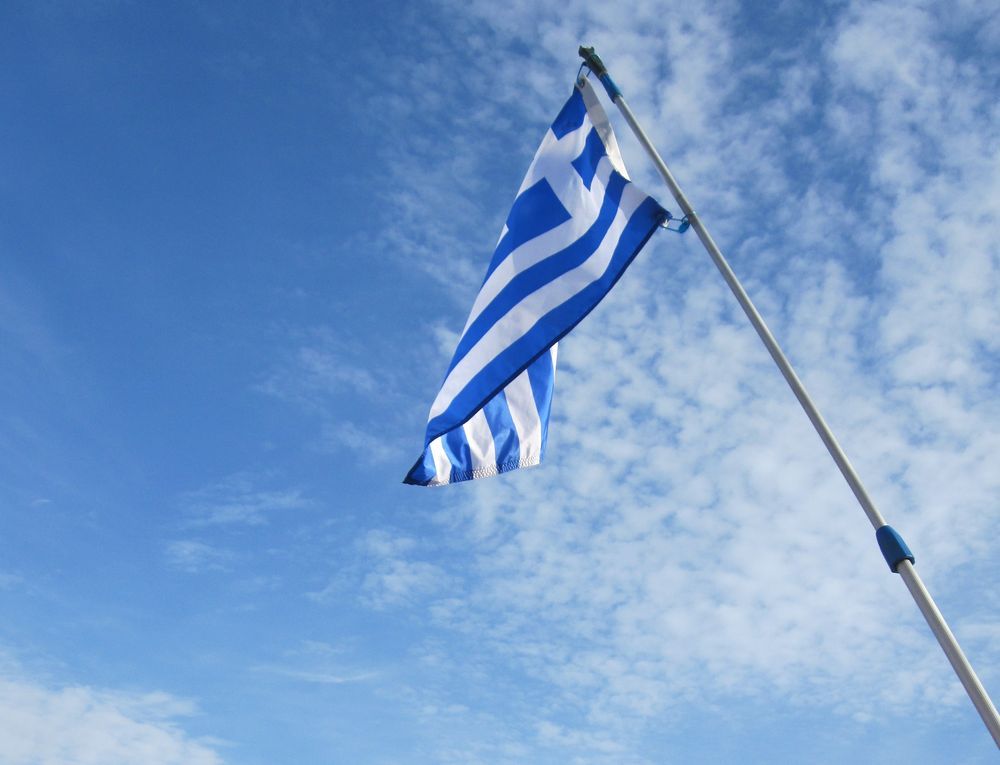 The Greek flag became the symbol for Arete and accompanied the Drake track team to the invitational meets and eventually to the "Arete Track" at Drake (now Archie Williams).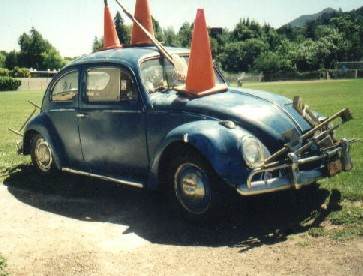 This ancient Volkswagen links those from the earliest years. Do not under-estimate the power of this vehicle. With or without the starting blocks on the front bumper, this symbol lives for those who risked and played on the Drake high school track.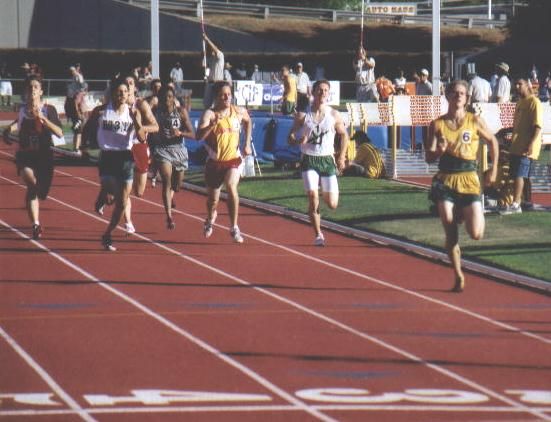 Eric Lee went on the Arete 2003 adventure after placing fifth in the California state 800 meter finals. His time of 1:52 was the second fastest in county high school prep history.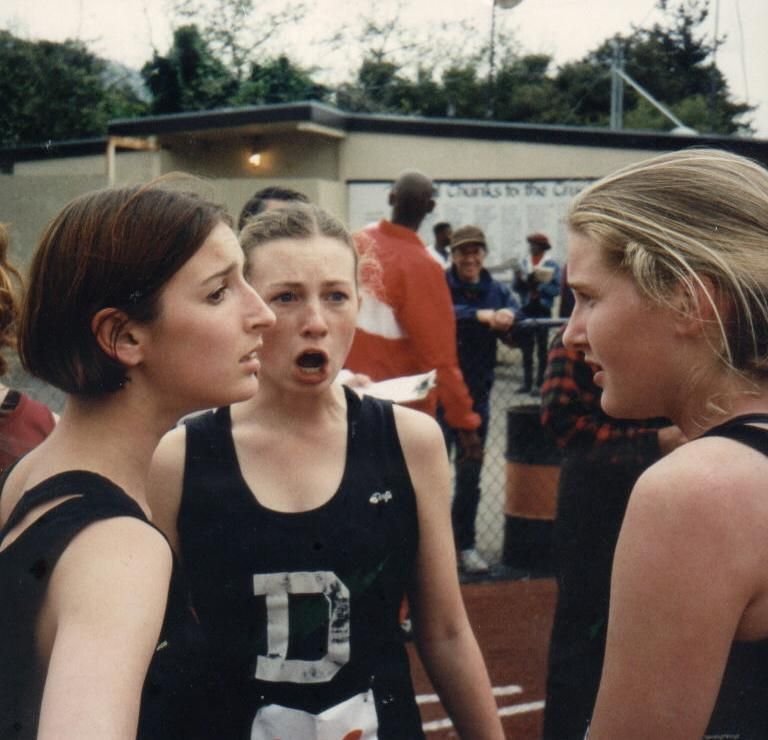 Amber of mid-1990 Drake teams complain after K-Bell 800 meter race of the treatment they experienced from aggressive female competition. The athletic prepares the young people for the rugged Arete West travel experiences.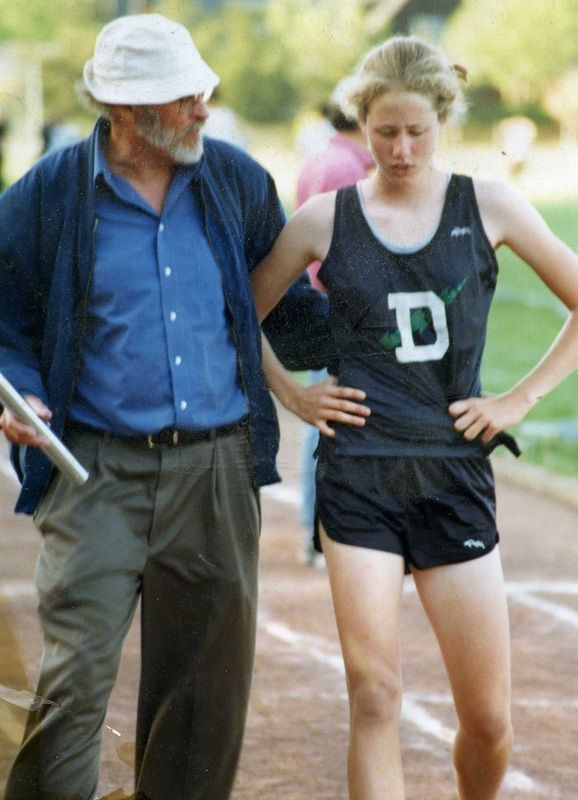 Dory Weston went from a tremendous "come through" and victorious anchor leg in the county mile relay final as an inexperienced freshman in high school, to a five foot clearance in the high jump as a senior, being a part of Arete '99 and then in 2011 to a student assistant on Arete XVII.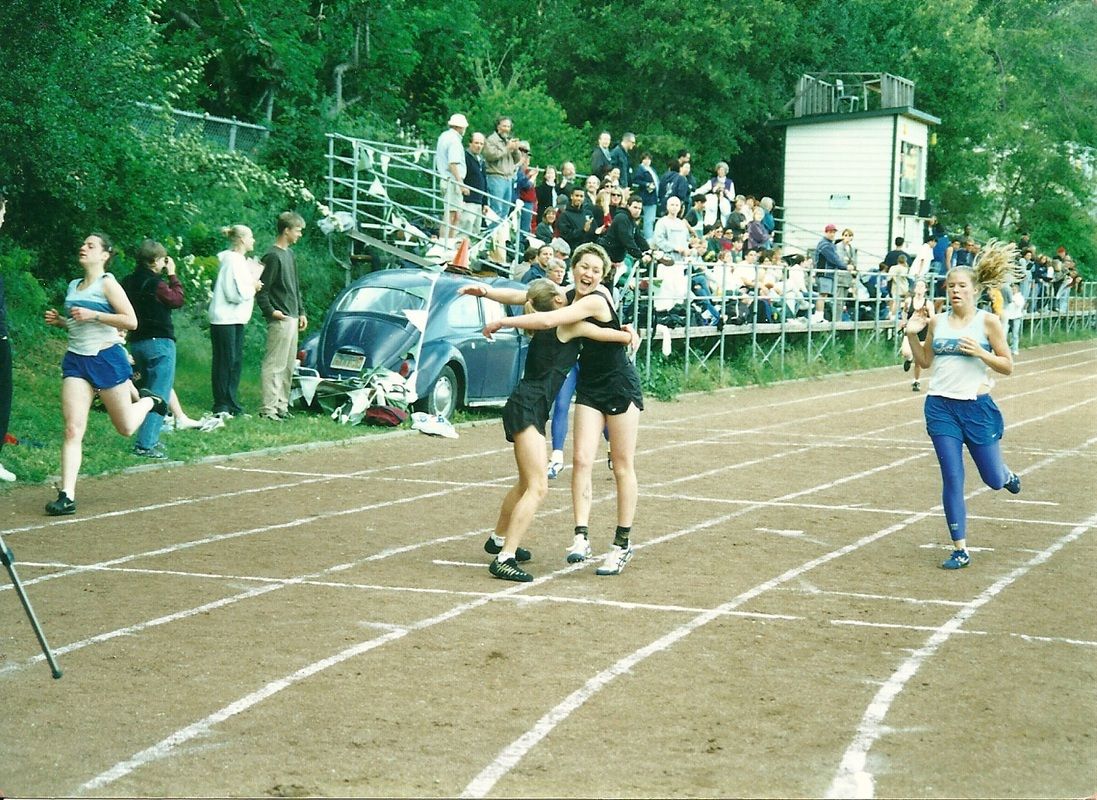 This 1-2 220 win over Tam secured the league pennant. Morgan Banks and Tessa Hulls had already won events, but with a short rest they came back and not only took the top two positions in the 220, but were well into their celebration before the top Tam sprinters finished. And check out the Volkswagen!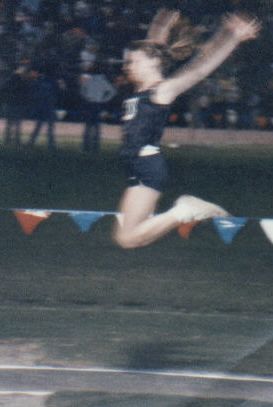 Gretchen of Arete '87 enjoyed jumping over 17 feet in high school. Here she flies through the air at the famous Arcadia invitational.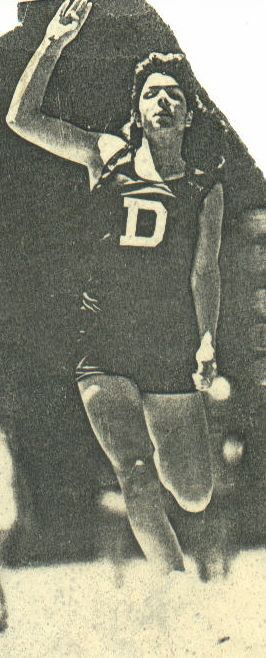 Allison Banks set the Drake long jump record and ran on the school record 4 x 100m relay team.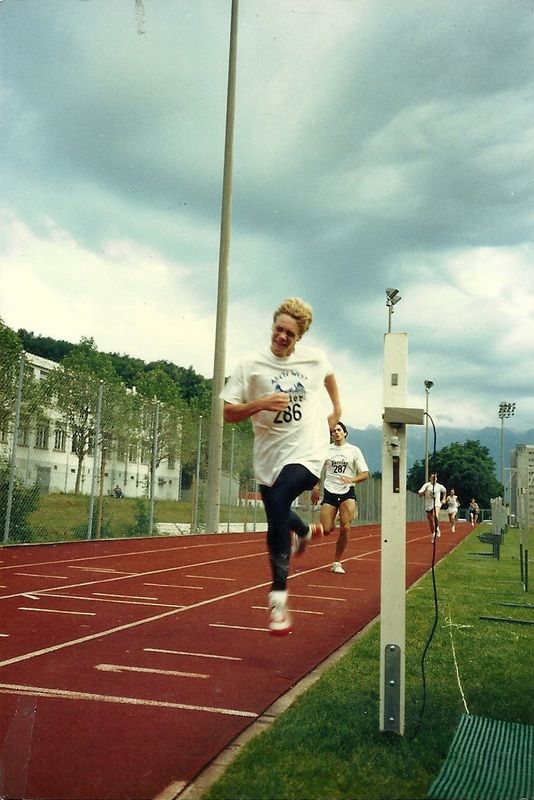 Arete swept this 800m race in Switzerland on the '87 trip. The winner in 2:02 on a 400m track was Paul Dachauer, one of Drake's "all time" distance runners. Erik Foehr, a fine half miler, finished second. That looks like John Mahl in third.
One of the most dramatic finishes in Drake track history was the anchor leg by Dory Weston in the county finals. Her best 400m time was above 70 seconds. Mr. Taylor placed her on the anchor, hoping that the likes of Katie Bernarding would give us such a lead that Dory could hold off the other runners who would not be aware of her vulnerability. Dory came through with a 65 time and Drake won still another county mile relay title. "Go Dory".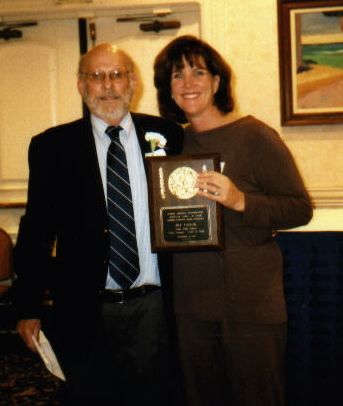 Lori Saia was appropriately the first Arete veteran to be honored by admission into the Marin Athletic Foundation"Hall of Fame" for county high school athletes. Lori qualified for the state finals twice over 88O yards and ran that tremendous anchor leg in 1978 as Drake placed third in the state mile relay. No Marin relay team has ever finished higher!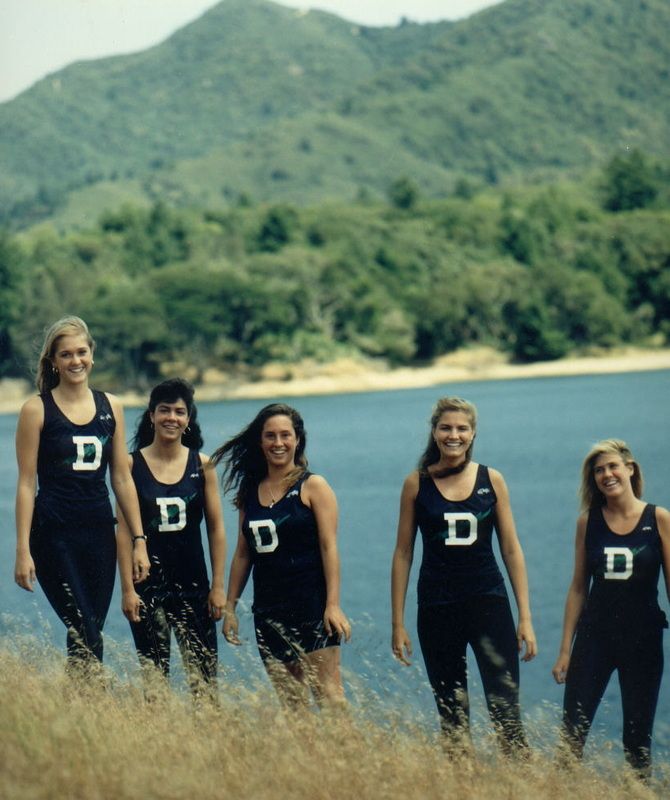 Kirsten, Allison, Alyssa, Jenny and Nina were five of the girls who enabled Drake to win all of their league meets from 1986 to 1989, four straight years.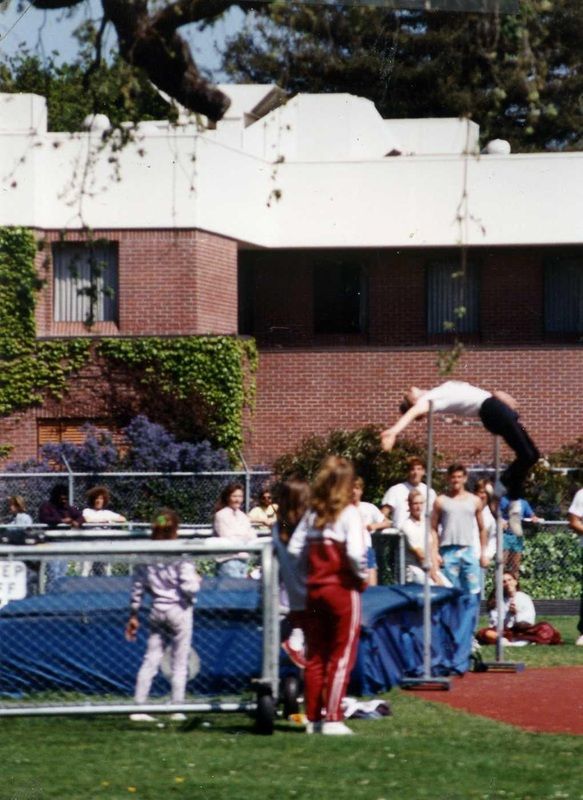 "The Babe", Jim O'Sullivan, clears 7 feet for the first time at Santa Rosa in1989. Nobody from Marin has ever reached this height. And Jim cleared 7 feet three times that year.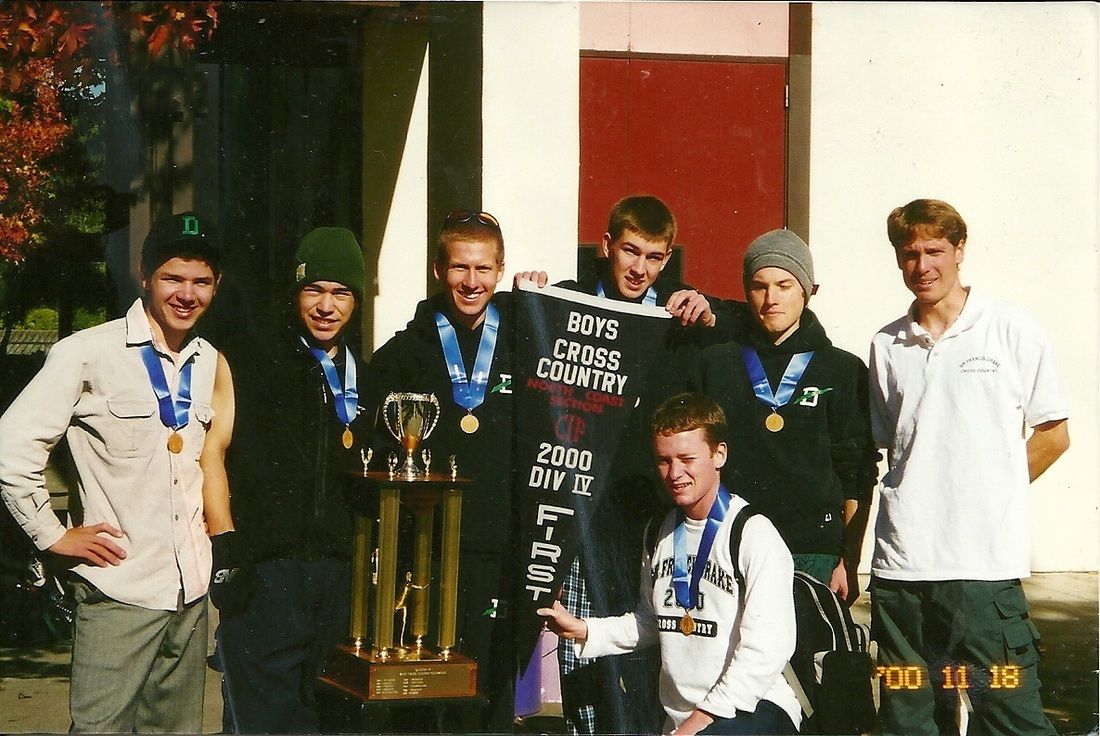 When Richie, largely due to injuries didn't make the 2000 U.S. Olympic team, he told Mr. Taylor he would coach the Drake boy's cross country team. They won the NCS division IV title, then placed 7th in the state. Three of the lads, as well as Richie, are Arete veterans (e.g., Will Bret on left in 1999, Steve O'Mara next to Richie, 2001, and Rory Kuykendal, up front, in 2001.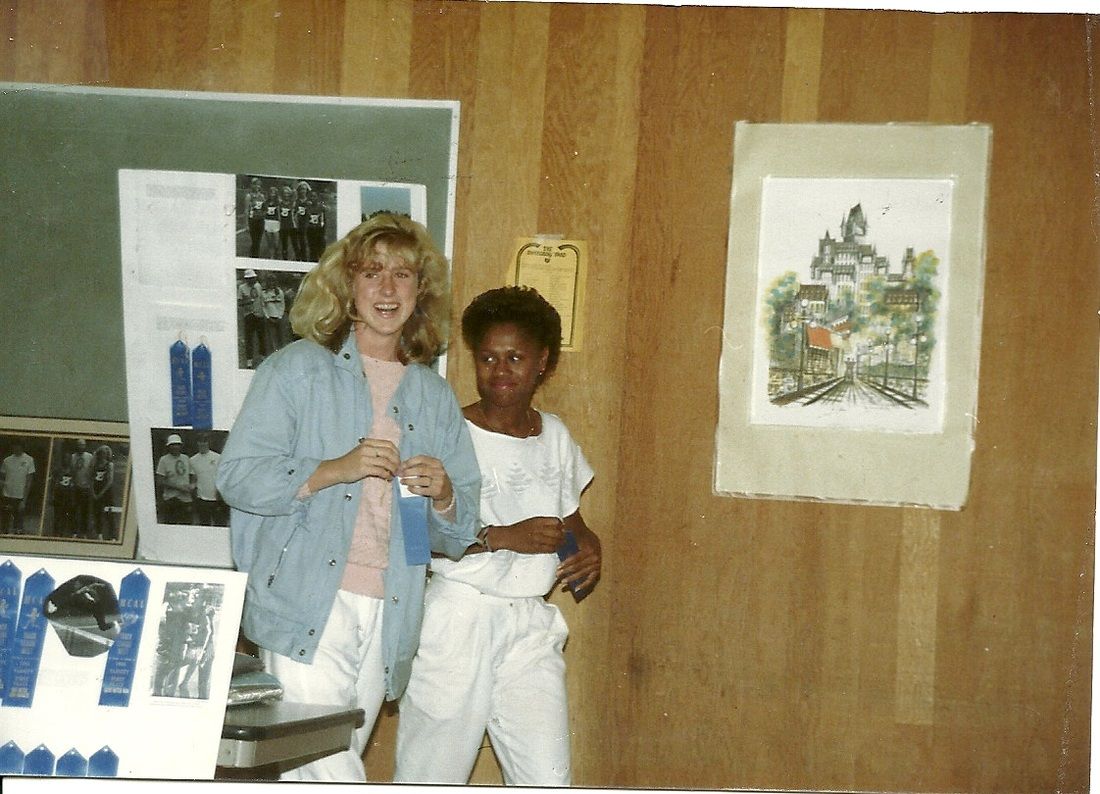 Drake sophomore Angela Driller of Arete '83, '85 and '89 with nationally ranked Karen Brown at 1984 track and field banquet at Drake. Brown still holds the best ever Marin mark over the 300m and 400m hurdles, as well as the best North Coast Section time. Angela remains in the Marin "top five" with her amazing 45.7 freshman time in 1983.