Trip 5 - 1987

Itinerary
Austria
Greece
Italy
Switzerland
Czechoslovakia
Hungary
Slovenia
Yugoslavia
Students
Allison Banks
Nina Clark
Marion Coote
Paul Dachauer
Gareth Engler
Erik Foehr
Mark Foehr
Ethan Ford
Jennie Kluse
John Mahl
Jenn Nelson
Alyssa Phipps
Mike Ramos
Kristen Richardson
Gretchen Sweigert
Jessica Williams
Trip Leader
Trip Highlights
Rain, rain go away - some nine days given to wet conditions
Running through Swiss field and all time photo
Good track marks at meet in Vevey by Lake Geneva
The skies finally cleared the last day in Zermatt and we had a wonderful picnic under the Matterhorn and a warm sun
Peanut butter, jam, rolls, nuts, big, thick creamy yogurt
Woman smiles on way to work as we listen to Verdi in front of famous opera house in Milan
Venice and another opera house
Florence and café tables for beds
A banana for breakfast before David
Lake Bled, a run, a swim, dancing, then a long the search for van keys in the morning
Ethan had them in his pocket (even now I can see him grinning); so much for doctorates and MIT
Vienna youth hotel wasn't available yet so we were farmed out to some rooms well away from the Ring
Hit wrong day and Freud museum was closed
Behind the Iron Curtain to Prague
Broken glass
Military police
Alyssa teases officers and we are set free
Tough competition in their prime track stadium
"Get set?" how many times Gretchen and Allison?
Great track meet in Budapest
Paul and Marian race to top marks; four of the boys run very good times over 1500 meters
Exchange with athletes, Paul makes a friend, we acquire a friends who go with us to certain sites
Marian plays violin with gypsies in outdoor restaurant
Statue of Lenin by heroes square
Quit teasing Nina in the elevator, Allison
We almost left Budapest without John and Gareth
Fear of train separation on way to Belgrade, moving from compartments in middle of the night, "up and down the ….."
Wonderful greeting in Belgrade at the train station and then lunch with their coaches and team
Friendly meet in a large, empty stadium; cold showers
Wonderful party in outdoor restaurant with coaches and athletes
Late train departure for Greece, yet many of their coaches and athletes were still there at the station after midnight
Good night on the train, but only one van available in Thessaloniki; some needed to ride in a crowded car through Greece
Down the mountain with Jenny and Kirsten in the Mt. Olympus express
Procession of maidens to altar by Parthenon
Sky diving off cliff in Nauplion
Orchard theft
Marvelous Santorini
Hello Ethan, what are you riding?
And what is that on your T shirt?
Closing talks on before Parthenon
Four hours on run-way in Chicago on way home due to electric storm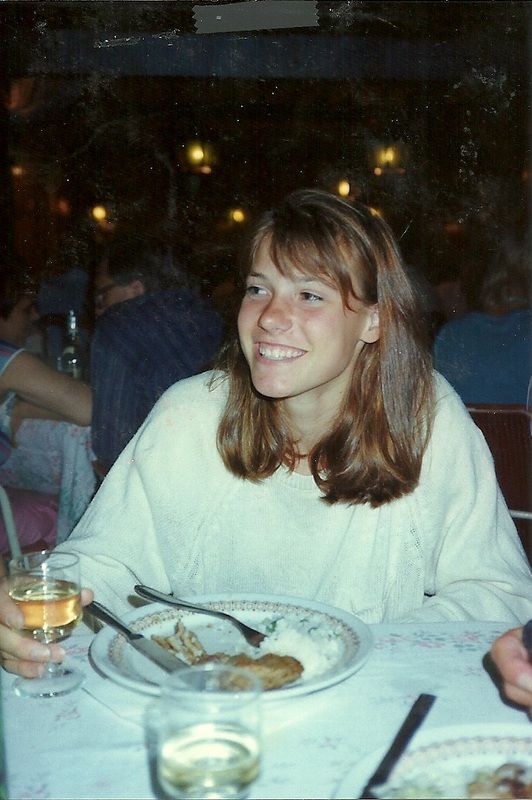 This lass would not have been with us if she hadn't decided to put an important league track meet over a rock concert. She had already purchased the tickets. She chose to support her team, and this led later to Gretchen being selected to travel with Arete '87 to Switzerland, Italy, Czechoslovakia, Hungary, Yugoslavia and Greece. Good choice, Gretchen.
Today, twenty five years later, Gretchen is one of the most alert and interested Arete veteran.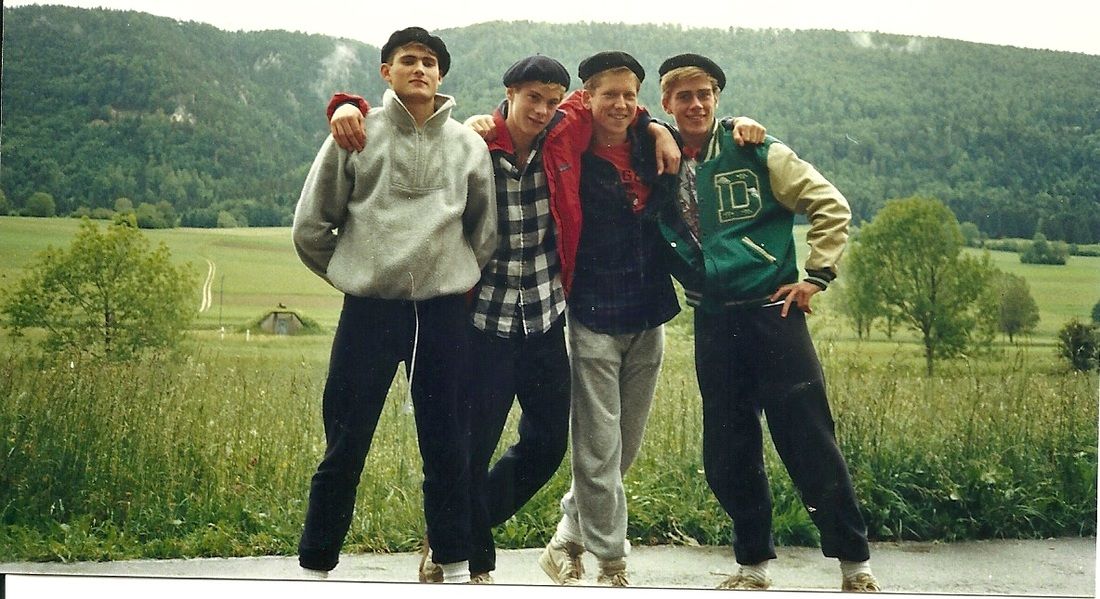 These young lads thought they were going to charm the girls of Europe on the Arete '87 trip. While full of fun and play, each has gone on to exciting lives with major travel under their belts. Mark on the left, has spent recent years in a non-combat, but at risk role, in Iraq, studying Russian in the Ukraine when taking a break; Paul, next to Mark, traveled by himself through Egypt, India, Cambodia and then lived for awhile in the Philippines; John is a CPA, but he took on independent travel, too, even riding a motor bike through Vietnam; Ethan, with a doctorate in biology and MIT credentials, was the most wild of the bunch. After a number of years working on DNA research in Athens, Greece, Ethan has recently taken a new research position in Australia. With his surf board and the challenging waves, he will be just fine.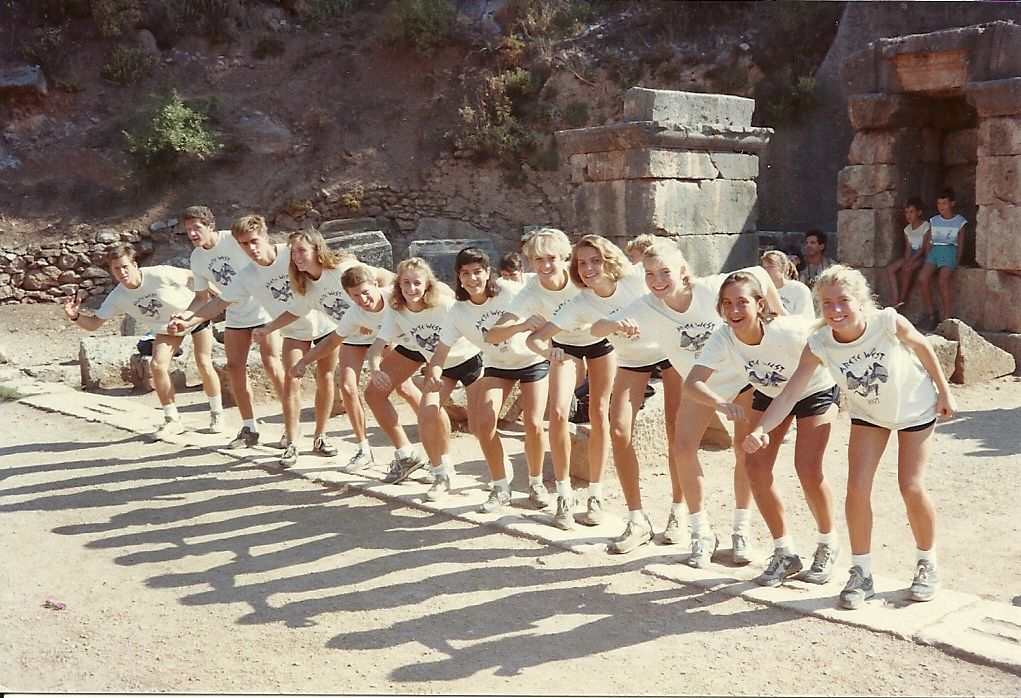 Athletes from the championship Drake track teams on Arete '87 trip place their feet in the starting groves on the 6th century B.C. track at Delphi, Greece. Big time!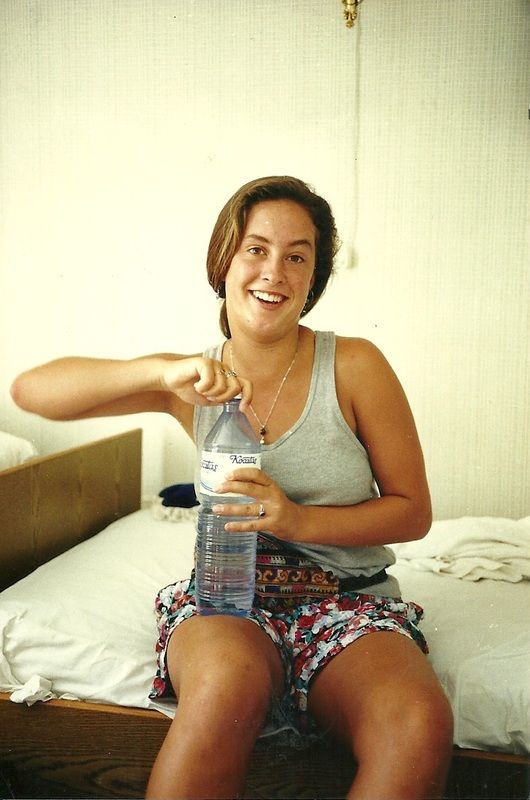 A trip needs a strong personality and Alyssa was one who provided such on the Arete '87 adventure. It was the largest group we traveled with, sixteen in number, and Alyssa provided some rare moments of leadership. This included drinking bottle water "and not risking.....". The boys can be victims because of their macho self-images.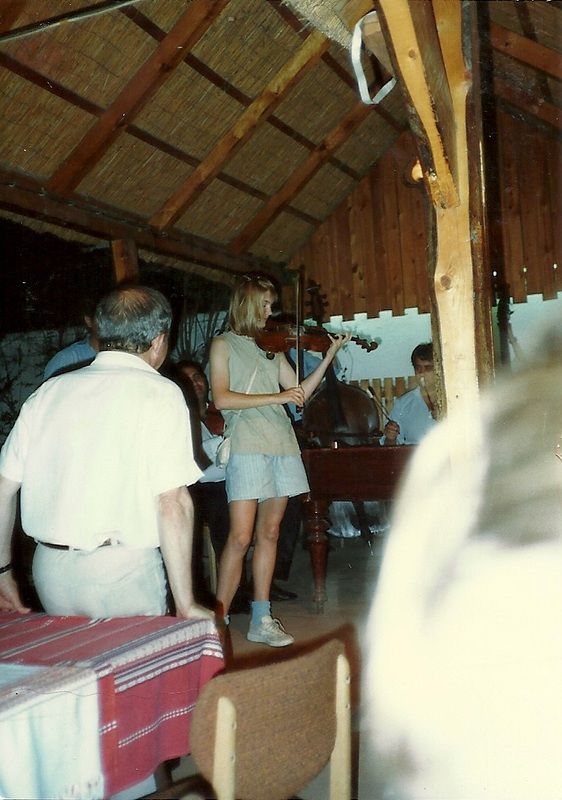 In 1987 the leader of the gypsy band in Budapest gave our Marian a violin and she did not disappoint those dining in the outdoor restaurant. This spontaneous kind of musical moments happened again in 1991 when a Maggi responded with her own violin in Varna, Bulgaria, and Istanbul, Turkey.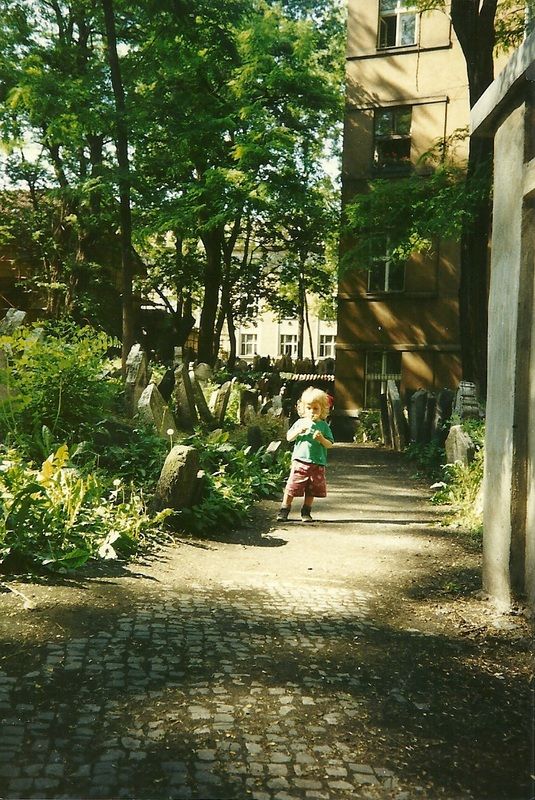 An Arete '87 student caught this moment of a little girl walking through the ghetto cemetery in Prague. She was occupied with a flower while she passed by graves with twisted tombstones and stacked on one another.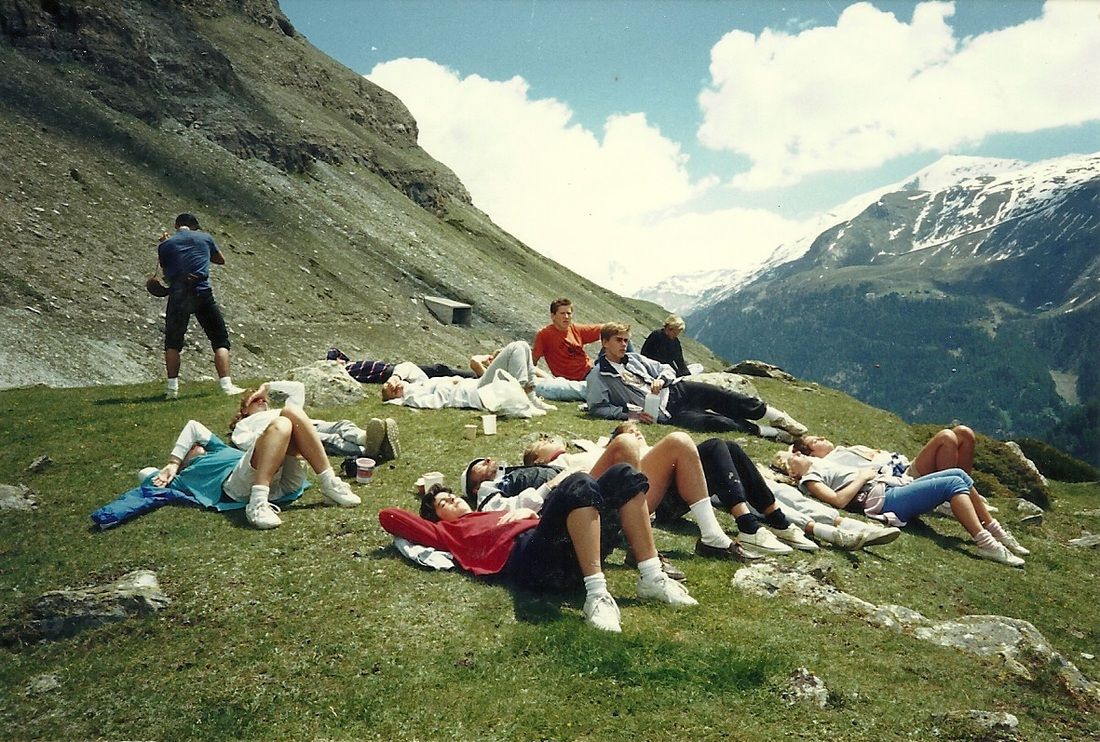 Arete '87 enjoyed lunch with peanut butter and jam sandwiches, nuts, Swiss yoghurt and chocolate candy alongside of the Matterhorn. We experienced some eight days of rain in Switzerland before the sun came out this day.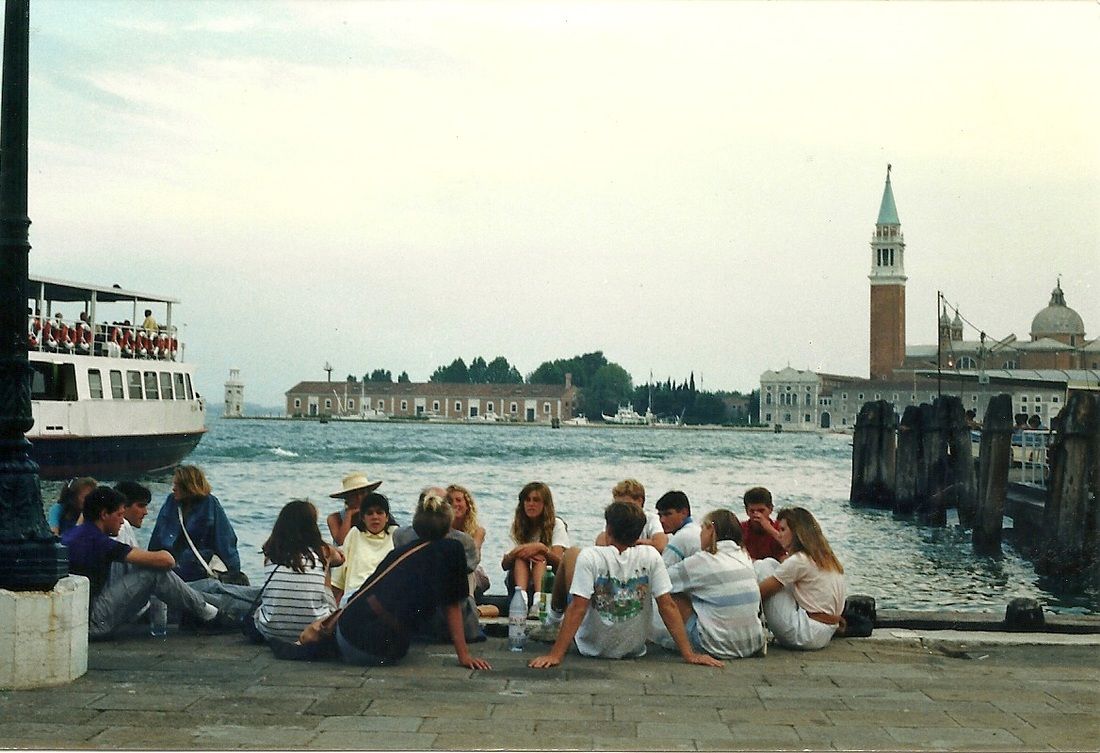 Arete '87 enjoyed Venice. Nice to see them together again through this photo.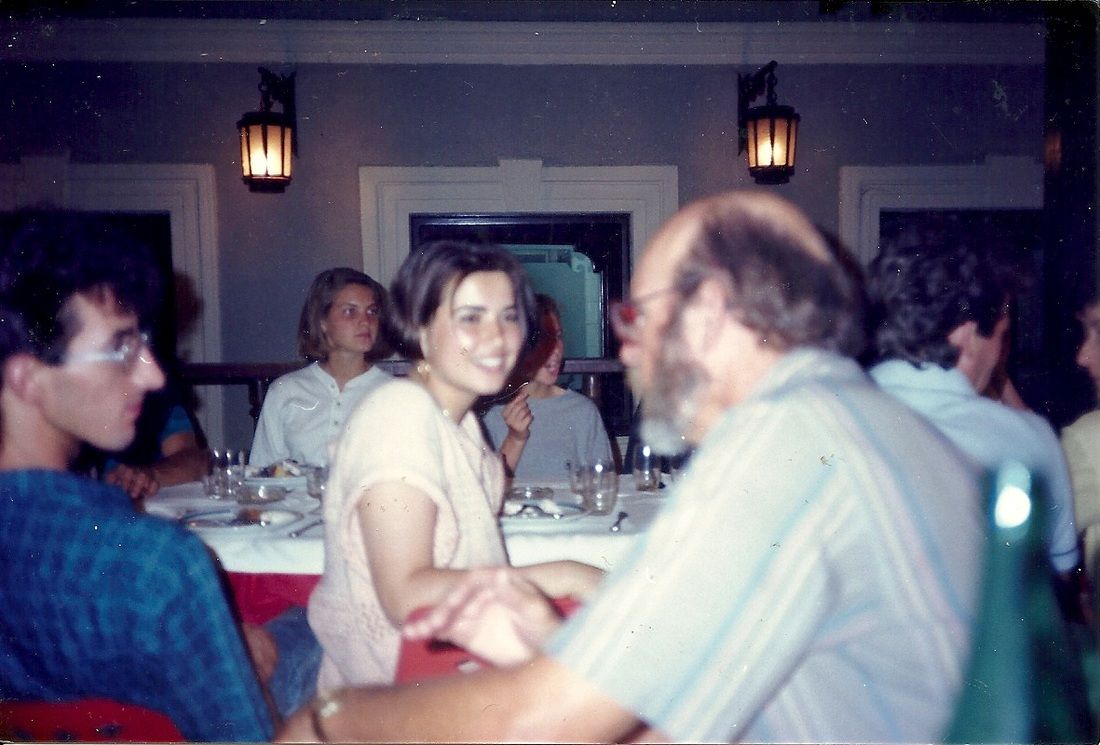 The Serbians in Belgrade in 1987 had a party for us after the track meet. They wouldn't let us pay, then went with us to the train station and saw us off for Greece around 1:00 a.m. In this picture, two Yugoslavians are looking my way, while Jenny Kluse is across the far table. This was all even more fascinating in that Yugoslavia was still a communist country.