Trip 4 - 1985

Itinerary
Austria: Vienna
Czechoslovakia: Prague
France: Paris
Hungary: Budepest
Germany: Berlin, Munich, Nuremburg, Leipzig
Poland: Auschwitz, Krakow
Switzerland: Chur, Grindelwald, Geneva, Lausanne, Zurich
Students
Denise Belanger
Gina Connell
Angela Driller
Steve Dodge
Ann Hribar
David Lindquist
Dan Muhic
Dan Scholnick
Theresa Stuart-Simi
Christina Teply
Trip Leader
Trip Assistent
Trip Highlights
Dazzling Paris of the Impressionists, the river and bridges, Freud's presence in 1885-86, the study of hysteria, a dog chasing Steve
Great morning run through streets of Paris, past opera house where Hitler had posed on the steps, across the Seine and down to the Eiffel Tower and back to the hotel through the Tuilleries
Fun night train ride with hysterics to Switzerland
Incredible morning with crystal clear view of the Eiger from high above Grindelwald
The snow, crisp air, pleasant temperature and always that view
Waiting for our laundry in warm morning sun by statue of Rousseau in Geneva
Track meet on dirt so times were compromised
Track meet on new synthetic surface with some rain in Lausanne
Track and a lot of rain in Chur; but a beautiful setting
Zurich with Einstein, Lenin, Jung, Wagner, swans and sausage
Dr. Griffith arrives at train station in Munich; where Hitler arrived when he came from Vienna in 1912 to change the world
An evening of fun at dinner in Nuremberg; "look out Katy"
Hitler and his parade ground in the morning; fresh paint of Nazi hate on stadium door
Wagner's piano and the grave in the backyard in Bayreuth
Bach and his grave in St. Thomas church in Leipzig
A new Japanese hotel for us as a gift to East Germany in Leipzig, East Germany; not very friendly greeting at the border;
Religious literature banned from entry, even Luther the door of the big 95 thesis' on the church in Wittenberg and Luther's powerful grave, the church
They turned up their noses at lunch
The Brandenburg gate and our stimulating visit with our guide Caroline; a university student, Caroline was a proud communist and explained why at this historic setting leaving East Berlin through Check Point Charley, knowing that Caroline knew that she couldn't go with us
When asked for something from the West, Caroline had requested a poster of James Dean
Prague was dark, mysterious and of beautiful
No restaurants at night, grocery store shelves bare; want a radish?
Great, unique, highly competitive track athletes behind the Iron Curtain was a marvelous thrill
Katy beat a tough Czech over 2000 meters, Gina surprised to win the 600 meter race the teams exchanged uniforms (from "riches" to "rags")
A 5:30 a.m. departure for Poland, and Auschwitz
Gas tanks near empty and not enough Czech currency for lunch; unsuccessful bank line only move ½ yard each ½ hour
Separated from each other by van because Dr. Griffith wouldn't follow me up a new freeway ramp that wasn't open yet
Located Dr.Griffith parked alongside road near Polish border
Pink soup for lunch
Bought Polish gas coupons and felt wonderful
Auschwitz and horror of gas chambers at the end of the rail track
We kept a distance from the twisted concrete of the death shower
The red ballroom in Cracow
Horrible night in a youth hostel with water inches deep in bathroom
Great breakfast in coffee shop at a hotel and then a stimulating visit to the castle of the kings above a tranquil river
Denial at the border; "you no go through Czechoslovakia to Budapest"
The race for the consulate in western Poland with our visas expiring that night
David yells at Ann, _______
Shake out the sleeping bags, the luggage, we need dollars
Rip off visa photographs that were to be used for Budapest
Escape into the darkness of eastern Czechoslovakia
Maybe food at an industrial town bar about 11:00 p.m.
Appear a little bit strange to communists gathered in the hotel restaurant bar; they had been cut off from West since forty years
A few hard boiled eggs and radishes were served after a lengthy wait
Back on dark, narrow road with one night transit visas
Sweet little drive back to hotel to hopefully claim a backpack and passport at 1:00 a.m.
Frightening border check at 3:30 a.m.
Woke up by a cemetery in Austria
The Vienna airport provided clean bathrooms, exchange booths, small grocery store; Mecca
Found private rooms at a youth hotel just off "the Ring"
A nap
Discover Klimpt special exhibition; virtually all his paintings assembled
We tried and tried but could not find where Mozart died; later, on another Arete trip, we found it about fifty yards away and on the other side of the quaint street
Sigmund Freud greets Arete group for the third time in Vienna
Joyful final evening dinner in a restaurant of class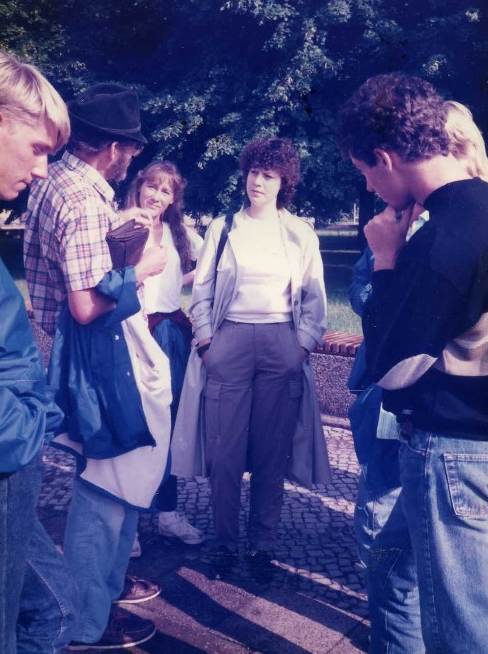 "Carolyn" was our appointed guide when we were in East Germany in 1985. We were standing close to the Brandenburg gate in East Berlin when this picture of Carolyn was taken. A college art student, she told us she was "proud of Communism because it helped people." We were fortunate to have this young woman with us. When we parted at "Check Point Charley" we asked Carolyn whether we could send her anything from the West? Her response was quick, specific. She asked for a poster of "James Dean".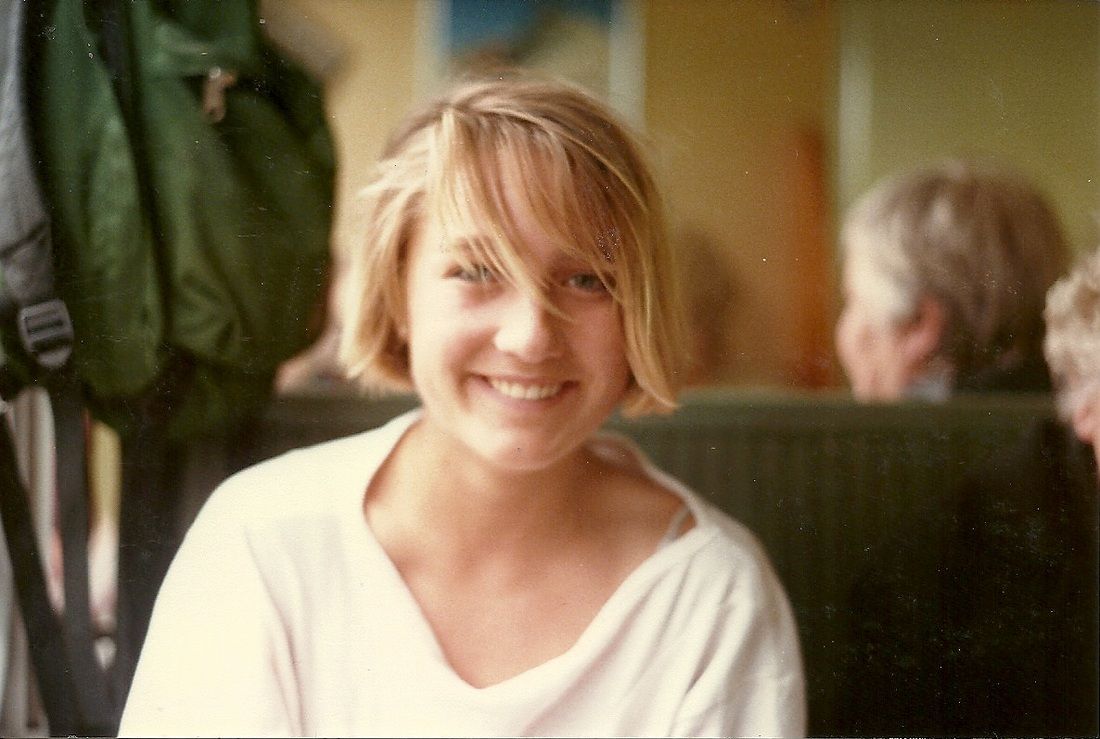 Certain people contributed joy and fun to the rugged travel schedule and one of the best was "Gina" in 1985. Along with her sparkling personality, she won a big race in Prague over 600 meters and realized immediately that this meant she would likely be moving up in distance to 800 meters in her final high school track season.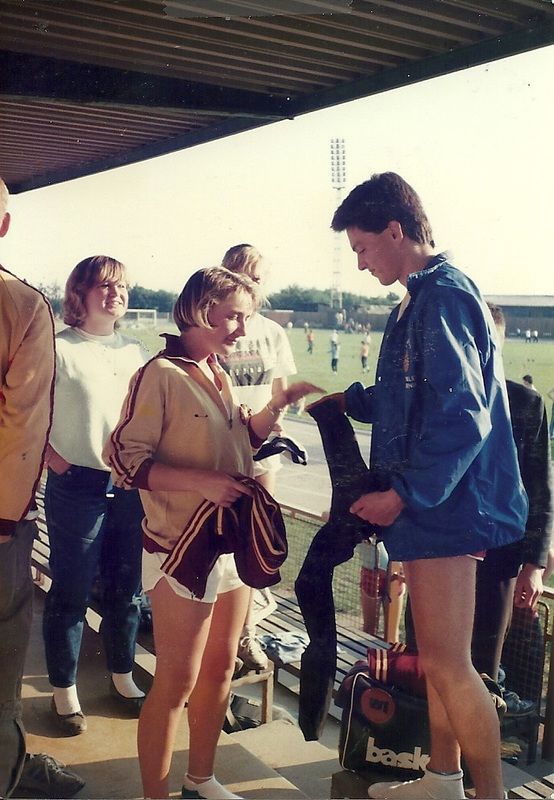 "Gina" trades with Czech athlete her blue uniform jacket that the Ross Valley Rotary club provided for her as a member of Arete '85. The scratchy yellow garment that she received was kept fondly by Gina. The track meet in Prague in 1985 was the first time that their youth had competed with Americans. This was the setting and track where Gina won the 600 meter competition.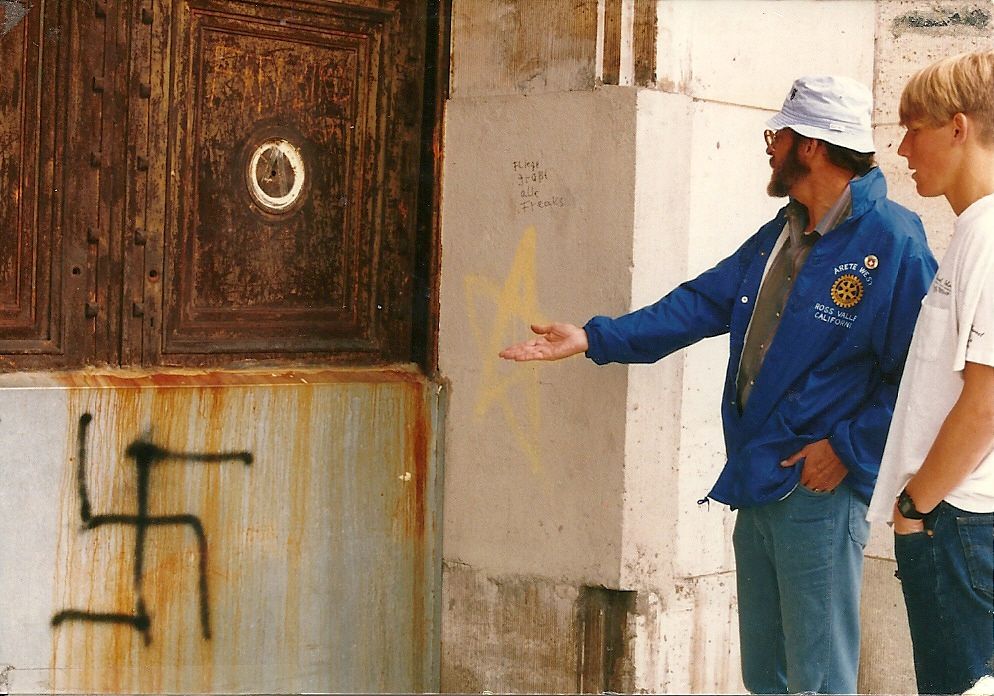 It took us awhile to locate the parade ground in Nuremberg where the Nazi's held those spectacular rallies with the banners and search lights, but Arete does not give up and forfeit anticipated trip destinations easily. And this is what we found on the wall of a building above where Hitler stood when he screamed his hatred of the Jews at Nuremberg rallies. In fresh paint it read, "death to the Jews".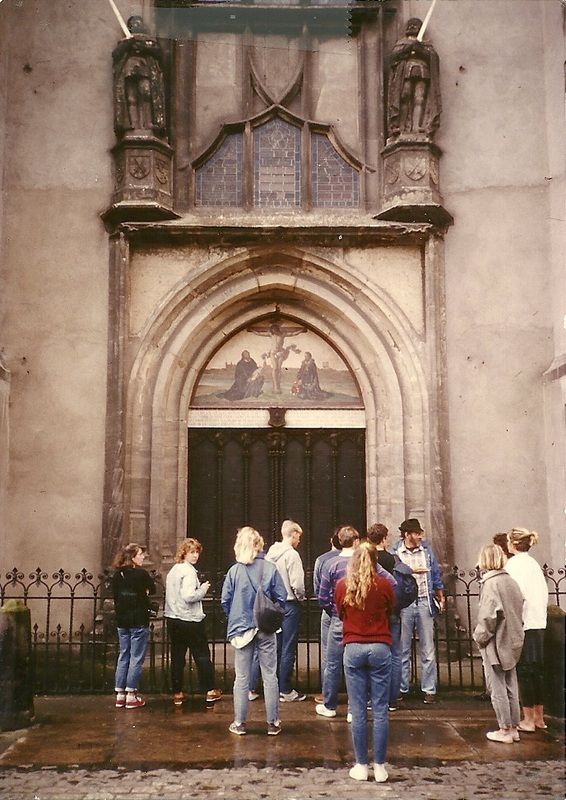 Arete '85 reaches the door where Martin Luther pounded his 95 protests against the Roman churches interpretation of Christianity. We were in East Germany and religious literature was forbidden. Mr. Taylor was careful to not expose certain articles or torn out book pages at the fortified border crossing the prior morning.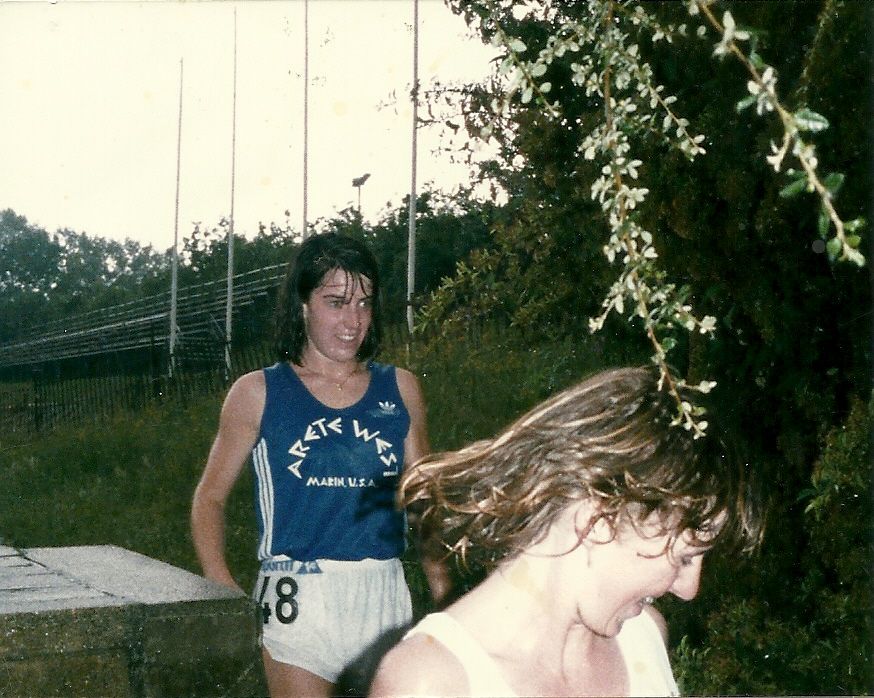 We hit some rain in the meet in Lausanne, Switzerland in 1985, but it just intensified the moment. Denise Belanger, see blue Arete top, ran in the California state finals in the 4 x 100m relay for Tamalpais High School. She was the initial non-Drake athlete to travel with Arete West. Angela Driller was a state athlete in the hurdles. Angela, via Drake, was a three time Arete traveler.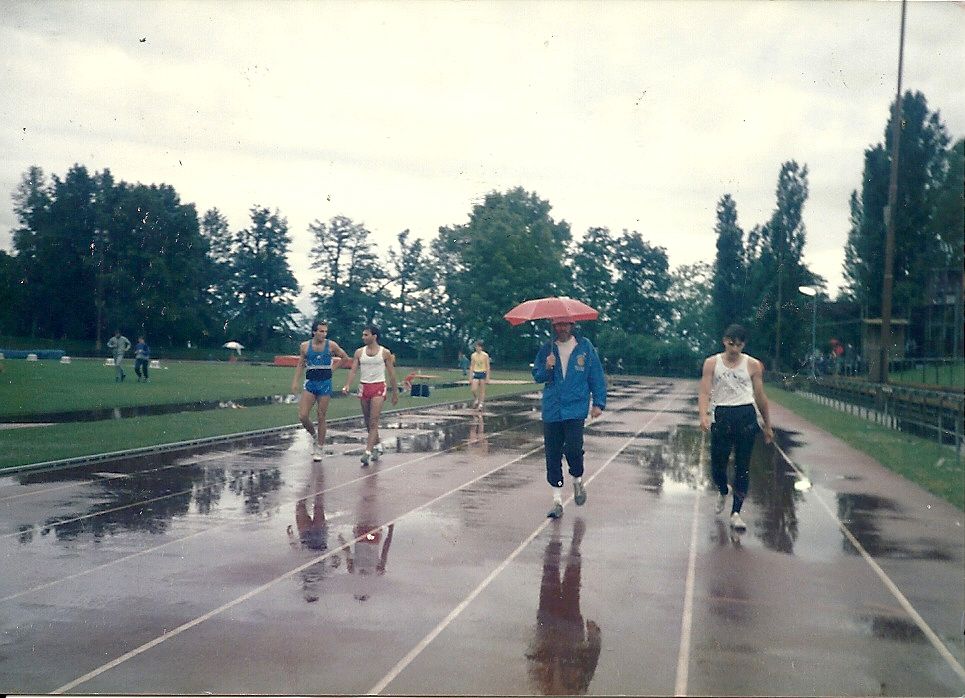 Arete doesn't back off. Rain provided just another trip challenge. While Mr. Taylor stays dry in Lausanne in 1985, David Lundquist, soaked, took on Swiss sprinters along with the rain.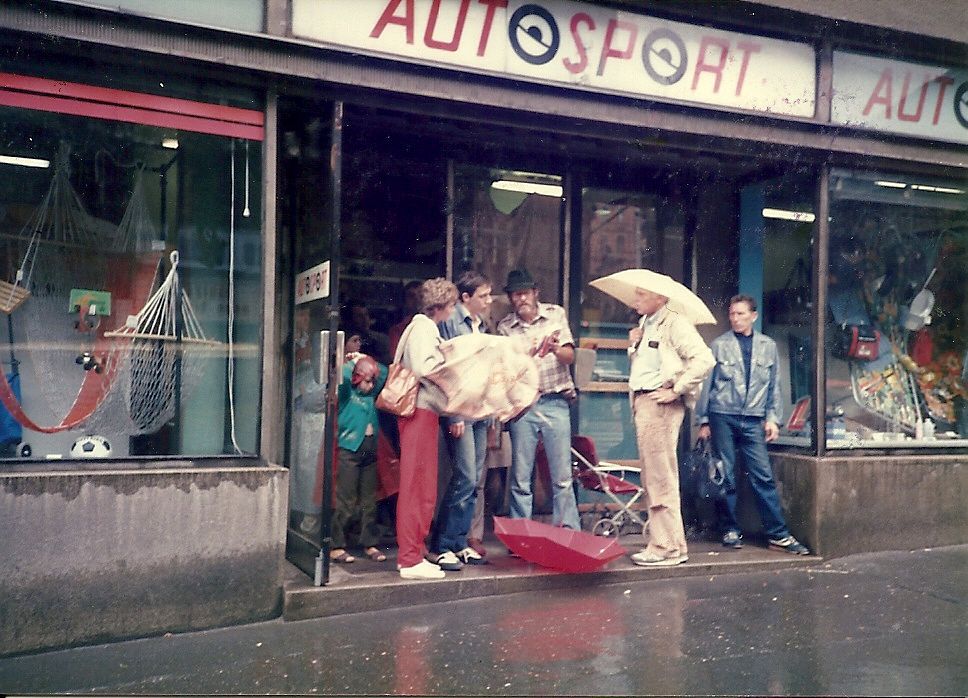 We stopped for directions in Prague in 1985. Being behind the "Iron Curtain" in a police state kept Dr. Griffith (under umbrella) on edge. Mr. Taylor on the other hand just tossed his umbrella down and charged ahead. There is something to be said for both types of behavior.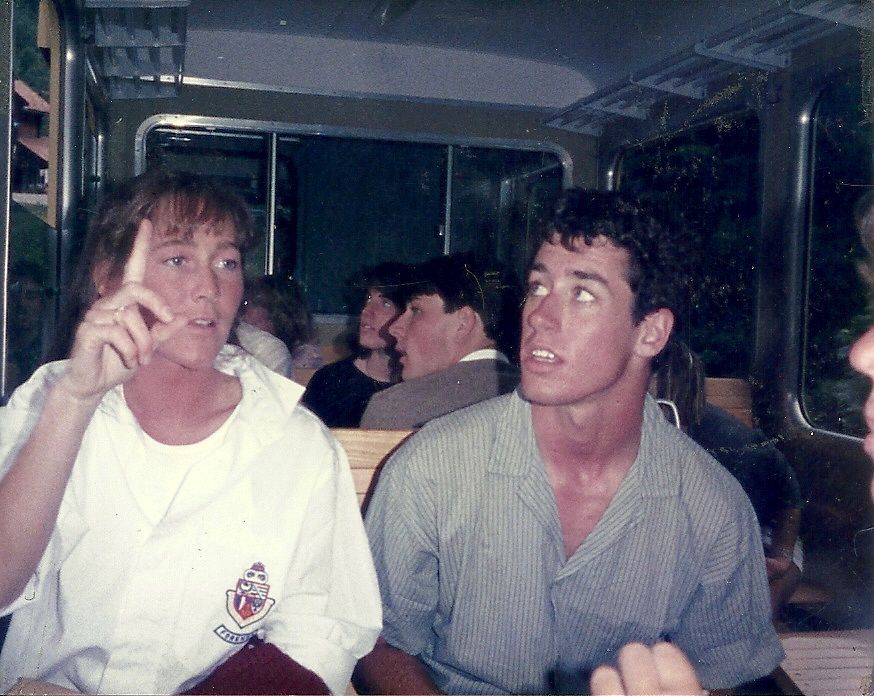 Two of the exceptional on the airport train heading into Paris. Katy Dykstra is the only student to have gone on four Arete trips. She also made the California state meet in the mile three times. Steve Dodge went on to graduate from Harvard, is now a university professor of physics.
With a certain pride and enormous respect for the man, Arete '85 looked up at the names of the winners in the 1936 Olympics in Berlin. A very popular teacher at their high school, Archie Williams, won the 400m. Students tell me that it is this kind of encounter with history that brings it alive.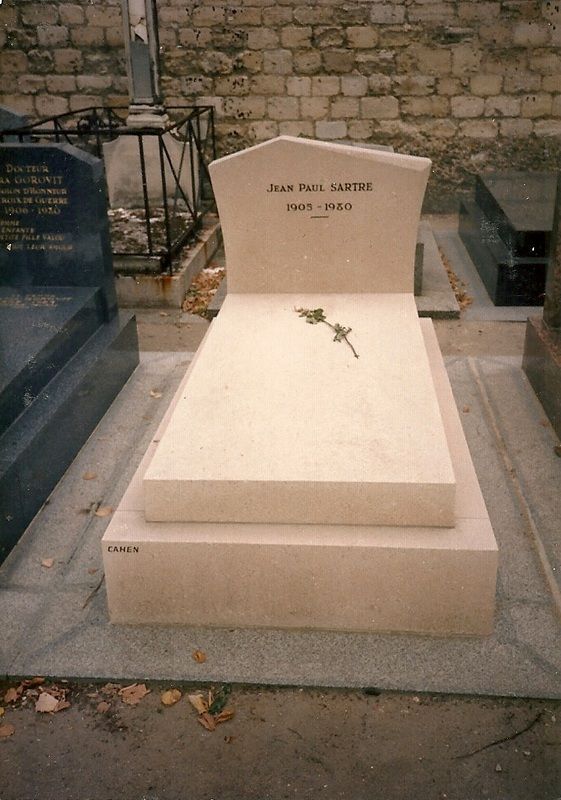 We read "No Exit" and became familiar with Jean Paul Sartre before reaching Paris in 1985. The grave and the flower from his lover, Simon, were well kept at that time. In 2005 we found the grave in not so good shape and there wasn't a fresh flower.