Trip 3 - 1983

Itinerary
Italy: Venice, Florence, Rome
Greece: Delphi, Olympia, Athens, Nauplion, Mykanos
Switzerland: Zermatt, Zurich, Zug, VeyVey, Interlocken,
Students
Angela Driller
Mimi Kelly
Rachel King
Ann Hribar
Dan Muhic
Joe Munton
Jenny Murphy
Cory Taylor
Matt Wilkinson
Paul Wilkinson
Charles Yoakum
Trip Leader
Trip Assisstent
Trip Highlights
An incredible morning by Lake Zurich on a new synthetic track
Would you believe a house in the middle of a street?
The Wilkinson battle at the United Nations
A night meet in Veyvey by Lake Geneva; last sight of Angela on a track
The Matterhorn from above and east of Zermatt
Snow, ice, the long hike down
Interesting youth hostel at Zug
Thunder and lightning at Interlocken youth hostel
First Arete time in Italy
Venice, the Lido by sun, then a fun dinner on way back to St. Marcos
What of Michelangelo and his David in Florence?
Nasty teasing at the entrance to St. Peters
What of Michelangelo and his Moses in Rome?
Arete '83 voted a tie, 6 to 6, in admiration for David or Moses
Lock the Italians in the compartment for the night, Bob
First time in Greece for Arete
Little guard chases us out of ancient stadium due to closing time
Secret climb down to the temple of Athena at Delphi at night
Zeusian thunderbolts flash over Mt. Parnassas
The first Arete group to see the ancient track at Olympia
Running in the 1896 Olympic stadium in Athens
A little "lack of control" after dinner in Nauplion
By sea to Mykanos
"I told you to take dramamine, Cory"
A great run on the island
A fun dinner below the windmills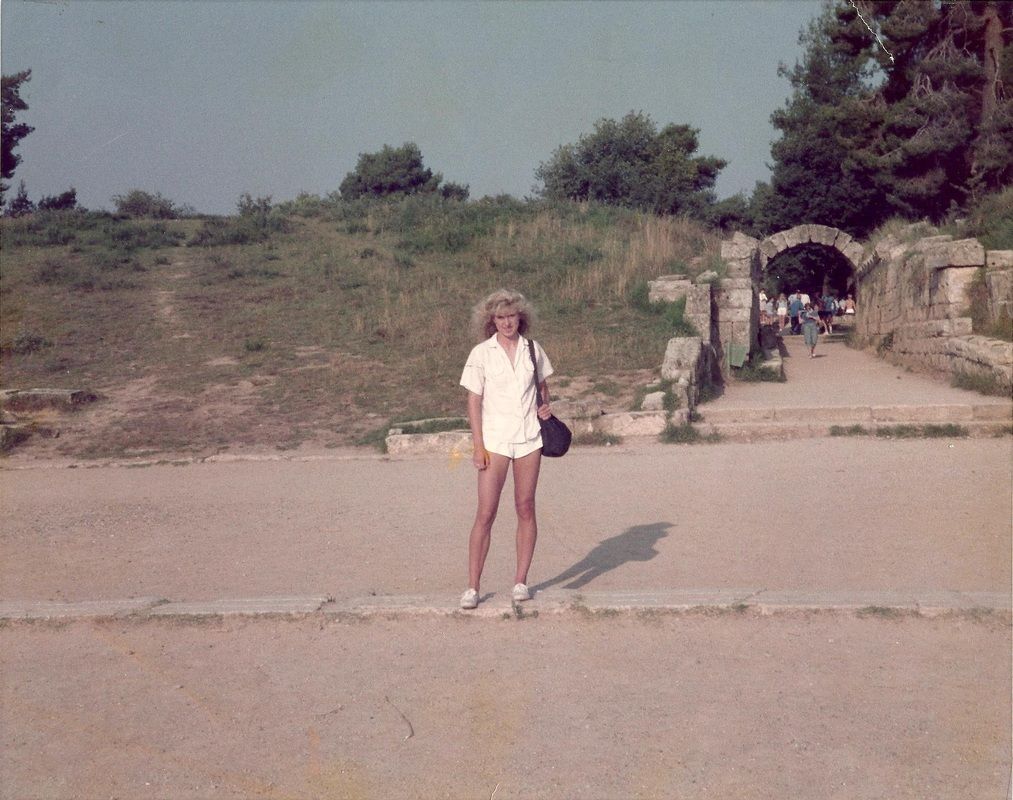 Angela in the starting grooves at Olympia, Greece. "Angie" had just completed her 9th grade year in high school and qualified for the 1983 state finals in the 300m hurdles.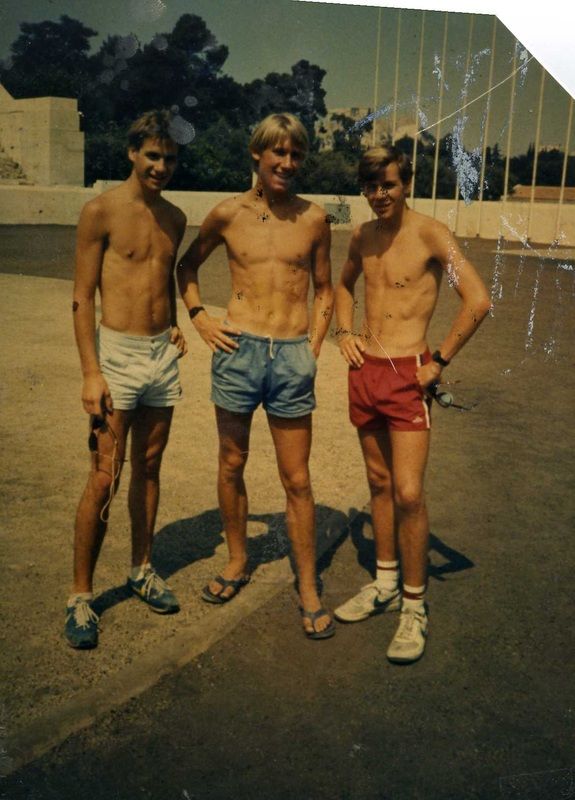 Matt, Dan and Paul on 1896 Olympic track in Athens, Greece. The '83 Arete West trip was the first one to reach Greece!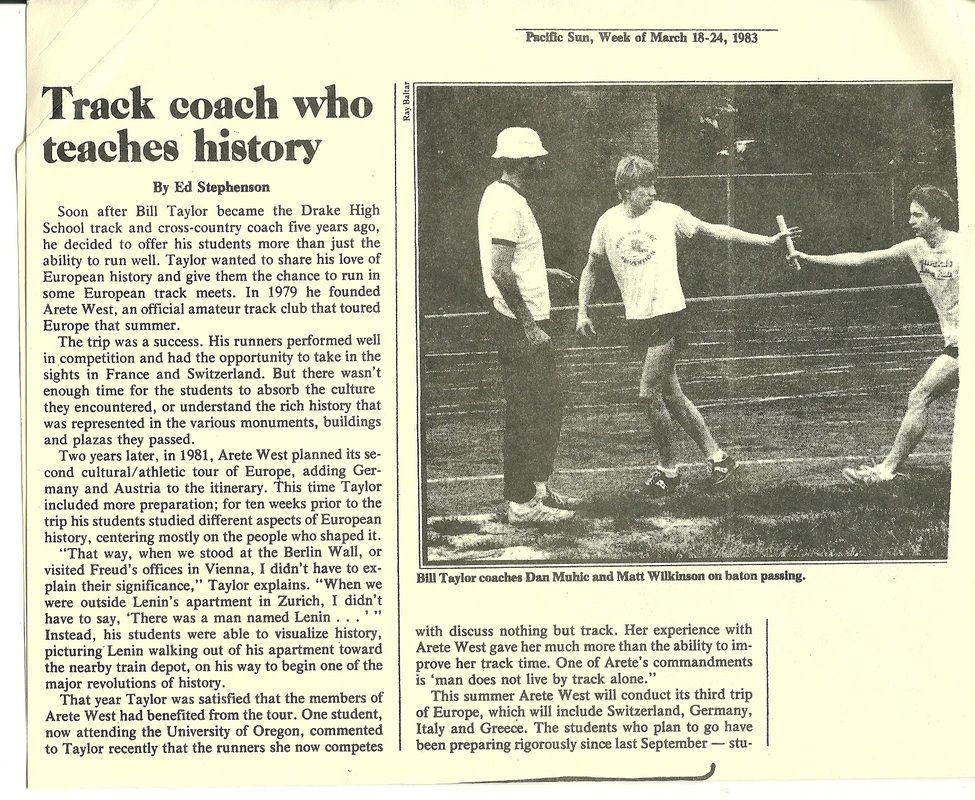 A writup about the '83 trip in the Pacific Sun.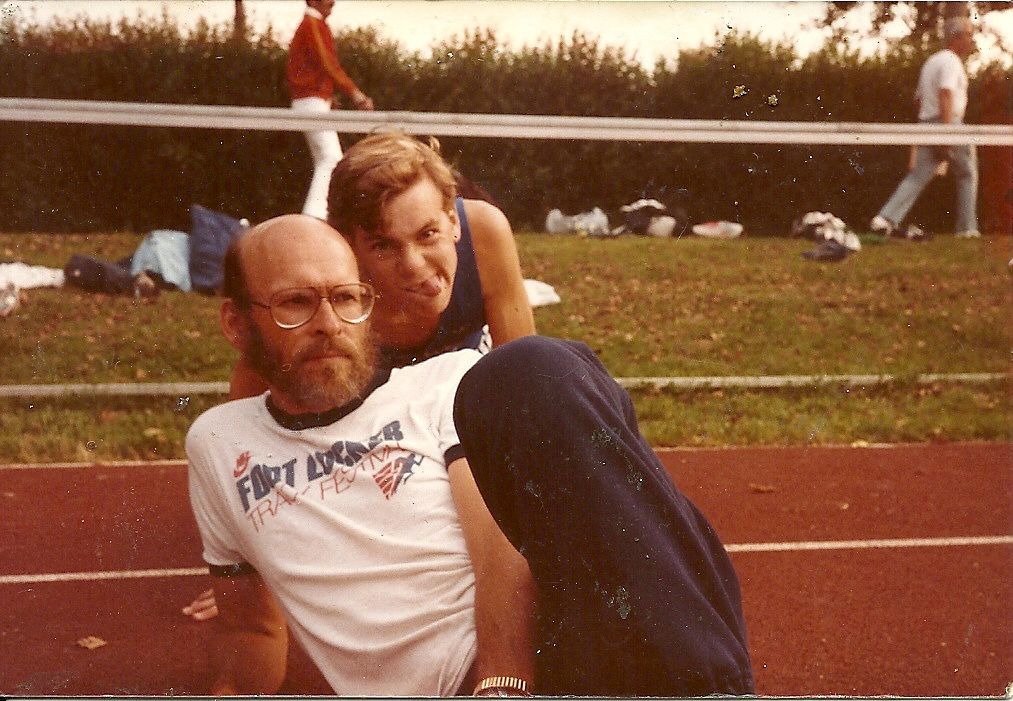 This young man has become a very successful business man in eastern Europe. I refer not to the Arete leader, either. This was in 1983 at a track meet in Switzerland on lake Geneva.