Trip 16 - 2009

Itinerary
Turkey:
Greece:
Italy:
Tunisia:
Austria:
Switzerland:
Germany:
Students
Callie Anderson
Willie Boesel
David Cross
Zephyr Forest
Kathryn Hutchens
Lindsay Rogers
Camille Swezy
Trip Leader
Trip Assistent
Trip Highlights
June 14 --- flight to Istanbul
June 15 --- Istanbul --- CALL TO PRAYER BY STAGGERING LIGHTING OF BLUE MOSQUE AND AG SOPHIA; EUROPE AND ASIA
June 16 --- Istanbul --- FOUR GIRLS LOST IN MASSIVE MARKETPLACE WITHOUT REMEMBERING HOTEL NAME; CLAIM IT STRENGTHENED, ENHANCED REST OF TRIP, BUT NOT DISCLOSED TO MR. TAYLOR UNTIL TWO MONTHS LATER; CALL TO PRAYER AT 4:30 A.M.
June 17 --- Gallipoli/Troy --- SOBBERING GRAVES AT GALLIPOLI, THEN MORAL WAR COMMENTARY BY HOMER AT ANCIENT TROY
a Kathryn wrote in her journal ---
"Despite the beauty of the Aegean waves rolling back and forth against the sand and rocks, the scattered rose and flower bushes among the gravestones, and the slight fresh breeze I could not be distracted. I didn't see clear water, I saw bodies floating, young, old, Australian, Turkish, some clothed, some wearing the shredded remains of their uniforms. Each body was intertwined in the next. The few who were still alive used them as cover, took their weapons, recognized them as comrades. I didn't see the engravings etched into the tombstones. I saw their weeping mothers, wives, sisters, brothers, children, friends and lovers. 40 years old, 24 years old, 21 years old, 19 years old. A battle fought for a sea passage to Russia. The men killed on those beaches could have stretched across the entire sea...
I didn't see Zephyr, David or Willie. I saw young men, crouching behind dilapidated bunkers, guns ready, scared shitless. But what could they do? They had enlisted not knowing the horror and suffering they would come to endure. Just young men putting themselves to work for 'the greater good.' And as I saw them with bullets through their skin I could not help but cry for the friends and families of the brave men who lost their lives at Gallipoli on those very same beaches. June 18 --- Assos --- I BLEW THE DRIVING ROUTE FOR THE SECOND STRAIGHT TIME; ASSOS CHANGING, LACKED THE PERSONAL OF THE PAST; SPEED BUMPS"
June 19 --- Istanbul --- A VERY HUMOROUS TIME FOLLOWING A CAB TO A NOTHING DOWNTOWN HOTEL BEFORE OUR EARLY FLIGHT THE NEXT DAY
June 20 -- Athens --- ARETE STUDENTS ONCE AGAIN LOVE THAT FIRST NIGHT MEAL BELOW THE ACROPOLIS WITH GREEK LANGUAGE IN ABUNDANCE; ACROPOLIS BY LIGHTS FROM ROOM
June 21 --- Athens --- READINGS ON THE ACROPOLIS, IN THE AGORA, BY ANCIENT CEMETERY, THANK YOU SOCRATES, THUCYIDIDES, AESCHYLUS
June 22 --- Mycenae --- TREMENDOUS HOTEL AND STAFF, A LEAP OVER A FENCE AND THE TEMPLE OF HERA IN PRIVACY; FRIGHTENING DIRVE TO MYCENAE RUINS WITH VANGALIS MUSIC
June 23 --- Mycenae/Olympia --- THE ARCHAEOLOGICAL SITE AT MYCENAE TO OURSELVES, THE AIR COOL, REFRESHING, THEN BEAUTIFUL DRIVE THROUGH GREEN FORESTS TO OLYMPIA
June 24 --- Olympia --- RAN ALONE FROM ENTRANCE GATE PAST TEMPLES OF HERA AND ZEUS, THEN THROUGH ARCH TO TRACK, NO TOURISTS IN SIGHT
June 25 --- Ithica --- THE ISLAND OF ODYSSEUS AND THE BRILLIANT BLUE SEA
June 26 --- Ithica --- THE RUN UP AND OVER THROUGH VILLAGE OF STAVROS, DOWN TO THE COVE, FLOATING WITHOUT WORDS IN THE SEA; AFTERNOON ALONE, DROPPED OFF ONE BY ONE IN VARIOUS ISLAND LOCATION
June 27 --- Ithica/Delphi --- OUR GOLDEN MEADOW, FRISBEE, A COZY CAMP SITE WITH THE GODS
June 28 --- Delphi/ferry to Rome --- THE SLOPES OF APOLLO, STAGGERING SITE; ANOTHER NIGHT ON SHIP DECK THAT ARETE FIRST EXPERIENCED IN 1983
June 29 --- train to Rome --- DINNER CLOSE TO HOTEL, THEN A ONE BLOCK WALK AND THERE WAS THE COLISEUM LIT UP BY LIGHTS
June 30 --- Rome --- SIX OR SO HOUR WALK PACKED WITH ROMAN HISTORY, THEN BY NIGHT A SECRET DOOR THROUGH A RESTAURANT WALL AND INTO ANCIENT THEATER WHERE CAESAR WAS KILLED; UNDER MODERN ROME
July 1 --- flight to Tunisia --- THE CEMETERY OF DEATH OF CHILDREN FOR THE GOD IN ANCIENT CARTHAGE; THE SMALL HARBOR FOR SHIPS
July 2 --- Tunisia --- KAIROUAN, SHOPPING, THE CALL TO PRAYER FROM THE GREAT MOSQUE; THE INFLUENCE OF ISLAM ON PEOPLE; GREAT HOTEL
July 3 --- Tunisia --- HELLO SAHARA, ANOTHER SLAM DUNK HOTEL, THE DESERT BY SUNSET; A FANTASTIC HOTEL
July 4 --- Tunisian --- CAMELS BY DAY, CAMELS BY SUNSET; ALGERIAN BORDER JUST A FEW MILES AHEAD; WONDERFUL DINNER BY THE POOL
July 5 --- Tunisia --- BACK TO TUNIS, MORE SPEED BUMPS, SOCCER IN THE STREETS
July 6 --- flight to Rome/Florence --- UP AT 3:00 A.M., LUNCH IN FLORENCE AFTER DRIVE THROUGH SUN FLOWERS AND PRECARIOUSLY PERCHED VILLAGES IN TUSCANY
July 7 --- Florence --- DANTE, MICHELANGELO, GALLILEO, MACHIAVELLI, THEY ARE ALL STILL THERE; ARETE HILL RUNS
July 8 --- camping on way to Vienna --- WONDERFUL AUSTRIAN WOMAN HELPED US TO FIND A GREEN FIELD AT A SPORT CENTER THAT WAS SOFT AND SPECIAL UNTIL RAIN CHASED US IN MIDDLE OF THE NIGHT TO COVER
July 9 --- Vienna --- TRADITIONAL WALK TO FREUD'S ABODE, STOOD CLOSE TO WHERE BEETHOVEN AND MOZART DIED; THEN GREAT INTERNATIONAL MEAL ON THE RING AT NIGHT
July 10 – Mauthausen/camping --- ARRIVED BY EARLY HOUR AND AVOIDED CROWD, GAS CHAMBER AND QUARRY TOLD OF HITLER AND DEATH; RETURNED TO SIMPLE CAMP SITE OF ARETE XV IN ALPS
July 11 - St Moritz --- PREPARATION FOR NIETZCHE HIKE IN YOUTH HOSTEL WHERE ARETE I SLEPT IN 1979; RAN ON PETITE FAMILIAR TRACK
July 12 - Sils Maria/Matterhorn camp ground --- ZARATHUSTRA CHALLENGED EACH STUDENT ON THE TRAIL, THEN WE SLEPT BELOW ZERMATT IN OUR MATTERHORN CAMP GROUND
July 13 – Matterhorn --- GREAT HIKE, THEN A CAMP GROUND BELOW GREAT GLACIER AND RHONE RIVER BEGINNING AFTER A GREAT MEAL
July 14 Zurich --- PLAYFUL TIME BY LAKE, THEN LENIN AND THE NARROW PASSAGE WAY TO REVOLUTION; AND THE TRADITIONAL SAUSAGE AND SWANS
July 15 – Heidelberg --- WE FOUND "THE CAPTAIN" AGAIN, THEN CELEBRATED IN HEIDELBERG OUR FINAL NIGHT; GIRLS HAD PREPARED SPECIAL DANCE FOR MR. TAYLOR'S BIRTHDAY PERFORMED IN OLD HEIDELBERG SQUARE TO MUSIC FROM "ISTANBUL NOT CONSTANTINOPLE IS..."
July 16 - flight to San Francisco WE MADE IT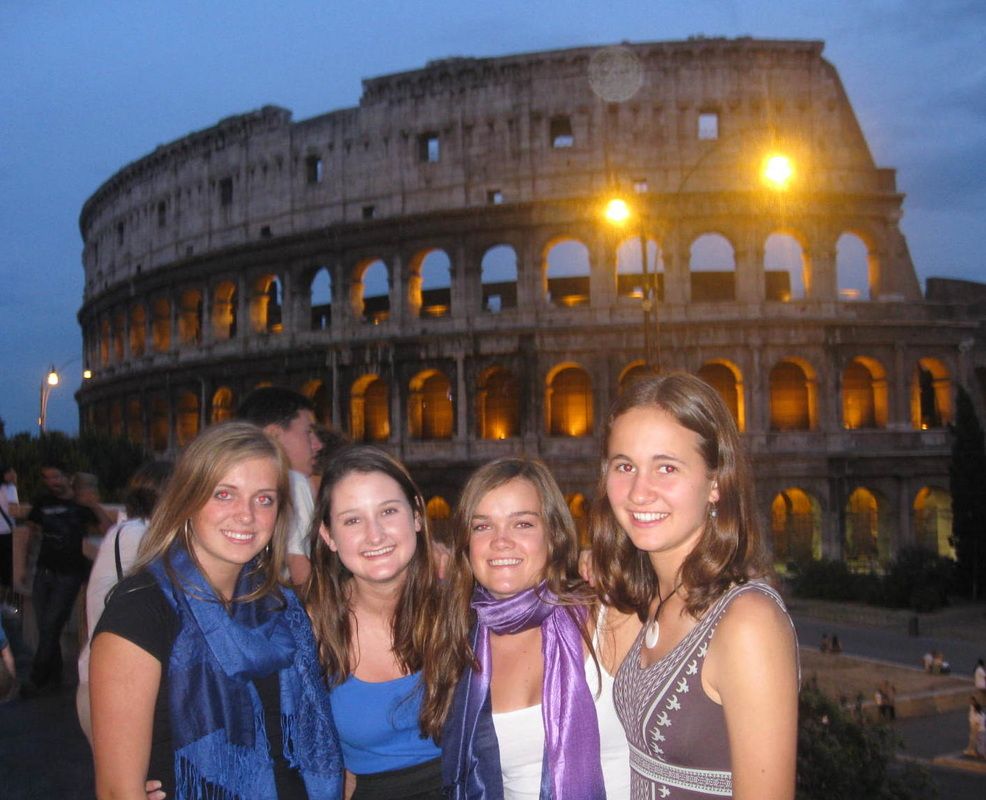 A night in Rome for Arete 2009 girls.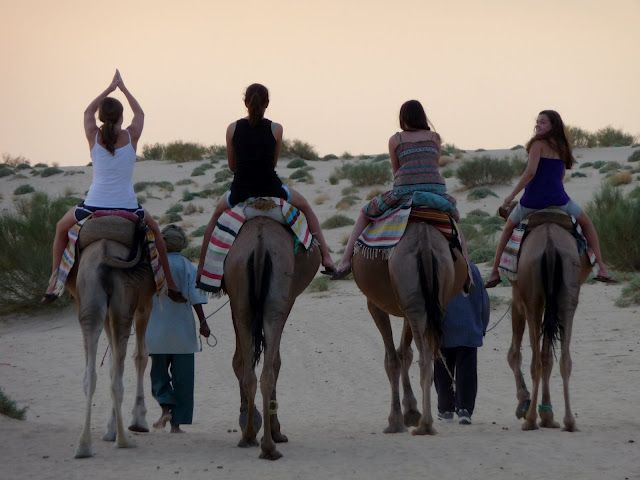 The same four girls of Rome approached the Algerian border at sunset on the sand of the Sahara in Tunisia.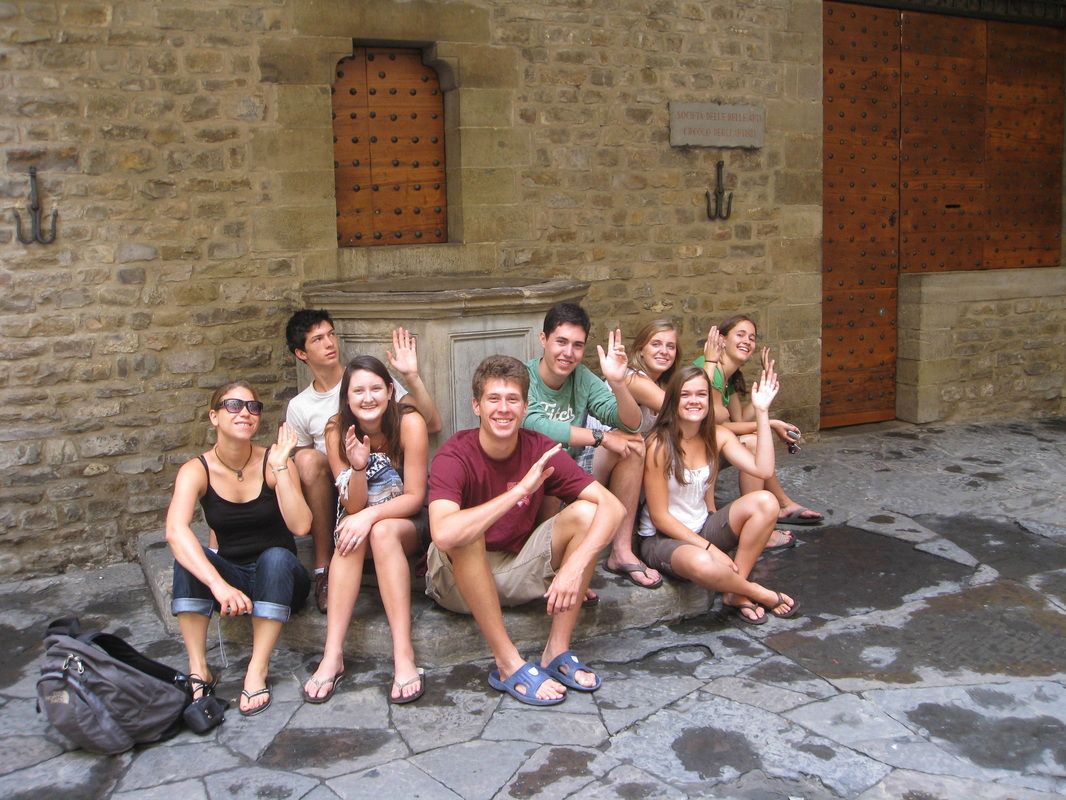 Renee Johnson (assistant), Zephyr Forest, Callie Anderson, David Cross, Willie Boesel, Lindsay Rogers, Kathryn Hutchins, Camille Swezy.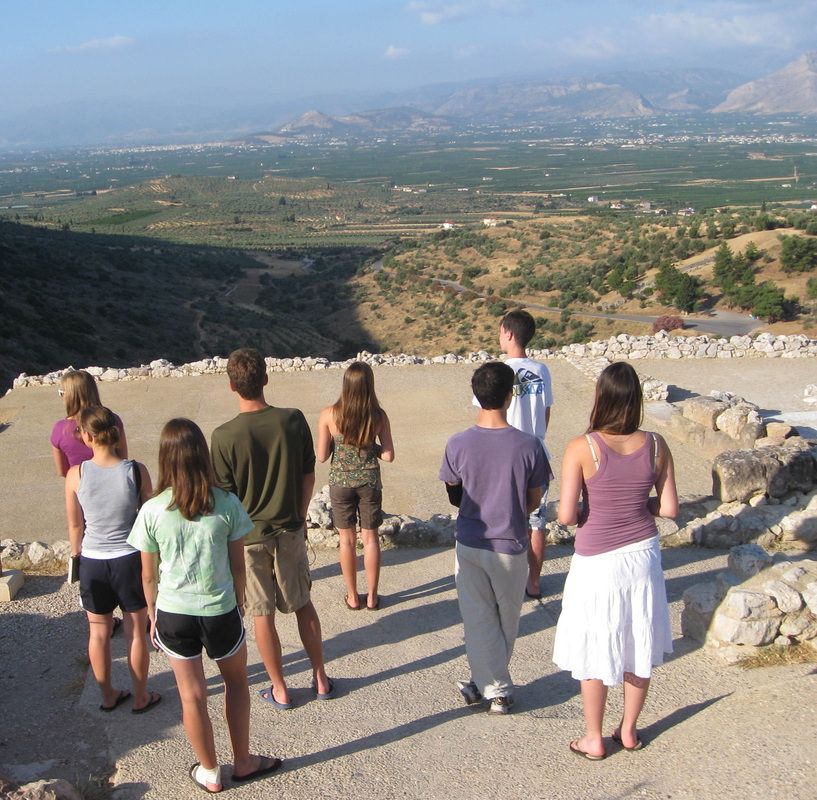 Agamemnon had this view of the plain of Argos from his throne room at Mycenae. Arete 2009 were early to the mighty fortress and could ponder the writings of Aeschylus without tourism distracting them.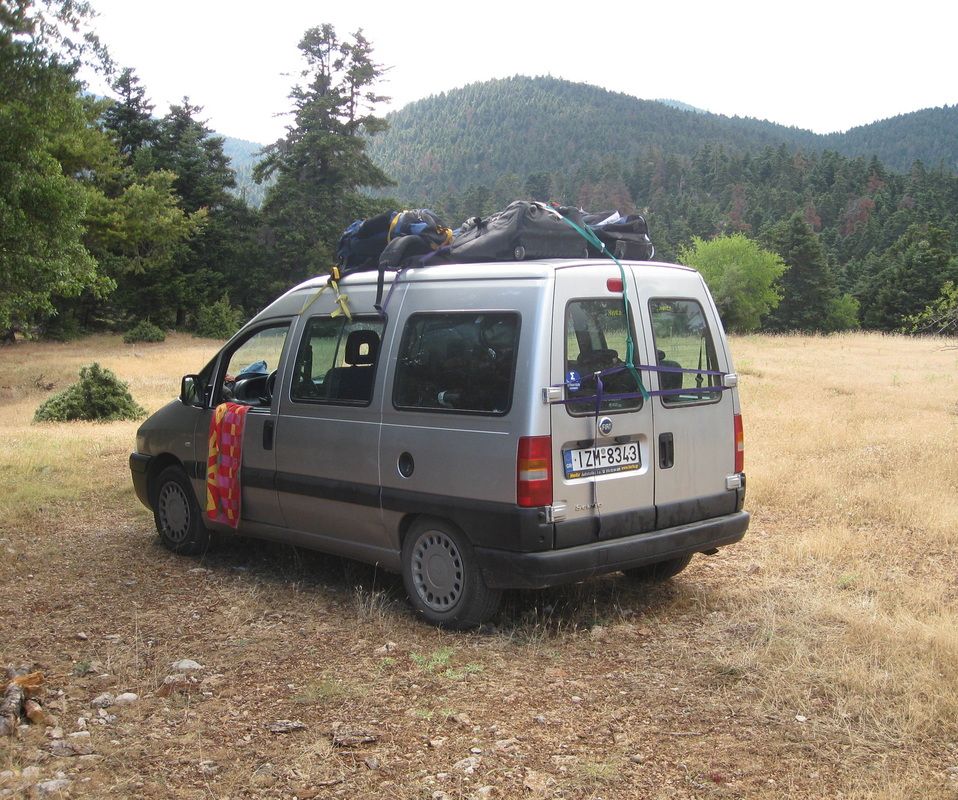 Our van in our meadow above ancient Delphi. We first claimed this "unofficial" camp ground in 1993 and to sleep on Mt. Parnassus is a lifetime memory. Do you like our packing job on the van?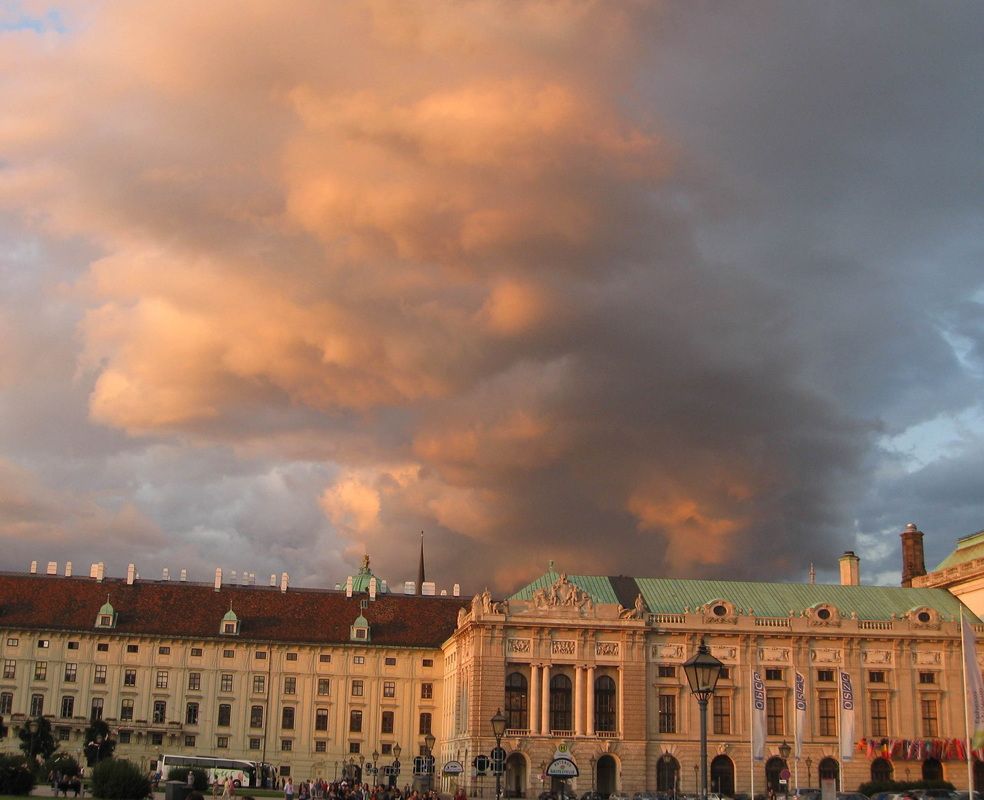 Vienna always seems to present us with a spectacular sunset and early evening sky.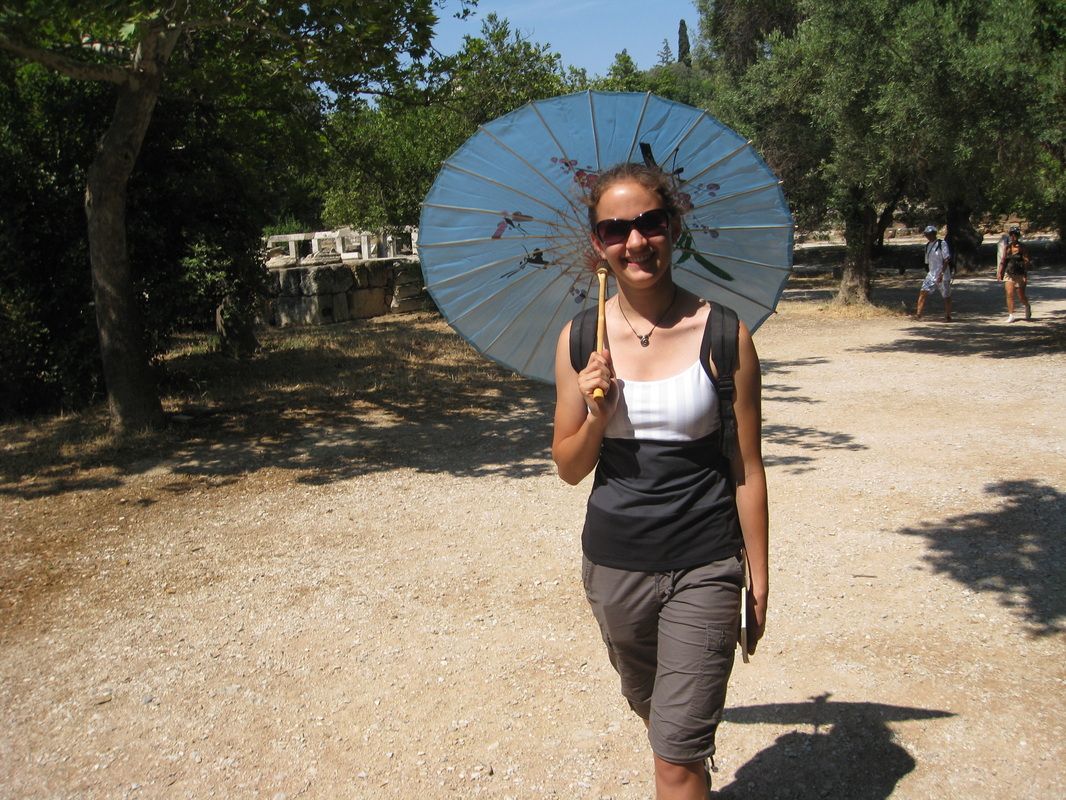 On a hot day in Athens, Camille thought an umbrella would be of some help. Here in the ancient marketplace she is on, perhaps, a stroll with Socrates.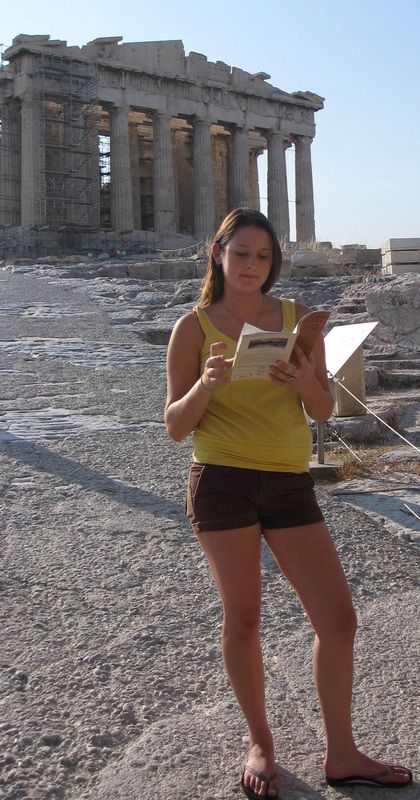 We were up on the Acropolis quickly so that Callie could read the poetic words of Kazantzakis describing the Parthenon. Virtually every Arete group has received this reward.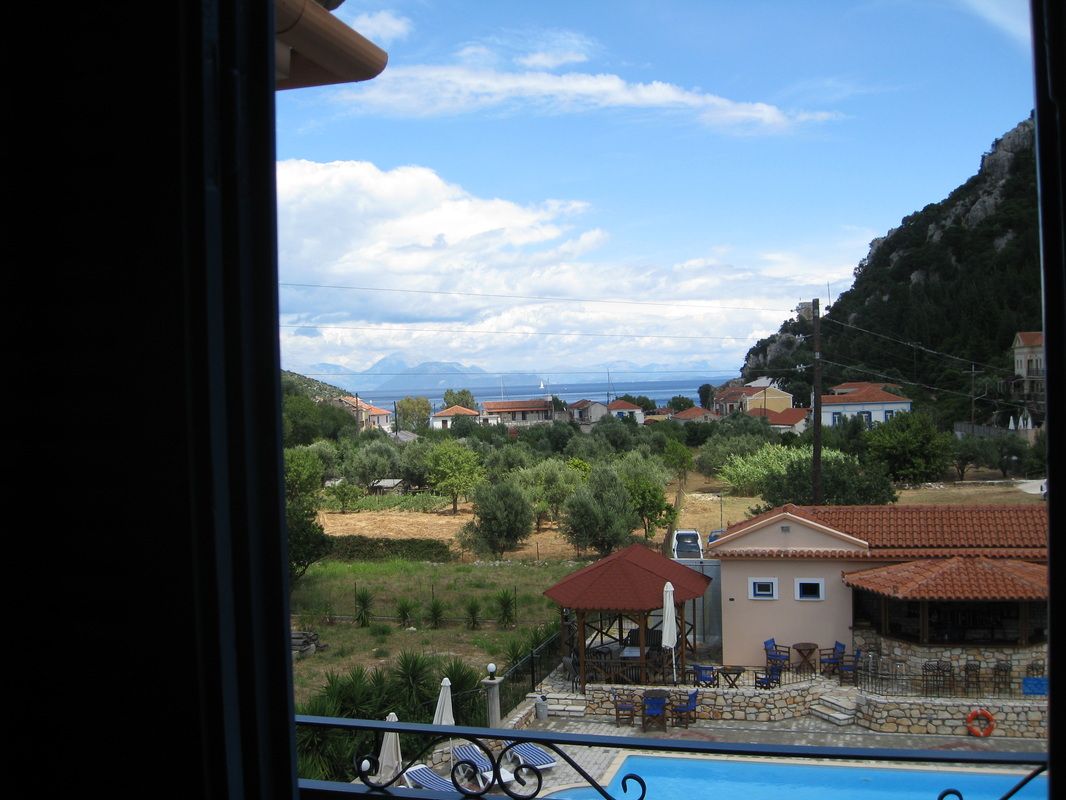 This is the view from our rooms at the Nostos on Ithaca. We began staying at this hotel on the island of Odysseus in 1997. No tour buses on Ithaca, no airport.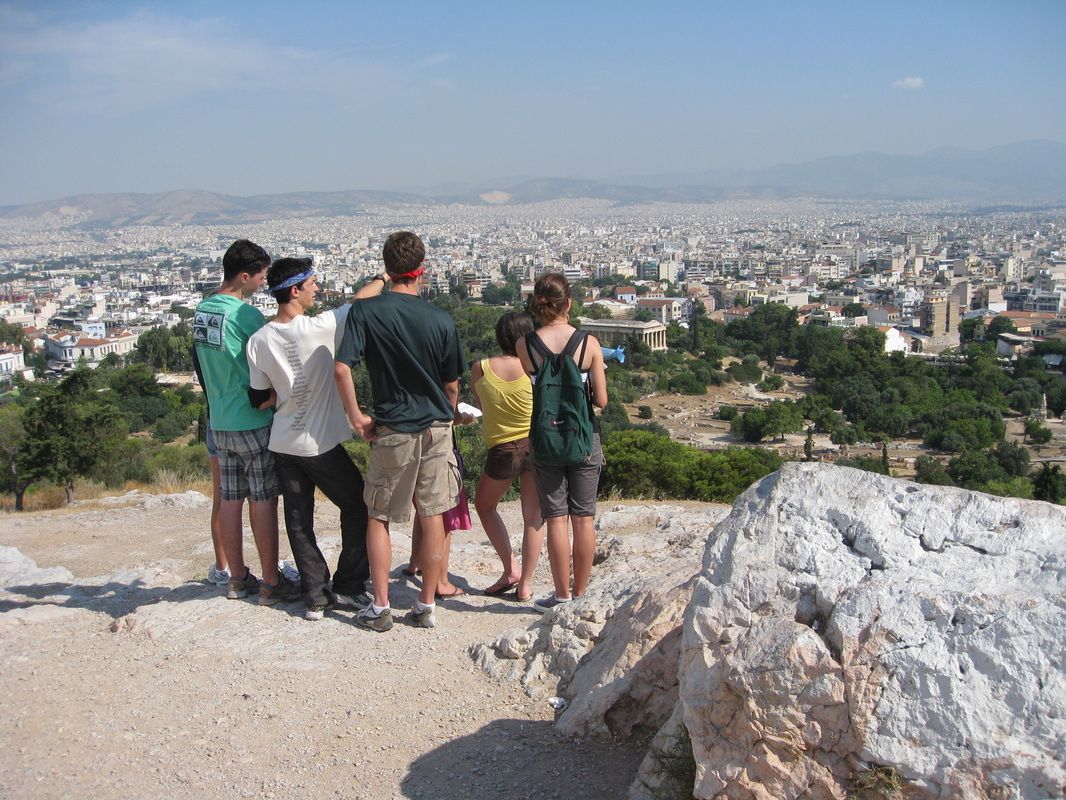 Zephr of Arete 2009 points out from the map in "Athenian Odyssey", the landscape of the ancient agora. The students are standing above the 5th century, B.C. marketplace and will shortly go down within it to hunt for a stoa where Socrates and Plato conversed. Separately! They will be asked to locate the stoa on their own.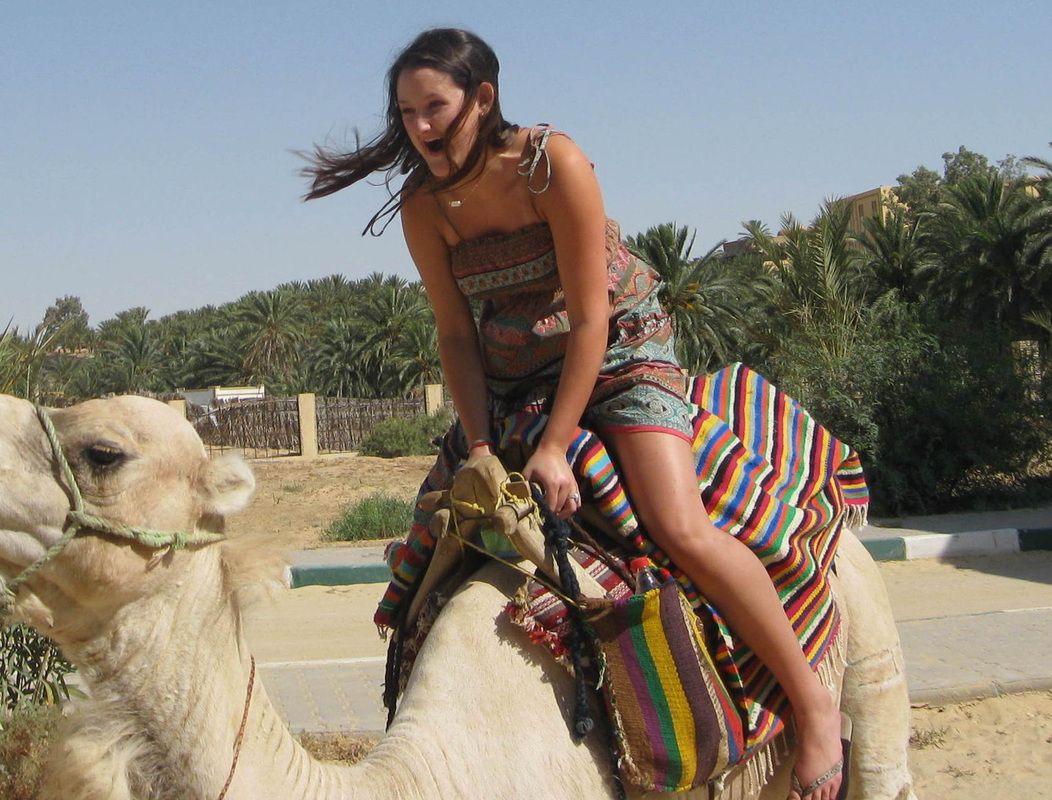 It was a wild ride! Callie was on the edge of the Sahara in Tunisia. And, "on the edge" per the camel, too.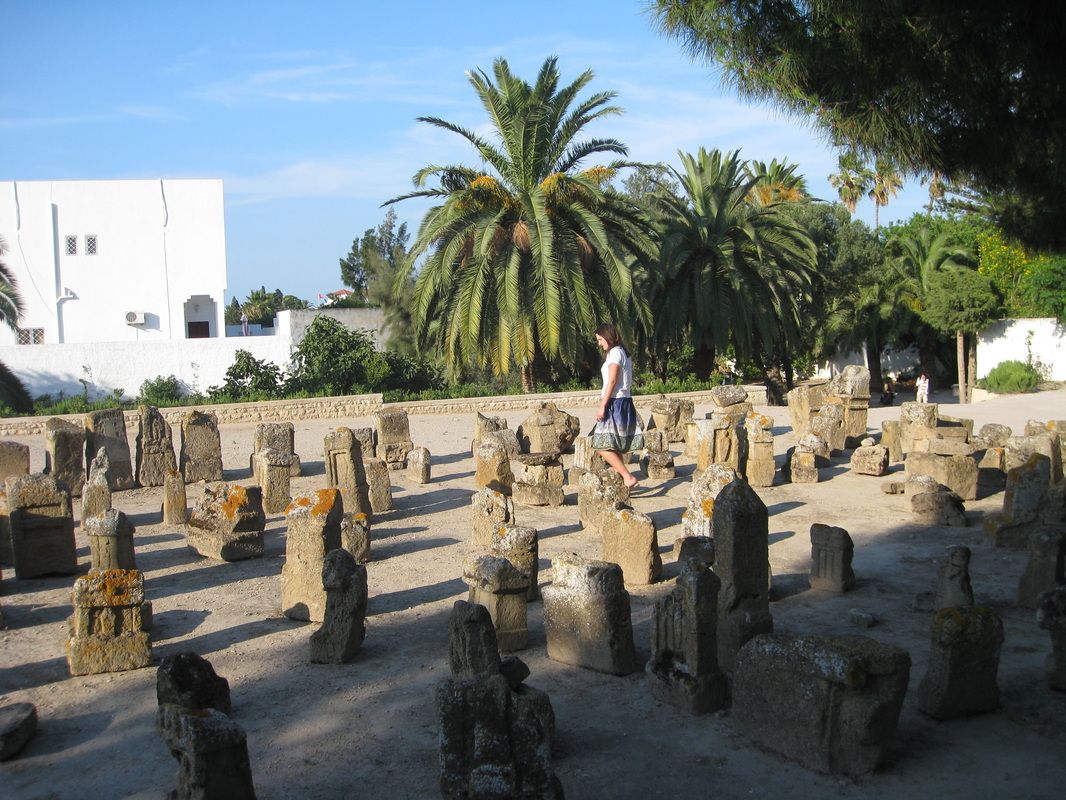 Callie in cemetery of the graves of children in ancient Carthage. The horrid ritual was to offer the children to the god so that good fate would result for the parents. We find ways to do this today, too.