Trip 12 - 2001

Itinerary
Russia: St. Petersburg, Moscow
Greece: Athens, Mt. Olympus, Nauplion, Nemea, Olympia, Ithica
Italy: Elea, Rome, Florence
Austria: Vienna, Mauthausen
Germany: Eagles Nest
Switzerland: Zermatt
Students
Mary Baldwin
Morgan Banks
Andrew Hagen
Renee Johnson
Rory Kuyendall
Steve O'Mara
Parker Simms
Trip Leader
Trip Assisstent
Paul Wilkinson (Vertran Host)
Trip Highlights
Paul Wilkinson was at the St. Petersburg airport to move us through customs
Arete '83 veteran was our host in Russia
St. Petersburg of blue canals, spectacular palaces, writers, musicians and the ballet
A train station and the arrival of Lenin in 1917
Angelica tells of the red scarf for Lenin in her youth
Moscow, the Kremlin, the churches and Red Square
The sober walk in black marble tomb by Lenin
The red stair case discovery
Drive to "Vatican" of Russian Orthodox church"cover those bare shoulders"
Flight to Athens
Greek movie actress prefers to talk with Mr. Taylor
Rock music invades Arete
"1896" Olympic stadium
Run along top row leads to glorious sunset behind Parthenon
Mary crashes van
Stuck in front of the Astor
Mice, safe, well planned van stop off highway
To Mt. Olympus
Ip the sweet little trail toward the crags of Mt. Olympus
Rory tells Mr. Taylor of his respect as the older one reaches a rest stop, and Mr. Taylor tells Rory, "………."
Sleeping below the gods and goddess on Mt. Olympus, then the boys climbed high before dawn
Nauplion and the illegal swim by Steve and Renee
Olympia and the great finish between Parker and Morgan
Off to the new island of "Corelli's Mandolin
Long run in heat by Rory, swim by Steve
Then early morning crossing to Ithaki and Odysseus
A drive high up on the mountain to where some danger lurked
Tessa likes danger
"Being is where danger is" said the pre-Socratic Greek philosophers
By sea to Italy
Nasty German youth
Slept below ancient ruins of Elea, where Parmenides had a school
Parker continues to sleep on roof of van
Arete was able to walk to the center of the Coliseum arena in Rome
"The Gladiator"
A vivid reflection
Sunset over Florence
Lengthy time, interest, in Freud museum in Vienna
The death camp by the Danube
The vulgar, festive atmosphere way up in Hitler's Eagles Nest
Morgan, "give me my hat"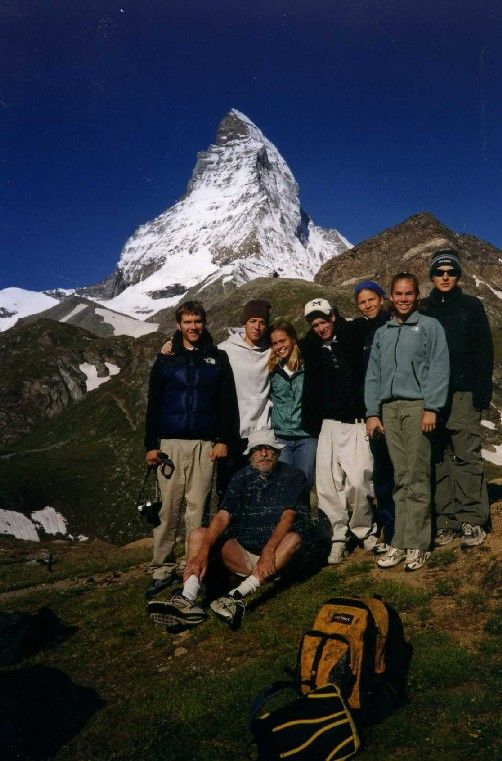 Arete 2001 enjoyed wonderful weather in Zermatt and up on the Matterhorn. Gawd, what experiences.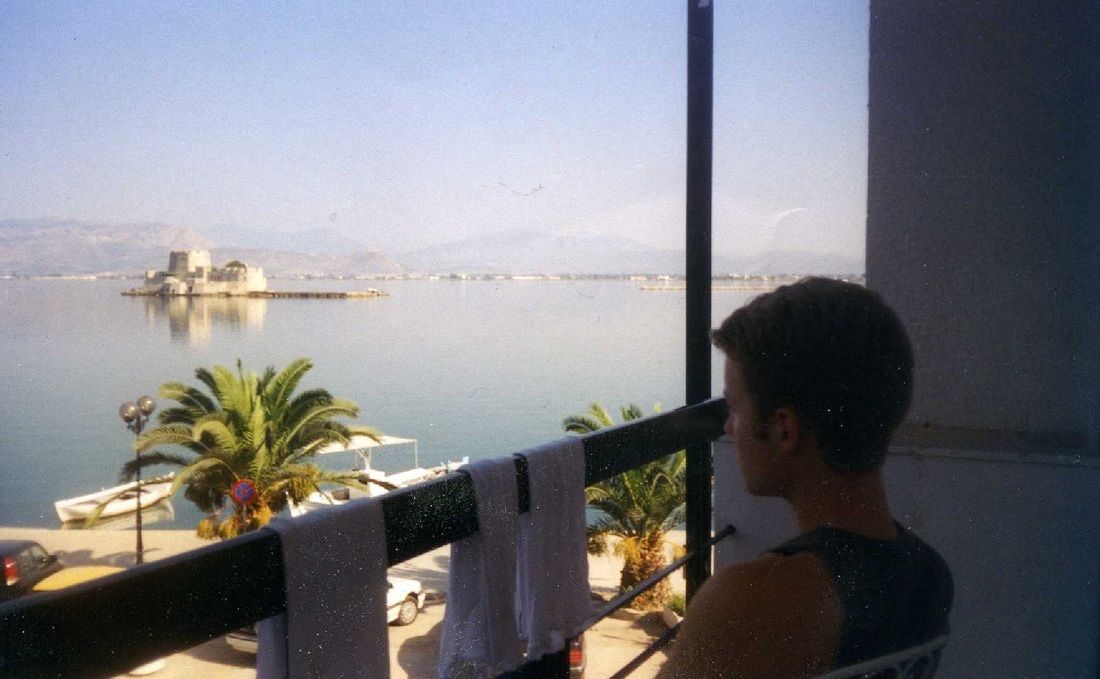 A not so innocent stare at the island in Nauplion by a 2001 lad. This will lead to a fateful swim in 2003.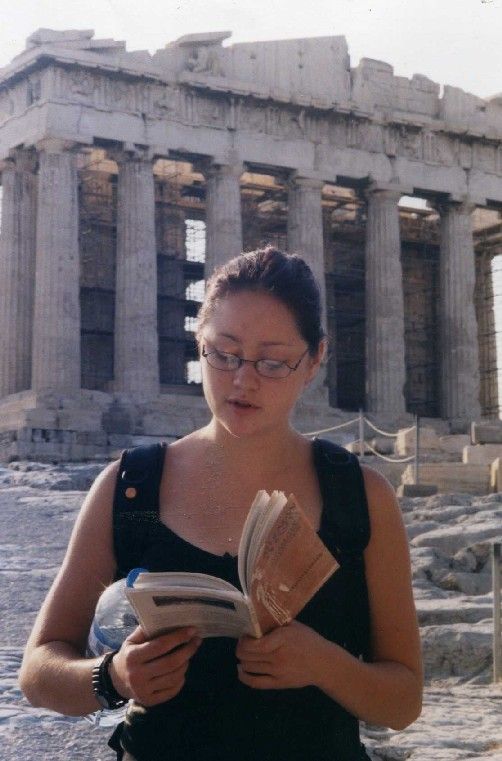 Tessa reads from familiar book a familiar quote by Kazantzakis for Arete before the Parthenon on the 2001 journey.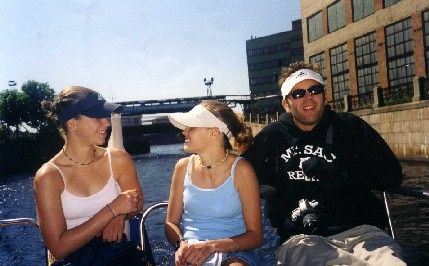 Arete '83 veteran, Paul Wilkinson, provided this trip through the canals of St. Petersburg in 2001 on a breautiful day.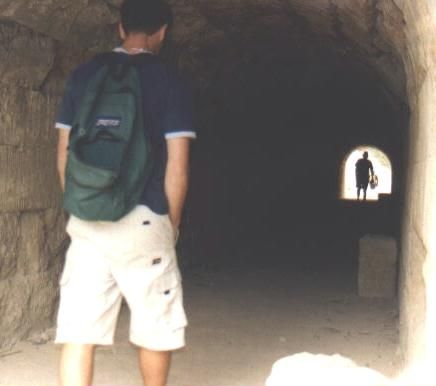 Ancient tunnel for the athletes at Nemea, Greece, finds a Arete 2001 student at one end and Mr. Taylor at the other; the "alpha" and "omega" of Arete West.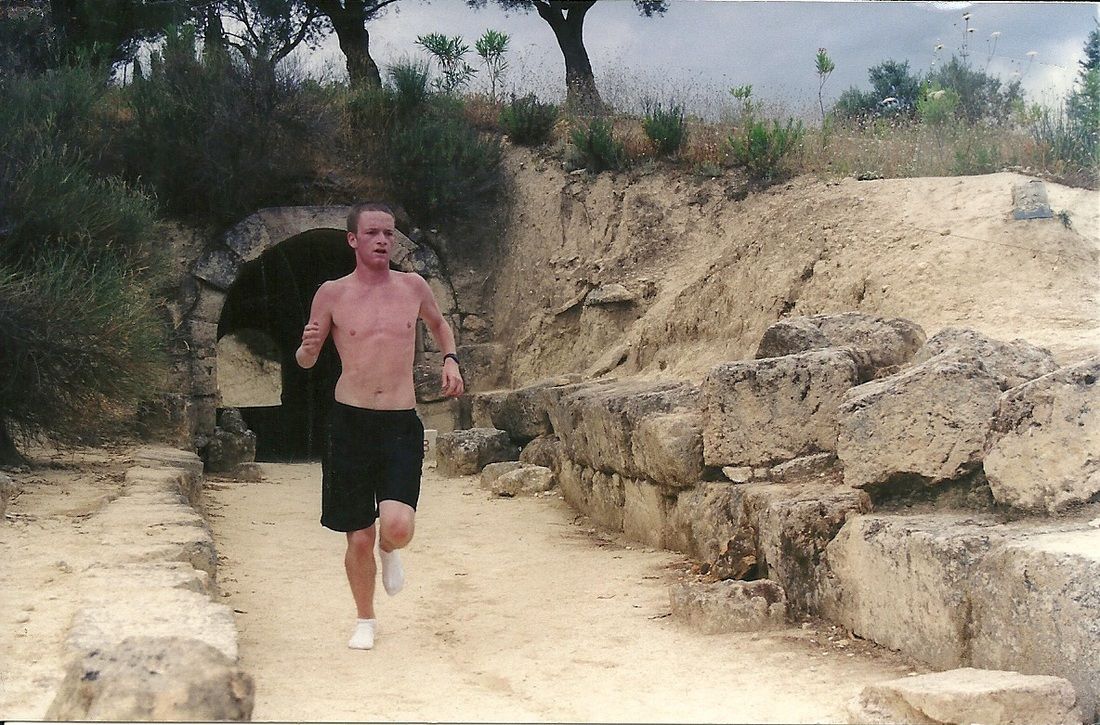 Rory Kuykendal of Arete 2001, an outstanding high school cross country runner, finishes a 5 mile run through the 4th century B.C. tunnel at Nemea, Greece. Arete provided the lead runners in forming the "New Nemean Games" that now draw thousands of participants every four years. Arete students were the first in 2300 years to race in competition on the Pan-Hellenic track.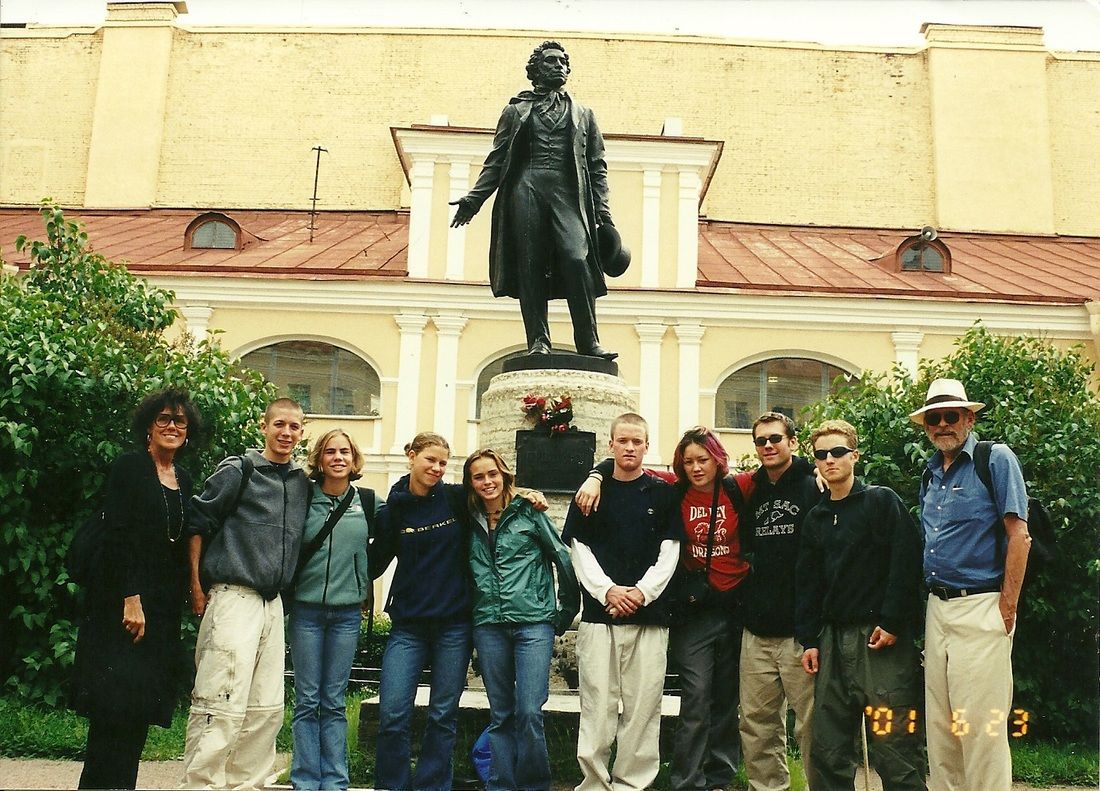 Arete 2001 Mr. Taylor's late wife, Patricia Taylor, joined the travel team during their time in Russia. This is the only portion of an Arete trip that she chose to join, incidentally. Why this one? She didn't want to miss seeing Russia. Time was spent in beautiful St. Petersberg and Moscow. While in Red Square, the remains of Lenin were observed. And Jack Nicholson. Just as we walked into the square the actor passed by us.
We climbed well up toward the peaks of Mt. Olympus in Greece, spent the night in a youth hostel. Three of the boys set their alarm clocks for an early morning hour and experienced the sunrise upon the home of the gods and goddesses. They were to take the trail up until climbing equipment would be required. "No further".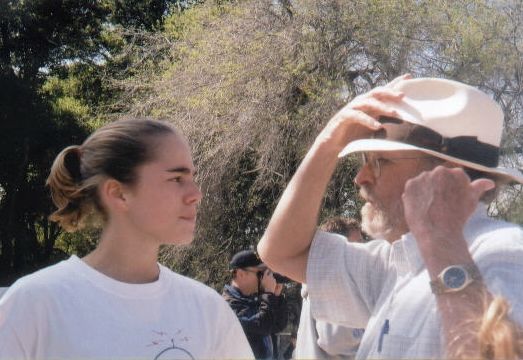 Morgan Banks ran the second fastest high school time in the country in the California state finals. This pleased Mr. Taylor because it was his old event in college.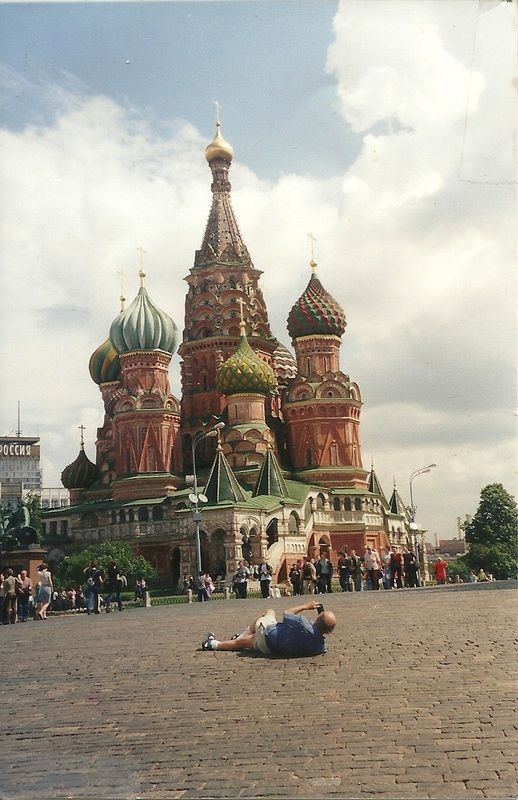 We do get around. Red Square in Moscow is really there. And the military police did not remove this litter from the "square", fortunately.