Trip 10 - 1997

Itinerary
Israel: Jerusalem
Egypt: Cairo
Greece: Athens, Mycenae, Olympia, Pylos, Ithica
Italy: Rome, Florance
Switzerland: Zermatt
France: Paris, Verdun
Students
Cathy Fong
Jennie Allen
Anne Glenn
Francisco Guevara
Nalon Smith
Amber Wilson
Trip Leader
Trip Highlights
What a flow of history from Israel to Egypt to Greece to Switzerland to Verdun to Paris
Israel and the dome of lasting beauty
A night above the ancient city of Jerusalem
No barefoot Bedouins to race, but the loss enabled us to see ancient Megiddo and contemplate Armegeddon and look out across the plain of good and evil?
A cautious walk through the narrow streets of old Jerusalem
The wailing wall, then up above to the golden dome of Islam
Massada, alone, looking out over the bare land of Israel and the Dead Sea
Flight to Egypt
The old Victoria hotel of colonialism with big, large rooms, then rushing to the window to better hear the call to prayer
A vacant lot where the hotel of "The English Patient" had stood
Egypt and the friendly honks as we crossed a busy intersection
Apollo XIII music on the van tap deck as we approached oldest pyramid
Looking out on the Libyan desert, toward where Kathryn……
The flight to Greece over the blue Mediterranean sea?
Athens and the inspiring run in the 1896 Olympic stadium
The Acropolis and Cathy reading how it sways
Digging for the earlier stadium at Nemea
Blood and the rush to the hospital for Mr. Taylor
Sleeping on the Arete roof at Mycenae
Back in the early morning for some of the stitches to be removed at the hospital which was under the glittering fortress of ancient Argos
Off to Sparta
The goat lady appears in mountains on way to Pylos, a woman to remember
A moment at Nestor's palace overlooking Pylos
The Arete hill at Olympia with powerful new music by Alexandros, the Olympic track visible through the pine below sail to Ithaka with Odysseus
Cabs dropped our luggage out at the cove of Athena and Telemachus
The island of Odysseus and the blue, clear water
A swim, readings from "The Odyssey," then up for pizza, then down by flashlight,
A sleep on the beach of myth
Jenny and I paid with lasting insect bite
The forum, Bruno, Moses in Rome
Jen of Arete '95 surprises us at dinner
Florence and the villa
Then the anticipated David
Hello to Nietzsche on a beautiful morning hike
A climb well up alongside the Matterhorn
Verdun and the hill of Mort Homme
Paris
Sleeping in the same hotel where Freud stayed in 1885-86
Avocado and peanut butter rolls in the Tuilleries
The evening presentations, dinner, then the spontaneous dance on the river Seine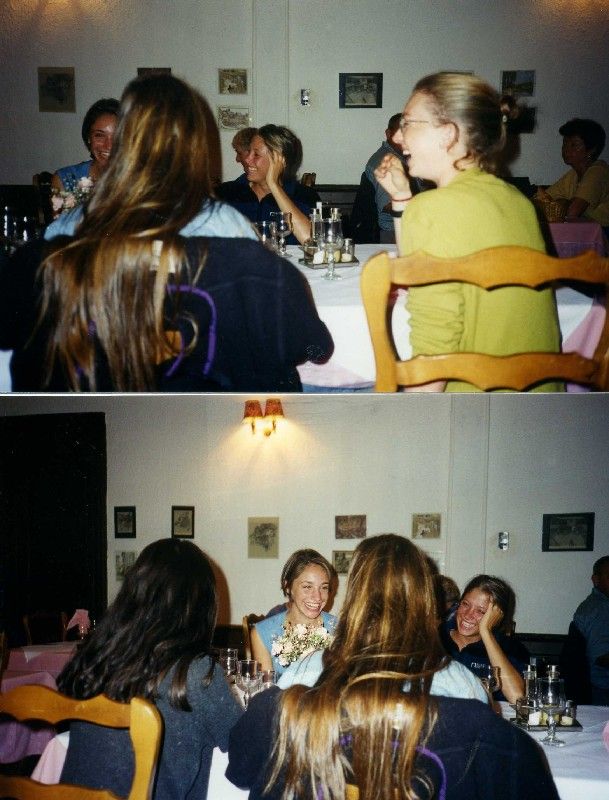 While the next morning the visit to Verdun would be tense and of horror for Arete '97, the night in the small French hotel some 15 miles from the trenches was full of female laughter. The lads ate at a separate table that night and this seemed to encourage a party for the girls.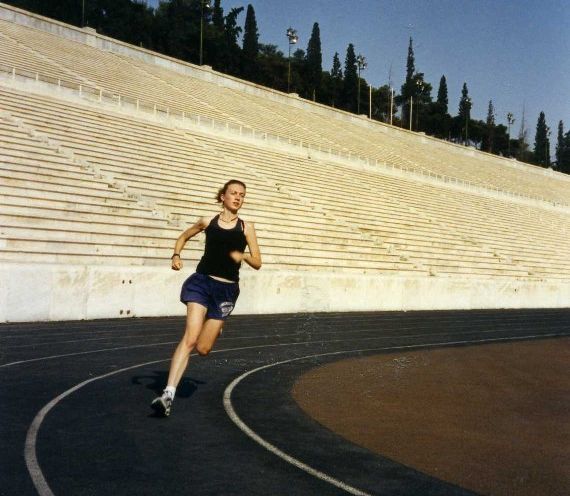 Amber Wilson swings into familiar turn for Arete travelers in the 1896 Olympic stadium in Athens.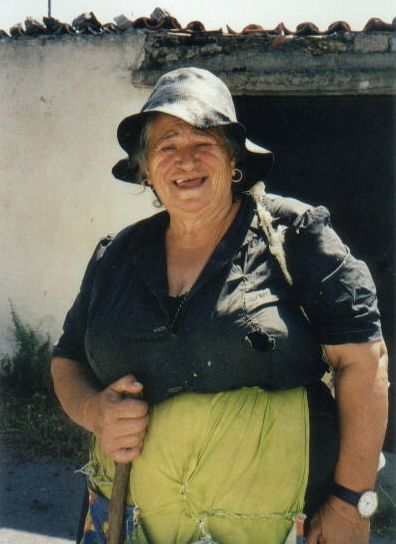 The goat lady was encountered high above ancient Sparta; she wanted her photo taken, scribbled some name and a town down so we could send it to her after returning to California; not too long later a gift of golden table linens for each of us arrived from the goat lady.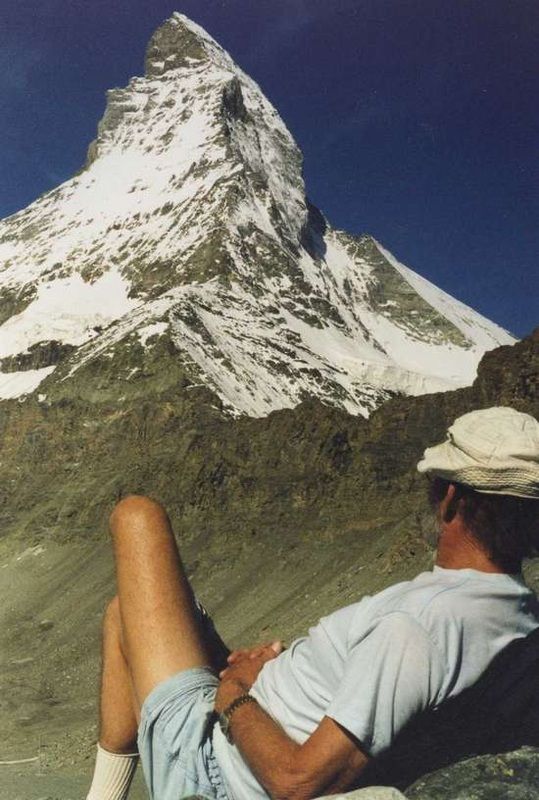 The Matterhorn has been approached by a large number of the Arete trips, and Mr. Taylor's birthdays are celebrated on every adventure in that July 16th typically falls within the five week Arete sojourns. This particular day found him enormously happy on his sixty-fifth birthday in 1997.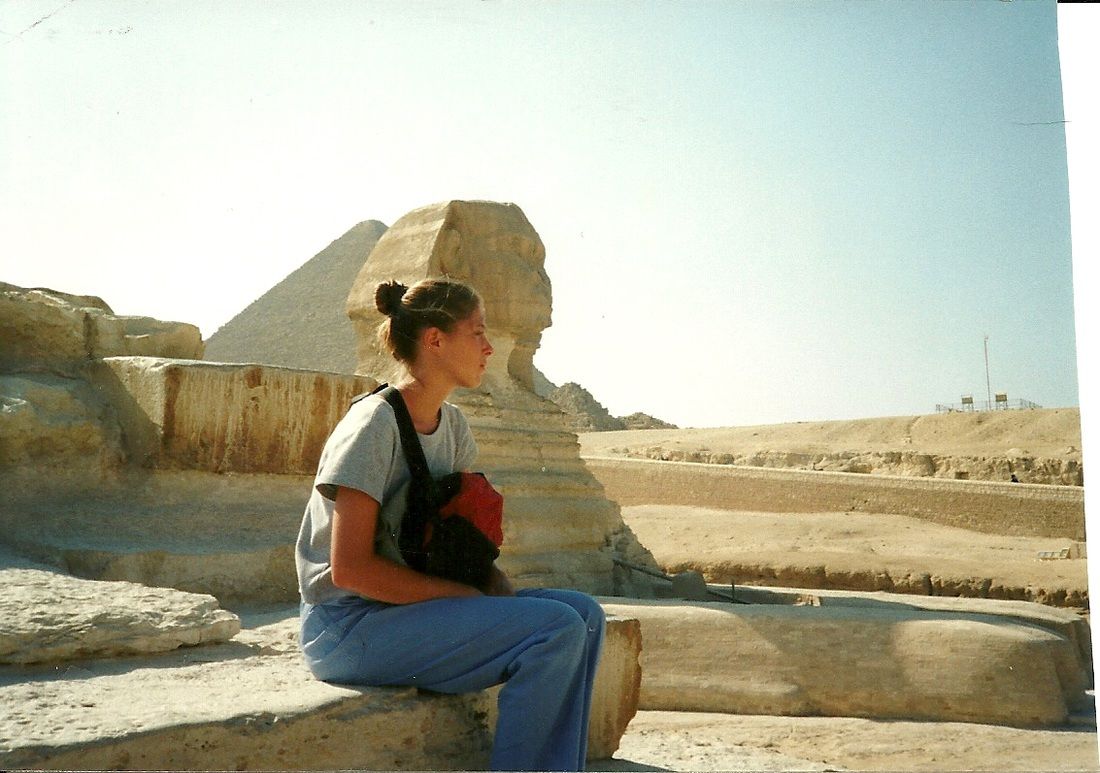 Ann Glenn of Arete '97 challenged the profile of the Sphinx in Egypt. Ann, an obvious beauty, is at the heart of Arete West. She returned to travel with Arete on the '99 trip as well.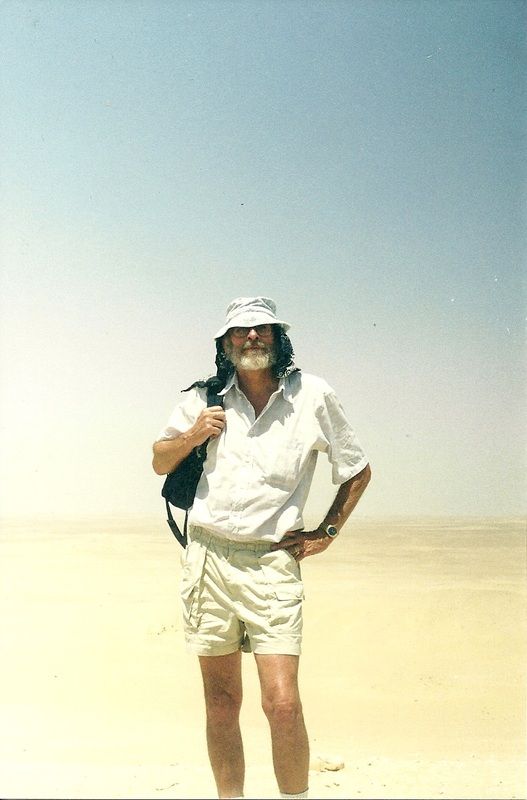 Mr. Taylor led us behind the oldest of pyramids at Saqqara in Egypt so that we could gaze out cross the Libyan desert and remember the cave in "The English Patient.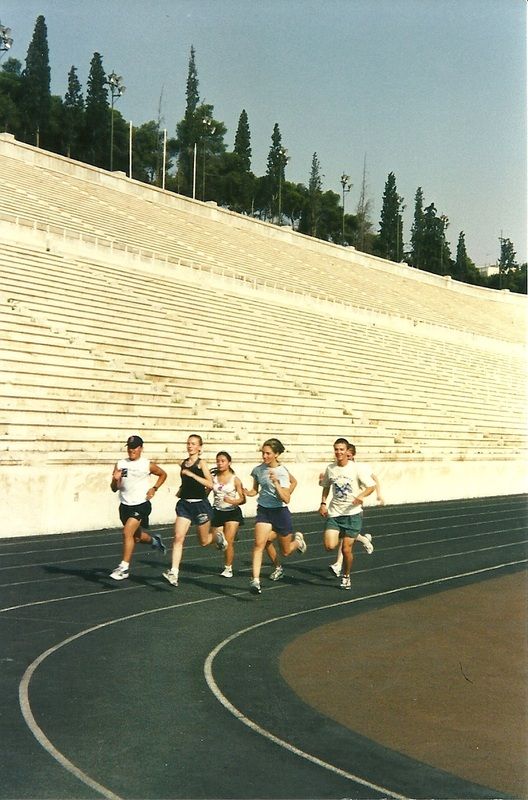 Arete '97 rejoice on the 1896 Olympic track in Athens. It had been over a thousand years since the games were held. It has always been an enormous thrill for the students to run in this stadium.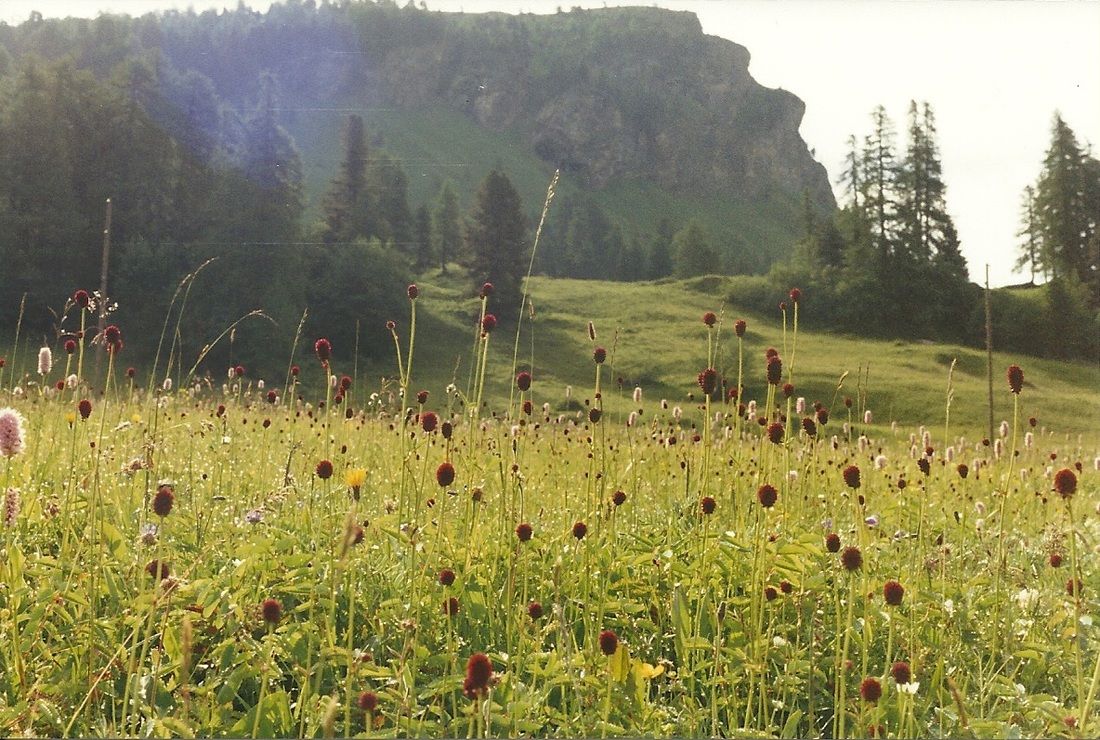 In 1997 we came upon this marvelous meadow on our "Nietzsche" walk. We stop along the trail and from time to time and each students is asked to interpret a saying from Nietzsche that they were given to ponder the night before. We are above his old boarding house in Sils Maria, near St. Moritz in Switzerland. The hike begins in a forest by a rushing stream.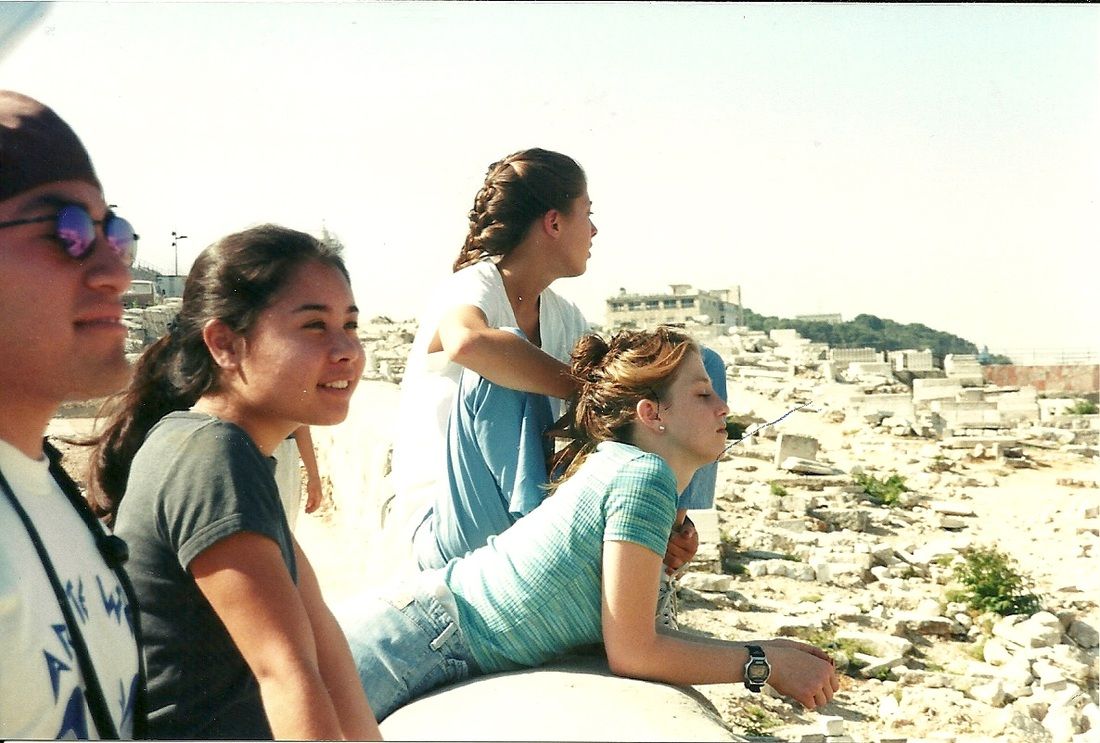 Francisco, Cathy, and Ann look out over the old Jewish cemetery from East Jerusalem in 1997.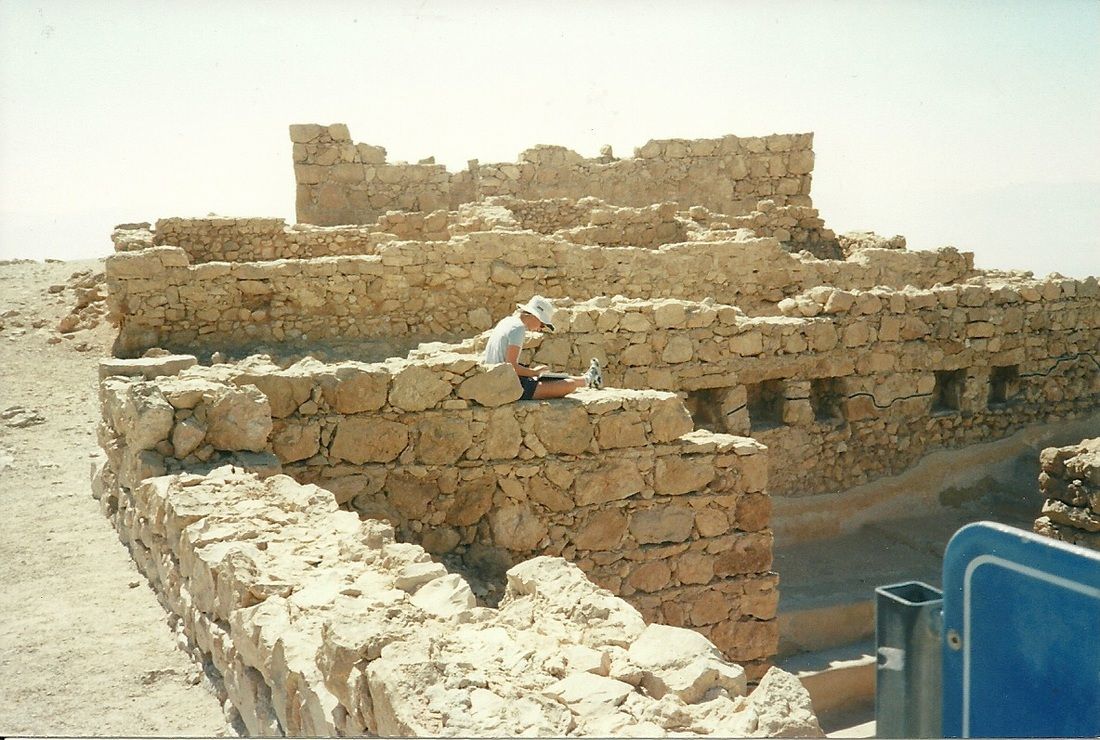 Arete lass writes in her journal while alone on Massada in Israel. High above the Dead Sea, the stillness captures the past and the present.