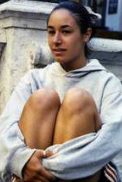 Emma Fazio was a member of Arete 2003. We can let her photograph justify my having called her, 'the Apache.' In addition to her beautiful appearance, Emma was continuously supportive of minority groups, passionate about social justice. A 300 meter hurdler and member of our mile relay team while running for Drake, Emma is a student at the University of California, Berkeley, when she isn't overseas. Her letter provides us with a wonderful glimpse of arete, that selfhood that brings being into fulness. I am afraid that her trip to Morocco will provide fewer 'friendly smiles' than she experienced in Egypt. Morocco is full of aggressive husslers; a considerable distance from the 'welcome' that we heard continuously in Egypt.
Bill Taylor
---
I'm writing from Cordoba, Spain, where I'm studying Spanish language and culture for 4 months. Have you ever been to Cordoba? There is really only one thing to see, but it's a doosey: the Mezquita. It was a mosque when the Muslims ruled the region, and it has hundreds of red and white striped arches that stretch across the ceiling. It also has hundreds of columns that the Muslims salvaged from abandoned Roman buildings in the area. Each column is unique and made of a different type of stone. When Isabel and Ferdinand expelled the Muslims, they destroyed all of the mosques in Cordoba except for this one, because they christened it a church. They kept everything basically the same, except they plopped a Cathedral right in the center of it. It just blows my mind that three completely different civilizations are all rolled up into one incredible site. I don't know if this is my Cordoba pride or not, but I actually prefer the Mezquita to the Alhambra.
I've been thinking about you and Arete a lot lately, for obvious reasons. I know I wouldn't have had the urge to study abroad without Arete, and I'm constantly drawing parallels and contrasts between 2003 and today. I didn't agonize over whether or not I should come here, I just did it without thinking too much, which is how I treated the Arete trip. I'm not sure if I was technically ready to do this, just like I wasn't technically ready for Arete. Did you know that I dreaded your emails that contained our assignments for the week? I would sit with my dad for hours trying to construct an answer to your impossible questions, and when I heard everyone else's at the meeting I thought mine sounded pretty stupid in comparison. I don't know how you knew that I could eventually rise to the occasion, but boy am I glad you did.
I remember sitting in the hotel dining room after visiting Verdun and getting in a heated discussion with you about whether or not war is ever justified. After standing on Morte Homme that day and seeing the craters left by the bomb shells, I just couldn't fathom that there would ever be a time when war was necessary. You brought up the point of genocide, I didn't have a very good counter point, but I stuck to my guns none the less (pun intended). Up until that point in my life, I had never had an opinion that I so strongly defended, especially not against a man with so much more experience and knowledge than I. How did you give me the courage and skills to stand up to you in a philosophical debate? I don't think I'll ever really know, but boy am I glad you did.
On Thursday I travel to Morocco for 8 days. I can't wait for the the erie and magical sounds of the call to prayer, the strange smells in the market, the friendly smiles, and all the other fantastic things I remember about Egypt.
With warm regards and gratitude,
Apache
Emma Fazio
March 2008