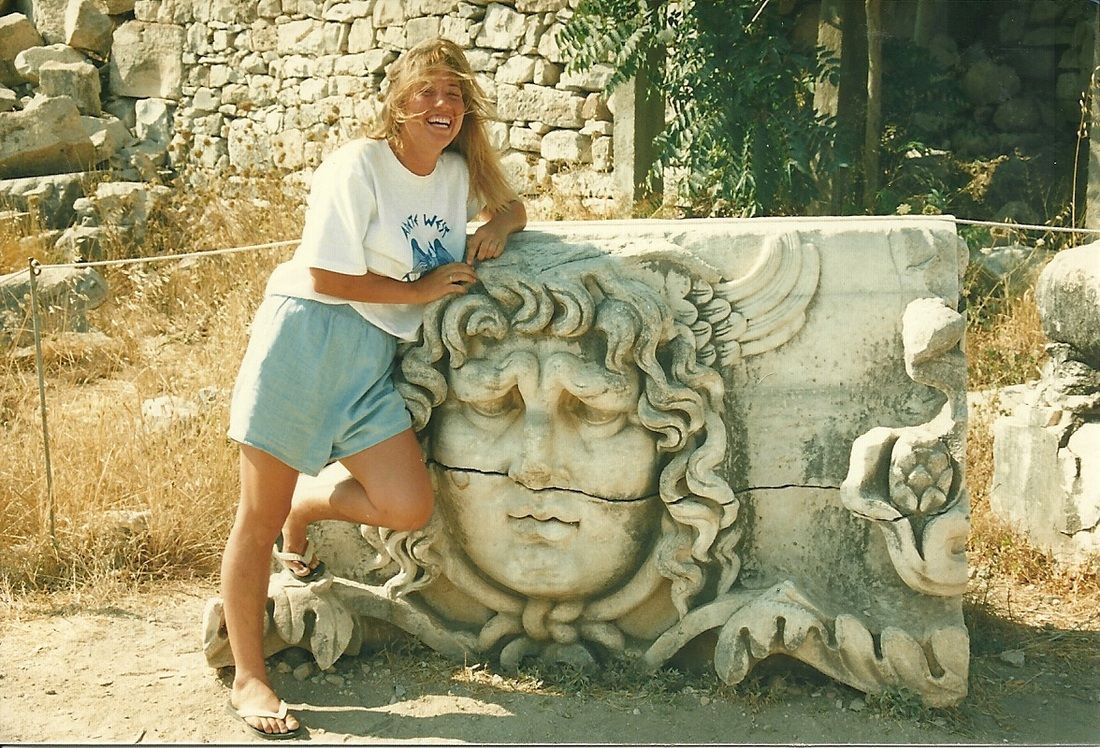 Christina Teply has expanded her travel itinerary considerably since her '85 and '89 Arete adventures. Like "45 countries." She graduated from the University of California, San Diego, with a BA in French Studies. Not surprising to those who knew her in high school and on the Arete trips, Christina was an Honors Scholar. More exciting than San Diego by image was her receipt of a diploma in French Civilization from La Sorbonne in Paris. Those on Arete '85 will remember her coming forth from a sidewalk toilet on a Paris street with, "it plays music." Speaking of music, her essay takes us deeply into the world of music and correlations to what we know as arete. Since 1992 the "Golden One" has been the tour manager at ACFEA Tour Consultants. When you finish reading the essay, the word, "professional," might be the way you see Christina at forty. I suspect she would translate the word, arete. The fear that she mentions was very real on the track during her high school years. I told the current cross country teams this week as they approach the county finals that adversity and determination are a healthy combination of words. Christina's journey provides us with a brilliant, comprehensive insight into a life that has triumphed over fear.
Bill Taylor
---
Arête at 40
"We are what we repeatedly do. Excellence, then, is not an act, but a habit." - Aristotle
"Music is a moral law. It gives soul to the universe, wings to the mind, flight to the imagination, and charm and gaiety to life and to everything." - Plato
I began to collect my thoughts for the November Arête essay as I normally do when faced with a daunting task: on my Sunday runs. This is a ritual dear and vital to me, a time when I am grateful for the natural elements which surround me – sun, rain, wind, trees, clouds, birds – and the mindlessness I permit myself. When I finish each Sunday run I feel freed, nurtured, and dazzlingly mindful. For this easy essential therapy I thank Mr. Taylor who one day lured me away from the soccer field, on to the Drake track, and into the Marin Water District, Arête West, Paris, and the world far beyond. My life has been enormously enriched by this association, and my recent Sunday runs have been filled with thoughts of what Arête means to me at age 40.
I believe we all know that Arête has something to do with excellence. For some time I have been working with two similar, but different definitions of Arête: "the pursuit of seeking excellence in yourself," and "the practice of overcoming fear to find excellence in yourself," implying, I suppose, that the word "pursuit" is sometimes in need of further clarification. Of course, excellence can manifest itself in many ways – truth, knowledge, beauty, strength, authenticity. For me, this pursuit began on the track, as a runner, though I hardly understood at the time the magnitude of the journey I was embarking upon. There was a lot of fear I confronted each time I stepped into the starting blocks; it was internal, personal, and I was unaware of the spectators who watched me, rooted for me, and shared in my triumphs and defeats.
Today, I see those races as the first practice of facing fear to find my arête, and the first time I became, unwittingly, a performer, mounting a challenge to find resolve to test my self, my strength, my character, as an audience watched my drama. Since that time I have met other challenges and have recently come to appreciate the role that a performer plays in the pursuit and revelation of arête. Much to my surprise, I am, at 40, striving to be a more deliberate performer, as I see performance as a form of leadership, and a powerful forum in which to effect change in oneself and in others.
There are many types of performers: actors, singers, athletes, teachers, coaches, CEOs, managers. However and wherever their performances take place, acting or singing on stage, competing in a race, teaching in a classroom, coaching on a track, chairing a corporate meeting, or managing a project, these performers all embody roles of leadership. My work as a Tour Manager for amateur performing arts ensembles has provided much insight into the makings of a great performance which, inherently, requires the presence of both performers and audience. Whatever type of performance, the performer's role is to imagine, evoke, inspire, and suggestively lead the audience down a path of psychological or emotional provocation. If the performance is good, the audience willingly and appreciatively travels the route, and is ultimately somehow changed by the end of the performance.
As I have traveled around the world, arranging international performance tours for musicians, I have come to revere the extraordinary power of music as an expressive art form, and as a singularly transformative vehicle for growth and change. Singing in particular is, arguably, the most personal form of expression: it can fill one with beauty and delight; it can plead, lament, celebrate and heal; most importantly, it can inspire thoughtful minds and changed hearts. In any performance, the singer is likely to be moved as readily as the audience. I cannot predict exactly which measure of music will ring sublimely in some European cathedral, evoking purity, intimacy, pain or joy; I don't know which Brazilian rhythm emanating from a favela in Rio will persuade a child to dance, or which poetic phrase will draw together strangers to laugh and cry over a campfire under the stars of the Southern Cross, but I know these musical moments will occur, I know each performance offers these potential moments which can, and do, change people.
A concert performance is not unlike a track competition; in each arena there is human drama: the performer, singer or runner, courageously leads the audience towards an experience of deeper knowledge, greater emotion, more refined sensibilities – all that we recognize as arête. A performer must have self knowledge to be effective. A good performer has faced and conquered challenges, and has something to offer the audience as a result. A great performer has the courage to create or seize performance opportunities and to inspire audiences to translate the dramatic moments into their own story of arête.
Singing excerpts from Richard Wagner's Der Meistersinger von Nurnburg and Arrigo Boito's Prologue to Mefistofele on the same stage as artists such as the Mark Morris Dance Company, John Adams, and Michael Tilson Thomas, during Cal Performances' Centennial Celebration & Gala at Zellerbach Hall was a pivotal moment for me, one in which I experienced the force with which a performance can wholly envelop both singer and audience with beauty and fullness. I realize that I would never have been on that stage without a long series of experiences that prepared me to recognize this arête moment. The pathway I followed to this point is undoubtedly familiar to others of Arête: running track in high school, traveling with Arête West, obtaining a liberal arts college education, studying abroad, establishing a career. As I look back to review this path I see how my early ideas of arête have become more than just ideas; arête has become real, something I experience in many moments of my life today. For those who are now embarking upon their own paths, believe that arête is there to prepare you to succeed in life's many performances.
My own journey to find arête has evolved from the days when I struggled to find courage to run a race to the current struggle to find courage to lead as an experienced and reputable performer. This journey has propelled me from the unwitting to the reluctant to the more deliberate performer, and I hope to find a way to use my journey of arête to inspire others to find their own arête.
I am, of course, aspiring to be in the good company of other Arête veterans who have already found their leadership stages. Many did so well before age 40, but then I have never been known as the fastest!
Christina Teply Martin
November 2007